FedEx Trade Networks Launches Ocean Choices Portfolio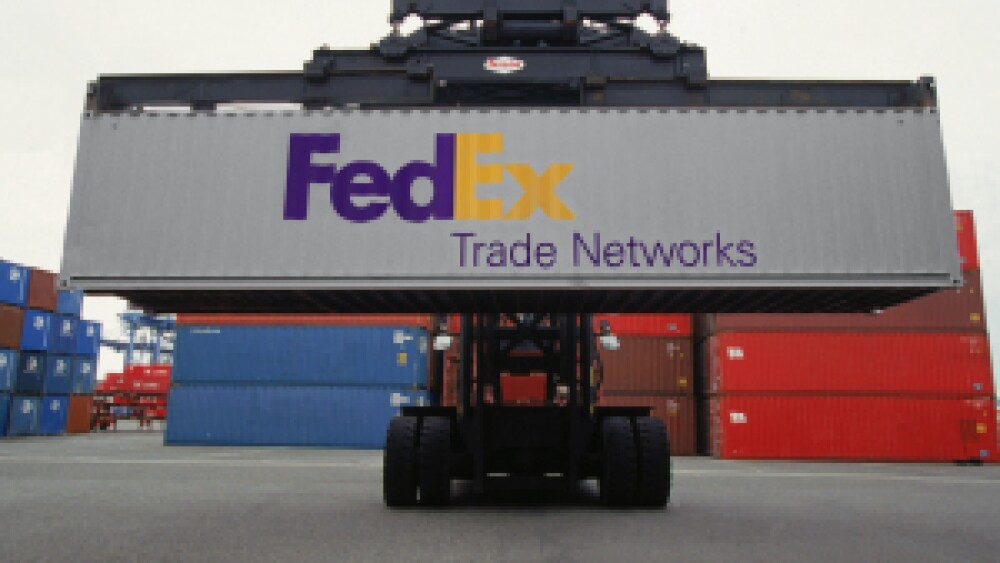 MEMPHIS, Tenn., July 19, 2011—FedEx Trade Networks, a subsidiary of FedEx Corp.(NYSE: FDX) and growing international ocean and air freight forwarder, announced today that it is now offering three distinct international ocean freight forwarding solutions via its new ocean choices portfolio. By offering three solutions, FedEx Trade Networks has enabled customers to choose and implement the ocean service that best fits their supply chain needs—whether the product demands flexibility or speed-to-market distribution services.

"We understand that our customers have different shipping needs, depending on the product they're shipping," said Fred Schardt, president and CEO of FedEx Trade Networks. "Through our new ocean choices portfolio, customers now have the ability to match their demands with our ocean service levels, helping them to take greater control of their supply chains and operate more efficiently."

The ocean choices portfolio provides customers with three specific solutions to meet varying demands. The FedEx International Direct Economy OceanSM option offers traditional freight forwarding services to and from major worldwide locations for products that have a flexible delivery schedule. Via distribution center bypass, the FedEx® International DirectDistribution Ocean option offers the ultimate in speed-to-market ocean shipping solutions to destinations in the U.S., Canada and Puerto Rico from origins in Asia, Latin America, Middle East, India and Europe. A third, new service, FedEx International Direct Priority OceanSM, provides reliable ocean delivery solutions for both less-than-container-load (LCL) and full-container-load (FCL) cargo. This new option, which services the Los Angeles and Long Beach ports from origins in Yantian / Shenzhen, Shanghai and Hong Kong, offers delivery for LCL shipments via FedEx Freight and delivery for FCL shipments via the FedEx Trade Networks preferred carrier portfolio.

"We are proud to offer our new FedEx International Direct Priority Ocean service in conjunction with FedEx Freight," said Schardt. "With the flexibility and strength of the FedEx Trade Networks freight forwarding operation and the reliability of the FedEx Freight delivery network, customers will benefit from a premier ocean LCL solution backed by the FedEx brand."

Over the last three years, FedEx Trade Networks has become a leading freight forwarder in important global markets. As part of an aggressive expansion plan, the Memphis-based company has opened a total of 38 new offices around the world, including locations throughout the U.S., Latin America, Europe, India, Middle East, Asia, and Canada.

In addition to its new ocean choices portfolio, customers of FedEx Trade Networks also benefit from flexible air freight forwarding solutions that employ a variety of value-added services, including the ability to track and trace their complete supply chain and managed control of their goods in transit from point of origin to final destination. The company also offers other multimodal solutions such as customs brokerage, purchase order management with Global Order Logistics, surface transportation, warehousing and distribution.
About FedEx Trade Networks

FedEx Trade Networks, and its predecessor companies, have more than 100 years of experience in international trade. The company's advanced technology and network of worldwide locations and alliances enables it to provide comprehensive ocean and air international freight forwarding, customs brokerage, global order logistics, distribution and surface transportation, trade advisory services, and advanced e-commerce and trade facilitation solutions. FedEx Trade Networks has the resources and support to help customers of all sizes navigate the intricacies of shipping goods globally. For more information, visit ftn.fedex.com.

About FedEx Freight

With corporate offices in Memphis, Tenn., the FedEx Freight Segment includes FedEx Freight, a leading U.S. provider of LTL freight services; FedEx Freight Canada, an LTL operating company serving most points in Canada; and FedEx Custom Critical, North America's largest time-specific, critical shipment carrier. For more information, visit fedex.com.

About FedEx

FedEx Corp. (NYSE: FDX) provides customers and businesses worldwide with a broad portfolio of transportation, e-commerce and business services. With annual revenues of $39 billion, the company offers integrated business applications through operating companies competing collectively and managed collaboratively, under the respected FedEx brand. Consistently ranked among the world's most admired and trusted employers, FedEx inspires its more than 290,000 team members to remain "absolutely, positively" focused on safety, the highest ethical and professional standards and the needs of their customers and communities. For more information, visit newsroom.fedex.com/newsroom.