FedEx Teams Up with the PGA Tour, Audubon International and the First Tee to Launch a Sustainable Golf Program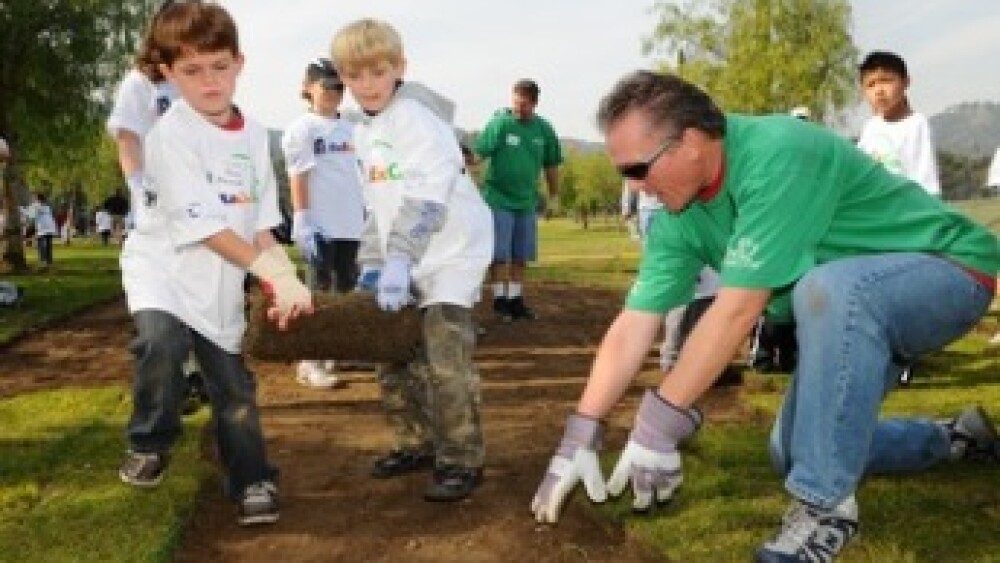 MEMPHIS, Tenn., February 2, 2010 – As part of the FedEx commitment to environmental sustainability, the company is launching the FedExCup® Fore!Ever campaign with the PGA TOUR, Audubon International and one of golf's premiere youth charitable organizations, The First Tee. This campaign will teach local participants of The First Tee about sustainable golf practices while facilitating eco-friendly public golf course improvements in communities that host PGA TOUR FedExCup tournaments.
"When it comes to making the game of golf more sustainable, every change is a positive change," said PGA TOUR Pro Anthony Kim. "It is great to see so many organizations come together for a program that will inspire the golfers of today and tomorrow to make their game greener."
During the 2010 PGA TOUR season, The FedExCup® Fore!Ever campaign is providing environmental improvement grants to six public golf courses used by The First Tee. FedEx is also working with Audubon International to create a "Green Golfer" curriculum that will teach young golfers nationwide about sustainable golf.
Through Audubon International and The First Tee, FedEx and the PGA TOUR are identifying and facilitating improvements to those six public golf courses across the country. Course improvement events will take place in PGA TOUR tournament communities, starting with the first course improvement at the Brookside Golf Club in Pasadena, Calif., in conjunction with the Northern Trust Open being held at the Riviera Country Club in Los Angeles from February 4-7, 2010. All six course improvements will be completed by FedEx team members and young golfers from The First Tee with the goal of enhancing local community courses while making them more eco-friendly and minimizing their carbon footprint.
Improvements will vary based on the needs of each course as determined by Audubon International, and activities will include restoring natural wildlife by planting indigenous trees, building bird houses and nests, naturalizing property and fence lines, and resodding and revitalizing ponds and waterways. In addition to on-site eco-friendly improvements, Audubon International also has developed a sustainability-relevant curriculum for The First Tee, which will be used by Chapters across the United States.
"The First Tee's mission is to impact the lives of young people by providing learning facilities and educational programs that promote character development and life-enhancing values through the game of golf," said The First Tee Executive Director Kelly Martin. "The FedExCup Fore!Ever program will help teach our young golfers about the importance of respecting and restoring the earth's natural greenscape. It is such a valuable lesson."
In addition to providing grants for sustainability-focused course improvements and youth relevant curriculum, the FedExCup® Fore!Ever campaign provides golfers of all ages with practical suggestions to make their game more eco-friendly, including:
·Re-green your game: Practice good etiquette, like repairing ball marks and divots. This process helps heal the grass much faster and reduces the chance of insects, weeds or diseases affecting the grass in that area. Healthy grass requires fewer chemicals, less water and less work to maintain, which is for the good of the game and the environment.
·Respect the wildlife: Golf is a shared experience with nature. You need to respect wildlife habitat on the course and recognize the link between golf and nature. So before stepping onto the green, examine course maps to identify areas that may be home to wildlife and should be left undisturbed during the game.
·Lead by example: Sustainability starts at home. Trade in plastic water bottles for reusable and refillable bottles that can be used and washed time and time again. Drinking something other than water? Make it a point to recycle empty cans and bottles at the end of your round.
"At FedEx, we strive to connect the world more efficiently," said Rose Flenorl, Manager of Global Citizenship at FedEx. "The program with The First Tee and Audubon International leverages our FedEx team members and philanthropic dollars to address sustainability issues within one of our major sports sponsorships."
FedEx Environmental Sustainability
The FedExCup® Fore!Ever initiative extends the FedEx commitment to connect the world responsibly and resourcefully by encouraging environmentally sustainable practices into the game of golf. FedEx is taking steps both locally and globally to reduce the environmental impact of its daily business operations. The company is working to improve vehicle fuel efficiency by 20 percent by the year 2020 by optimizing delivery routes, increasing its hybrid and alternative fuel fleets and increasing its solar capacity, among other efforts. FedEx has been recognized for its sustainability commitment through inclusion in the Dow Jones Sustainability Index – a global list of the world's largest, most sustainability organizations – and ranking #93 in Newsweek's Top 500 Greenest Companies (published September 2009)