FedEx Strengthens Sustainable Access for Company and Community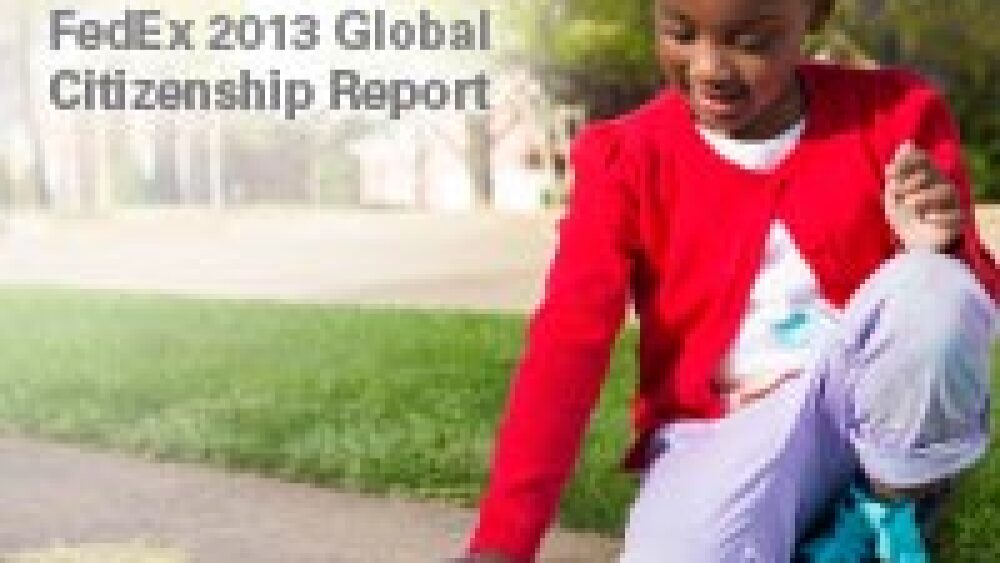 MEMPHIS, Tenn., May 7, 2014 — FedEx Corp. (NYSE: FDX) released its sixth annual Global Citizenship Report today, outlining steps the company has taken to build a more sustainable business by improving its operational efficiency and engaging in local communities.
"FedEx continues to make the investments that will provide more sustainable access and future opportunities for our business, our customers and the communities we serve," said Mitch Jackson, vice president of Environmental Affairs and Sustainability for FedEx. "By focusing on strategic initiatives in both our company and the community at large, we are helping to meet the long-term economic and social needs of FedEx and the community."
The report demonstrates that one key indicator of these efforts has been the reduction of the company's environmental footprint while experiencing year-over-year growth. In fact, FedEx revenues were up in fiscal year 2013 while emissions from the company's owned and operated fleet and facilities dropped by 1.3 percent. However, as the report outlines, FedEx leadership and improvements in its operational sustainability—and its environmental and industry impact— are just one of the many ways that FedEx is providing long-term value to the business and the communities in which it operates. In addition to environmental efficiency, the report outlines key progress in areas such as economics and market access, community and disaster relief, and people and workplace.
FedEx Fosters Connections to Open Markets and Small Business Growth
By focusing on creating open and accessible markets, FedEx provides long-term value for shareholders, communities, customers, and local and global economies. FedEx is a strong proponent of policies and agreements that remove barriers to trade and simplify international business. In FY13, the company actively promoted the expansion of free trade through proposed agreements like the International Services Agreement, the Trans-Pacific Partnership and the Trans-Atlantic Trade and Investment Partnership. FedEx was also a strong advocate for the groundbreaking World Trade Organization Facilitation agreement that was concluded in December 2013.
Trade isn't just about large multi-national corporations—with the growth of e-commerce, small and medium size enterprises (SMEs) are playing an increasingly large role in the global economy. FedEx draws on its 40 years' worth of expertise in trade regulations, supply chain management and logistics to help SMEs succeed in the global marketplace. The company's work in this area expanded in FY13, highlighted by the launch in spring 2013 of the FedEx Small Business Center—a new hub for small business resources and information on topics including international shipping, regulatory and paperwork requirements for different nations and value-added services by country. FedEx also launched the second edition of its Small Business Grant Contest in January of 2014, which awarded $50,000 in grants to small businesses looking to improve their operations.
FedEx Closes the Gap on Emissions through Fleet Efficiencies
FedEx continues to have a primary focus on minimizing its environmental impact of its operations while growing the business. Through innovations and improvements across the business, FedEx continues to shrink its environmental footprint, increase operational efficiencies and make progress against the company's 2020 sustainability goals.
In 2013, FedEx reduced its aircraft CO2 emissions intensity by 4.2 percent even while increasing the total number of flights as well as business revenue. This decrease brought total reduction in aircraft CO2 emissions intensity to 22.3 percent from a 2005 baseline, keeping the company on track to meet its goal of a 30 percent reduction by 2020.
Similar progress was made with the FedEx Express vehicle fleet, which saw a five percent fuel efficiency improvement in 2013. This also keeps the company on track to meet its target of a 30 percent improvement from a 2005 baseline by 2020, with a cumulative improvement now at 27 percent to date.
Much of these improvements can be credited towards the ongoing fleet modernization FedEx has committed to. Past efforts like aircraft replacement have resulted in cost savings of up to 30% while also cutting greenhouse gas emissions. Additional benefits were realized by adding more than 3,700 advanced technology surface vehicles, which includes high-efficiency clean diesel, electric, hydrogen fuel cell, and compressed and liquefied natural gas systems.
FedEx Connects Communities with Resources Needed to Survive and Thrive
FedEx understands the power of access in creating social and economic opportunity, and believes such connectivity should extend beyond customers to people in need. This is why for more than forty years FedEx has deployed resources when and where they are needed most. In FY13, total charitable contributions across all FedEx giving areas—consisting of direct cash contributions, donated shipping and team member contributions—totaled more than $46 million. Additionally, thousands of FedEx team members participated in a wide variety of community service projects throughout the year, helping make their local communities better places to live, work and play.
When disasters hit, the reach and reliability of the FedEx global network enables rapid access to affected regions, allowing the company to quickly deploy its people, transportation network and logistics expertise to aid those in need. To prepare for emergencies, the company sets aside at least four million pounds of disaster-related charitable shipping capacity each year. In FY13, this totaled $7.15 million in cash and in-kind shipping to charitable organizations coordinating relief efforts.
This capability was on full display after Typhoon Haiyan struck in November 2013, which left millions of people in Southeast Asia, particularly the Philippines, in desperate need of food, water and access to medical and pharmaceutical supplies. FedEx took quick action, teaming up with Direct Relief and Heart to Heart International to deliver more than $10 million worth of relief aid and medical supplies to communities across the region.
The company's dedication to improving communities is not limited to times of disaster. With more than 90,000 FedEx owned and contracted vehicles on the road each day, pedestrian and road safety is also a core value and top priority for bettering the communities in which its team members live and work. Since 2000, FedEx has worked with Safe Kids Worldwide, a global network of organizations aiming to prevent accidental injury. In FY13, Safe Kids Walk This Way—a joint awareness raising program that provides year-round community outreach initiatives, creates safer walking environments and conducts risk assessments to improve sidewalks and crosswalks for children—expanded to 241 cities worldwide and drew more than 720,000 participants.
Making sure the local communities in which FedEx team members live and work are sustainable is another top priority for FedEx. In April 2013, coinciding with the company's 40th anniversary celebration, FedEx volunteers took part in EarthSmart Outreach and National Fish and Wildlife Foundation projects in 14 U.S. cities, supported by FedEx grants totaling more than $500,000, as well as national, state and local government matching grants totaling more than $3 million. More than 677 team members volunteered, a 14.5 percent increase from 2012.
More information about the accomplishments highlighted here and additional stories about the FedEx commitment to responsible corporate citizenship may be found in the online version of the FedEx 2013 Global Citizenship Update at csr.fedex.com.
About FedEx Corp.
FedEx Corp. (NYSE: FDX) provides customers and businesses worldwide with a broad portfolio of transportation, e-commerce and business services. With annual revenues of $45 billion, the company offers integrated business applications through operating companies competing collectively and managed collaboratively, under the respected FedEx brand. Consistently ranked among the world's most admired and trusted employers, FedEx inspires its more than 300,000 team members to remain "absolutely, positively" focused on safety, the highest ethical and professional standards and the needs of their customers and communities. For more information, visit news.fedex.com.