FedEx Releases 2018 Access FYI: FedEx Young Innovator List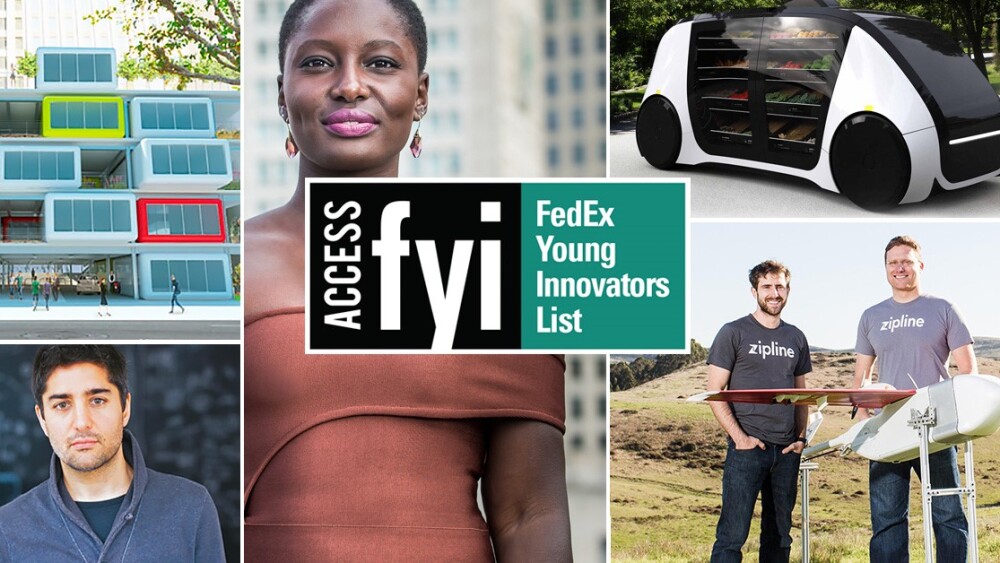 FedEx Corp. (NYSE: FDX) announces the launch of the online release of the 2018 Access FYI: FedEx Young Innovators list. This year's list includes 21 of the company's top choices of people, places and ideas that exemplify how innovation and increased connectivity are shaping the future.
"As a company, we believe it's important to have a pulse on the future in order to better serve our customers today," said Raj Subramaniam, EVP, chief marketing & communications officer, FedEx Corp. "Young innovators like those featured in the annual FYI are the ones who are reshaping the future and fueling change."
Highlights include:



Atima Lui, who turned down a top Silicon Valley job after graduating from Harvard Business School to found a company based largely on improving the confidence of women of color.

Keller Rinaudo, who launched the world's first national drone delivery operation two years ago in Rwanda, where his company's "Zips" bring blood, medicine and vaccines to hospitals in remote towns.

A new breed of incubators—in the form of labs—is helping early-stage start-ups innovate more quickly by providing them with access to expensive technology, including 3D printers and state-of-the-art laboratory equipment.

Innovators in Michigan, who are developing high-tech test centers that, fittingly, are putting the state on the autonomous-vehicle map.
This year's list also showcases that Young Innovators prioritize social good and purpose in nearly everything they do. It confirms findings from a recent Economist Intelligence Unit report sponsored by FedEx, which examined what Young Innovators around the world value most. Seventy percent say it's more important to be socially responsible now than it was five years ago, and 64 percent say social responsibility is essential to business success.
"I believe social responsibility and running a successful business are inseparable," Subramaniam said. "FedEx built a commitment to CSR into the business from the very beginning—dedicating itself not just to moving packages from A to B, but also connecting people, opening them up to the global marketplace to improve the standard of living, and building social capital across the world. It's encouraging to see that, as this list shows, this is of utmost importance to future generations of innovators."
The list is featured on Access, the FedEx thought leadership platform which celebrates the ideas and innovations that connect people and possibilities around the world. For an in-depth look at this year's list or to join the conversation, visit access.fedex.com