FedEx Recognized As One of the 50 Most Community-Minded Companies
Annual Civic 50 Honors Companies and Identifies Trends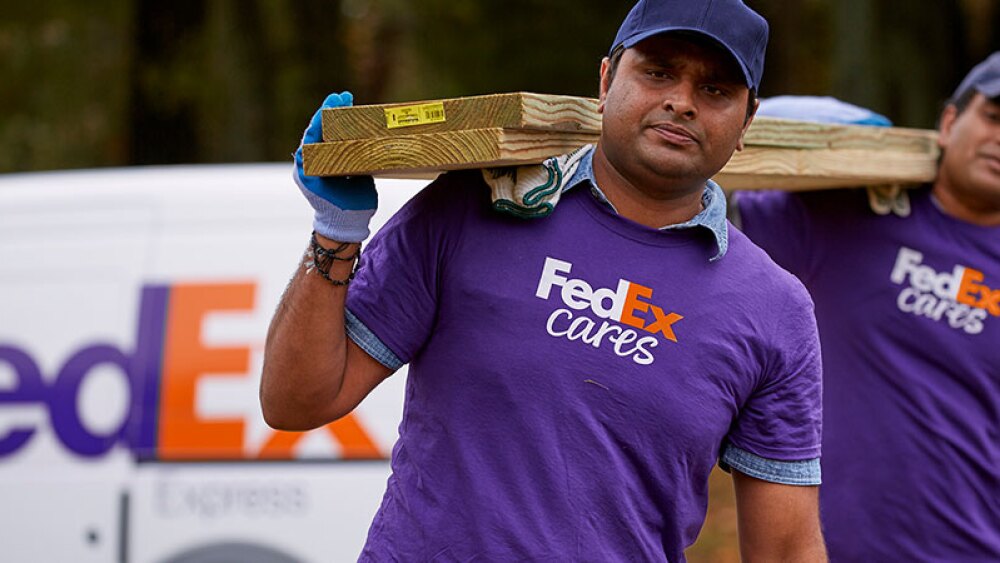 FedEx Corp. (NYSE: FDX) is proud to announce it has been recognized by Points of Light, the world's largest organization dedicated to volunteer service, as one of the most community-minded companies in the United States. The Civic 50 provides a national standard for superior corporate citizenship and showcases how companies can use their time, skills and other resources to improve the quality of life in the communities where they do business.
The Civic 50 winners were announced at the Points of Light Conference on Volunteering and Service in Seattle, where leaders in volunteerism and civic engagement gathered to discuss social innovation, cross-sector collaboration and citizen engagement can drive change.
"FedEx Cares is more than a corporate giving platform. It allows us to use our unique skills as individuals and as a corporation to make a difference in the world," said Neil Gibson, vice president, Corporate Communications, FedEx Services. "As a company of logistics and shipping experts, we know how to solve tough problems. With FedEx Cares, our goal is to turn obstacles into opportunities."
The Civic 50 winners are public and private companies with U.S. operations and revenues of $1 billion or more, and are selected based on four dimensions of their U.S. community engagement program:


Investment: FedEx Cares is investing $200 million in more than 200 global communities by 2020 to create opportunities and deliver positive change for people around the world. FedEx Cares builds on our long-standing commitment to communities by focusing on five strategic areas of investment. We have identified our areas of investment focus to align with the business expertise of our team members around the world: Delivering for Good, Sustainable Transportation, Employment Pathways, Road Safety and Global Entrepreneurship. By focusing our resources and talent on these five areas, we are able to have a bigger impact around the world.


Integration: FedEx Cares connects the passion and expertise of our team members with the resources of leading nonprofits to solve some of the world's most pressing problems. When we combine the expertise of nonprofits and our FedEx team members, we can help more people thrive, more communities flourish and more businesses prosper. Many of our projects are identified and driven by team members, who live the Purple Promise. Our team members are embedded in communities, so they see local needs with every street they drive, neighborhood they are in, or customer they see.


Institutionalization: FedEx Cares helps communities, businesses and people thrive by delivering opportunities that build a more prosperous world. We deliver opportunities for people to thrive by addressing issues related to sustainable transportation, employment pathways, global entrepreneurship, road safety, disaster relief and other special shipments. We believe a more connected world is a more prosperous world. It's good for business and for people's livelihoods; when people have access to training, education, and a sustainable future, communities can thrive.


Impact: Connecting people and possibilities is at the heart of everything we do and when we do that right, we create opportunities: opportunities for youth, veterans and recent graduates to find meaningful employment; for nonprofits to maximize their impact during humanitarian crises or to make roads safer for drivers and pedestrians; and for aspiring entrepreneurs to turn their business ideas into realities.
"In the fifth year of honoring the most community-minded companies in the nation, The Civic 50 truly highlights the commitment to community and civic engagement of America's leading brands," said Jennifer Lawson, president of networks at Points of Light. "By elevating critical stakeholder voices from employees, customers and communities into their mission statements, The Civic 50 companies are putting themselves at the center of change to create more enduring and sustainable business models."
The Civic 50 survey was administered by True Impact, a company specializing in helping organizations maximize and measure their social and business value. The survey instrument consists of quantitative and multiple-choice questions that inform the Civic 50 scoring process. The Civic 50 is the only survey and ranking system that exclusively measures corporate involvement in communities.
To learn more about The Civic 50, to see a full list of the winners and to access the highlights, trends, benchmarking data and best practices from the 2017 Civic 50, please visit www.Civic50.org.