FedEx Offers Tips for Packing, Care and Delivery of Special Holiday Packages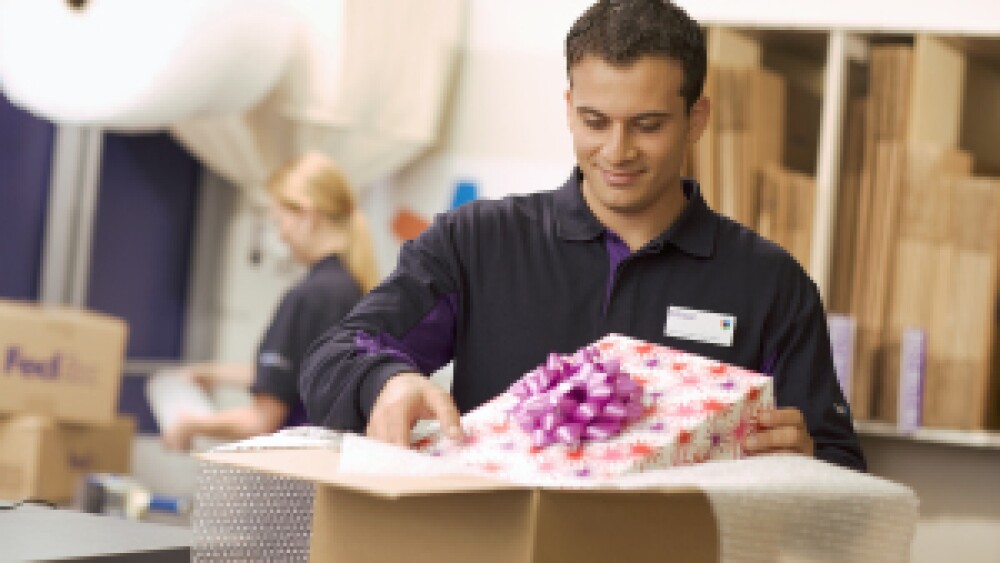 MEMPHIS, Tenn., Nov. 30, 2010 – The shipping experts at FedEx know the holidays are the best time of year to connect with far-away loved ones by sending that perfect gift. FedEx Corp. (NYSE: FDX) offers customers several solutions to help pack and ship precious packages this holiday season, from homemade cookies to the hottest toys to the most delicate ornaments.
"The extensive training and experience of FedEx team members allows us to provide our customers with the expert advice and solutions that take the guesswork out of holiday shipping," said T. Michael Glenn, executive vice president of Market Development at FedEx. "Our expertise, coupled with the reliability of the FedEx shipping network, means customers have one less thing to worry about this holiday season."
Whether shipping tasty treats or the latest gadget topping wish lists, the professionals at FedEx have the solutions to help consumers ship faster, smarter and greener this holiday season.
Ship it Smart with FedEx
Follow these easy packing and shipping tips from the experts at FedEx. You can also visit fedex.com/packaging for more helpful advice.



Choose the right supplies




Use sturdy boxes with flaps intact. For heavier items, use double-wall boxes. Keep within the weight specifications for your box.

Make sure your box is large enough to put adequate padding around contents. Position your item in the center of the box and surround by cushioning such as bubble wrap, packing "peanuts," densely packed shredded paper or foam pads. Use enough packing material – ideally one inch on all sides – so the item does not shift during transit.

Use tape designed for packing, not duct or masking tape. Use the "H Tape" method to securely close all of the box flaps.

Do not wrap the outer box with paper or string, which can get caught in automated processing equipment.

FedEx Office offers a variety of the most popular packing supplies, including boxes, tape, bubble wrap and other essentials for purchase. Locations also provide free FedEx shipping supplies for FedEx Express shipments.

Use smart labeling




Position the address label squarely on the largest surface, and provide complete sender and recipient addresses, including phone numbers and ZIP codes.

Put the recipient's address and your return address inside the box as well.

Call in the experts




FedEx Office has shipping specialists trained in pack and ship best practices to give you advice or pack up your gifts for you.

The more than 1,800 FedEx Office locations across the U.S. offer a full range of FedEx Express, FedEx Ground and FedEx Home Delivery shipping options – with most stores open as late as 11 p.m. and 300 that are open 24 hours.

Set up shipments online




FedEx Ship Manager at fedex.com was the industry's first Internet-based shipping option. To use, customers simply click the "Prepare Shipment Online" option under the "Ship" tab on the fedex.com U.S. home page, register as a user and follow the easy-to-use instructions. No extra software is required.

Ship early and avoid the lines




Customers have until December 17, 2010, to find and send that perfect holiday gift via FedEx Ground or FedEx Home Delivery. Last-minute shoppers have until December 23, 2010, to ship FedEx Express.

Customers can log onto fedex.com to determine shipping options, including rates and transit times to ensure that gifts are shipped in time to arrive for the holidays.

Allow recipients to receive gifts on their schedule




FedEx Office now offers two complimentary services that allow package recipients to pick up their items whenever it's most convenient for them.

The FedEx Hold at Location service is great for customers who know their recipient won't be home to accept delivery of a package. Customers can choose to have their FedEx Express or FedEx Ground package sent to a domestic FedEx Office store of their choosing before any delivery attempt is made. FedEx Express packages may also be sent to FedEx World Service Centers, including select international locations. Packages are held for up to five business days and a government-issued ID is required to pick up packages.

With FedEx Redirect to Hold, U.S.-based customers who missed a delivery attempt by FedEx Express or FedEx Ground or know they will not be available to accept a package at a given time can have the package re-routed to a local FedEx Office store.

Both solutions are provided to customers free of charge – an offering competitors cannot match.

Also, when shipping FedEx Home Delivery, FedEx Office can set up one of three convenient delivery options to ensure that recipients are home at the delivery time. For an additional charge, customers can choose FedEx Evening Home Delivery® for delivery between 5 and 8 p.m., FedEx Date Certain Home Delivery® for a specific delivery date and FedEx Appointment Home Delivery® for a certain date and time for delivery. These appointment options are not offered by any other competitors today.

Track it




Tracking a package for real-time delivery status and location information is easy and convenient on fedex.com.

In fact, more than six million package-tracking requests are handled on an average day – and even more during the busy holiday shipping season.

Customers can also confirm a package's status by calling 1.800.Go.FedEx (1.800.463.3339).
Ship it Green with FedEx
FedEx offers the following tips to get your package to its holiday destination while minimizing the environmental impact.



Use the smallest box possible while adequately protecting your item. For fragile presents, double box the gift for more protection while shipping and reuse an older box for the interior box.

Purchase boxes made from recycled materials. FedEx envelopes are made from 100 percent recycled content. FedEx 10 kg and 25 kg boxes contain a minimum of 70 percent recycled content and are recyclable.

If you must reuse an exterior box, make sure it is in good condition with no holes, tears or corner dents. Remove any old labels to avoid confusion.

Look for eco-friendly solutions to cushion your package's contents. FedEx suggests solutions such as shredded paper or biodegradable packing "peanuts."

Make sure you package your product properly with the correct amount of cushioning material and utilize a sturdy corrugated shipping container. Remember that the less your package weighs, the fewer resources it will use.

Save a truck stop. While you're running other errands, drop off your FedEx Express shipments at one of more than 52,000 FedEx drop off locations. Both FedEx Ground and FedEx Express packages can be dropped at more than 1,800 FedEx Office locations nationwide.

Ship with a company that has strong environmental priorities. By the end of 2010, FedEx will operate more than 335 hybrid and electric vehicles around the globe and more than 1,800 alternative fuel vehicles and equipment. The FedEx hybrid fleet has logged more than five million miles of revenue service since being introduced in 2004 – the equivalent of over 200 laps around the equator.
About FedEx
FedEx Corp. (NYSE: FDX) provides customers and businesses worldwide with a broad portfolio of transportation, e-commerce and business services. With annual revenues of $36 billion, the company offers integrated business applications through operating companies competing collectively and managed collaboratively, under the respected FedEx brand. Consistently ranked among the world's most admired and trusted employers, FedEx inspires its more than 285,000 team members to remain "absolutely, positively" focused on safety, the highest ethical and professional standards and the needs of their customers and communities. For more information, visit news.fedex.com.