FedEx Launches Sixth Annual FedEx Cares Week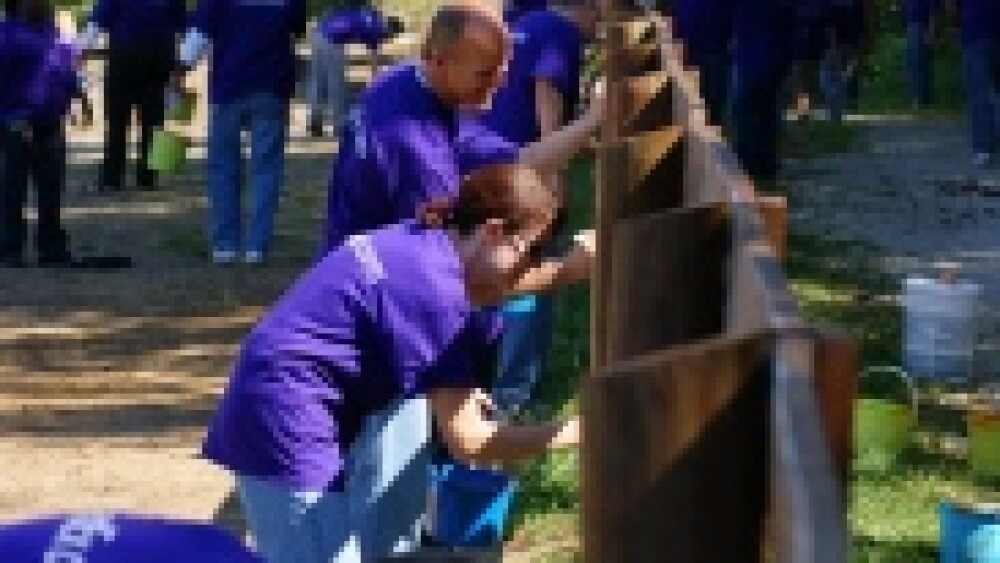 MEMPHIS, Tenn., Sept. 20, 2010 – FedEx Corp. (NYS: FDX) launches its sixth annual FedEx Cares Week, providing volunteer and service opportunities for team members around the world. More than 4,000 FedEx volunteers worldwide will donate their time and talents to serving local organizations dedicated to improving the quality of life in the communities where FedEx team members live and work.

FedEx Cares Week will be held in more than 40 countries and territories from September 11-18 in the Asia-Pacific region and from Sept. 17-25 in the U.S., Latin America and Europe. This includes 21 newly-participating countries and territories. FedEx team members across the globe will serve their communities in countries such as Australia, Belgium, Brazil, China, France, Korea, Mexico, Puerto Rico, the Philippines and the United Kingdom, and in more than 30 U.S. cities, including Atlanta, Boston, Chicago, Dallas, Denver, Houston, Indianapolis, Los Angeles, Memphis, Miami, New York, Newark, Pittsburgh, San Francisco, St. Paul/Minneapolis and Washington, D.C.

"FedEx Cares Week empowers FedEx team members around the world to serve together and make a difference in their own backyards," said Stephanie Butler, manager of Global Citizenship at FedEx. "The FedEx culture breeds a passion and commitment to the many communities in which we live and serve, and the program keeps growing, with 18 new countries and territories participating this year. FedEx Cares Week is just one way we join together to give back."

FedEx Cares Week serves as the formal kick-off for the annual U.S. FedEx United Way campaign. In addition to volunteering hundreds of thousands of hours each year, FedEx and its team members gave nearly $15 million to the United Way in 2009 and over $45 million over the past three years.

This year's FedEx Cares Week service projects include:


Caring for the elderly and disabled through Hands On Shanghai in Beijing, Tianjin, Shenzhen, Dongguan, Guangzhou, Chengdu, Wuhan, Shanghai and Yiwu, China

Environmentally-focused activities throughout the Asia Pacific region, ranging from tree planting and greening of urban spaces to conducting environment-focused education sessions

Cleanup and building improvements for schools, orphanages, a boys home, an elderly facility, and a child care center in Tortola, St. Lucia, Mexico, Martinique, Jamaica, the Dominican Republic, Chile, Barbados and the Bahamas

Food bank assistance in Boston, Charlotte, N.C., Milwaukee, Sacramento, Calif., St. Paul, Minn., and Washington and renovation and clean-up projects for shelters, schools, community centers and transitional housing in Harrison, Ark., Grove City, Ohio, Harrisburg, Pittsburgh and Philadelphia, Pa., Greensboro, N.C., Newark, N.J., Lakeland and Jacksonville, Fla., and San Francisco and Los Angeles.

Creation of raised beds so that the children can grow their own vegetables as part of a healthy eating program and colorful painting of rooms in a center for families in the UK; school materials collection and career sharing in France; playground improvements for underprivileged children and serving meals at a local fundraising dinner for a home for disabled adults in Belgium.
For more information about FedEx Cares Week and the FedEx commitment to volunteerism and the communities it serves, please visit fedexcares.com.

About FedEx

FedEx Corp. (NYSE: FDX) provides customers and businesses worldwide with a broad portfolio of transportation, e-commerce and business services. With annual revenues of $36 billion, the company offers integrated business applications through operating companies competing collectively and managed collaboratively, under the respected FedEx brand. Consistently ranked among the world's most admired and trusted employers, FedEx inspires its more than 280,000 team members to remain "absolutely, positively" focused on safety, the highest ethical and professional standards and the needs of their customers and communities. For more information, visit news.fedex.com.