FedEx Launches Ninth Annual FedEx Cares Week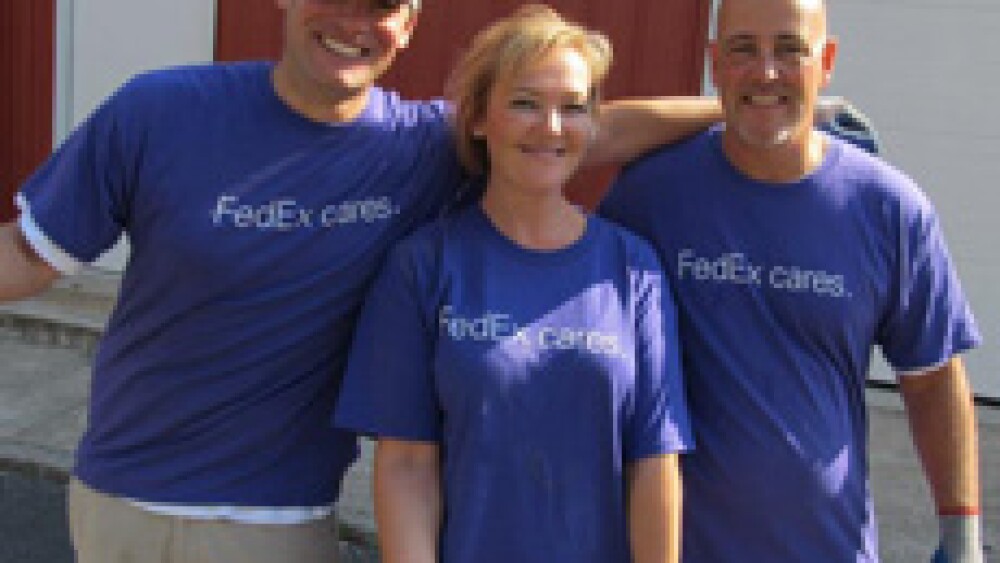 MEMPHIS, Tenn., Sept. 16, 2013—FedEx Corp. (NYSE: FDX) launches its ninth annual FedEx Cares Week today, providing volunteer and service opportunities for team members both in the U.S. and around the world. Thousands of FedEx volunteers worldwide will donate their time and talents to serving local organizations dedicated to improving the quality of life in the communities where FedEx team members live and work.
In recognition of the 40th anniversary for FedEx, team members worldwide are honoring the long-standing tradition of service by organizing and volunteering in support of their favorite organizations.
FedEx Cares Week will be held from Sept. 16 – 20, 2013 in more than 40 U.S. cities, including Atlanta, Boston, Chicago, Colorado Springs, Dallas, Detroit, Indianapolis, Los Angeles, Memphis, Miami, Newark, Portland, Philadelphia, Pittsburgh, San Francisco, Seattle and Washington, D.C.
Additionally, FedEx team members across the globe will serve their communities for FedEx Cares Week in countries such as Canada, France, Italy, Mexico, Brazil, Australia and China.
"FedEx Cares Week gives FedEx team members across the globe the opportunity to make a difference in their own backyards," said Rose Flenorl, manager of Global Citizenship at FedEx. "A passion for volunteerism is ingrained in the FedEx corporate culture, and FedEx Cares Week is just one of the many ways we join together to give back."
Now in its ninth year, FedEx Cares Week serves as the formal kick-off for the annual FedEx cares United Way volunteer campaign. In addition to volunteering thousands of hours each year, FedEx and its team members gave more than $14.2 million to the United Way and other local nonprofits in 2012.
This year's FedEx Cares Week service projects include:
Redesigning a school library in Atlanta
Painting, organizing and landscaping a playground in Colorado Springs
Processing and storing donations at a food bank in Indianapolis
Renovating transitional housing for homeless families in Seattle
Building homes with Habitat for Humanity in Memphis
"Rebuilding the Jersey Shore" from Superstorm Sandy in Newark
Beautifying a lake in Guangzhou, China
Planting trees in Thailand
Preparing and distributing more than 1,000 meals in Australia
Cooking, gardening and painting at a foster home in Italy
Building transitional homes as part of the TECHO program in Latin America
For more information about FedEx Cares Week and the FedEx commitment to volunteerism and the communities it serves, please visit newsroom.fedex.com/citizenship_report.
About FedEx Corp.
FedEx Corp. (NYSE: FDX) provides customers and businesses worldwide with a broad portfolio of transportation, e-commerce and business services. With annual revenues of $44 billion, the company offers integrated business applications through operating companies competing collectively and managed collaboratively, under the respected FedEx brand. Consistently ranked among the world's most admired and trusted employers, FedEx inspires its more than 300,000 team members to remain "absolutely, positively" focused on safety, the highest ethical and professional standards and the needs of their customers and communities. For more information, visit news.fedex.com.
# # #