FedEx Holiday 2011 News & Updates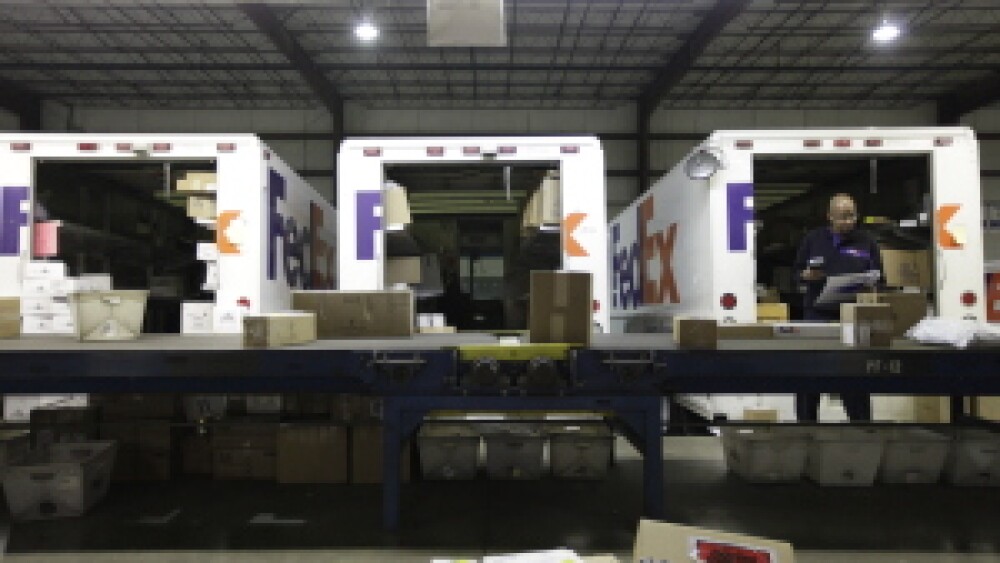 Holiday Press Releases:


Package Volumes Projected to Spike on December 12 as FedEx Hits its Busiest Day in History – FedEx Corp. facilities and team members will be buzzing on Monday, December 12, as the company reaches what is projected to be its busiest day in a nearly 40-year history. Company forecasters expect FedEx will move approximately 17 million shipments – almost double its daily average volume – through its global networks on that day.

Orphaned Grizzly Bears will be "Home for the Holidays" Thanks to a Special Delivery by FedEx – FedEx Express is kicking off December with its first special delivery of the holiday season. From among the 260 million packages FedEx expects to handle from Thanksgiving to Christmas, three orphaned grizzly bears heading to a new home at the Detroit Zoo are sure to be the cutest.

Opportunity Clicks – FedEx Keeps E-Commerce Moving for the Holidaysa>a>a>a>a>a>a>a>a>a>a>a>a> – With the continued annual gains in online holiday shopping, the pressure on e-tailers to deliver gifts to waiting customers grows each year. During the busy holiday season and beyond, FedEx solutions make the logistics of running a web-based retail business simpler than "point Get it There in One Piece – FedEx Offers Expert Tips on Preparing and Shipping Holiday Packages – As retailers and shoppers prepare for the busy holiday season, the experts at FedEx Corp. have called on their packing and shipping experts to compile solutions that help consumers pack it smarter, get it there faster, save money and minimize the environmental impact for shipmFedEx Office Offers Tips to Keep the Season Merry and Bright – It may be the most wonderful time of the year, but it's also crunch time as millions of shoppers rush to get ready for the holidays. FedEx Office is here to help navigate the winter wonderland with time-saving tips, expert shipping advice, special offers and at-your-service team members available at more than 1,800 FedEx Office locatFedEx to Deliver Symbols of Holiday Cheer to U.S. Service Members and Their Families – FedEx Corp. is once again honoring the dedication of America's servicemen and women by delivering happier holiday memories to military members and their families through the annual Trees for Troops® and WreaE-Commerce Shipments to Drive Record FedEx Holiday Volume – FedEx Corp. expects to move more than 17 million shipments through its global networks on December 12, the projeFedEx Suite of Mobile Apps Makes Shipping Simpler for On-the-Go Customers this Holiday Season – FedEx Corp. has launched a range of new tools and expansions to the suite of FedEx Mobile applications just in time for the holidays, making shipping-on-the-go eaThe Countdown is on for Procrastinating Holiday Shippers – For holiday shoppers, the countdown is on to get presents to their destination in time for the big day. As one of Santa's biggest helpers during the holiday season, FedEx Express is providing delivery before Christmas for packages shipped by Friday, December 23, 2011.
Holiday Fact Sheets & FAQs:


FedEx Holiday Key Dates & Deadlines 2011

FedEx Holiday Fun Facts 2011
Holiday B-Roll Footage & Images:
ImaTeam members at FedEx Express sort packages for the holiday

Team members load FedEx Express trucks in preparation for a busy day ryryFedEx Express packages out for deliveryryryFedEx Office team members offer expert packing and shipping advice e cecece
Spanish-Language Media MatFedEx espera un alza masiva en volumen de paquetes el 12 de diciembre, el día de mayor actividad en la historia de la empresaaatasHágalo llegar intacto: FedEx ofrece consejos prácticos de experto sobre cómo embalar, preparar y enviar paquetes para las fiestas de fin de añoañoeFedEx Office ofrece consejos prácticos para preservar la alegría y el brillo de la temporadadaporFedEx entregará símbolos de alegría navideña a los miembros de las fuerzas armadas y sus familiasliasmLos envíos de comercio electrónico impulsarán un volumen récord en FedEx durante la temporada de fiestasstas fiestasde fiestasada de fiestasorada de fiestasporada de fiestasporada de fiestasporada de fiestasporada de fiestasporada de fiestasemporada de fiestasemporada de fiestasemporada de fiestas