FedEx Ground Names Entrepreneurs of the Year
Three Small Businesses Recognized for Excellence in Customer Service, Safety and Community Support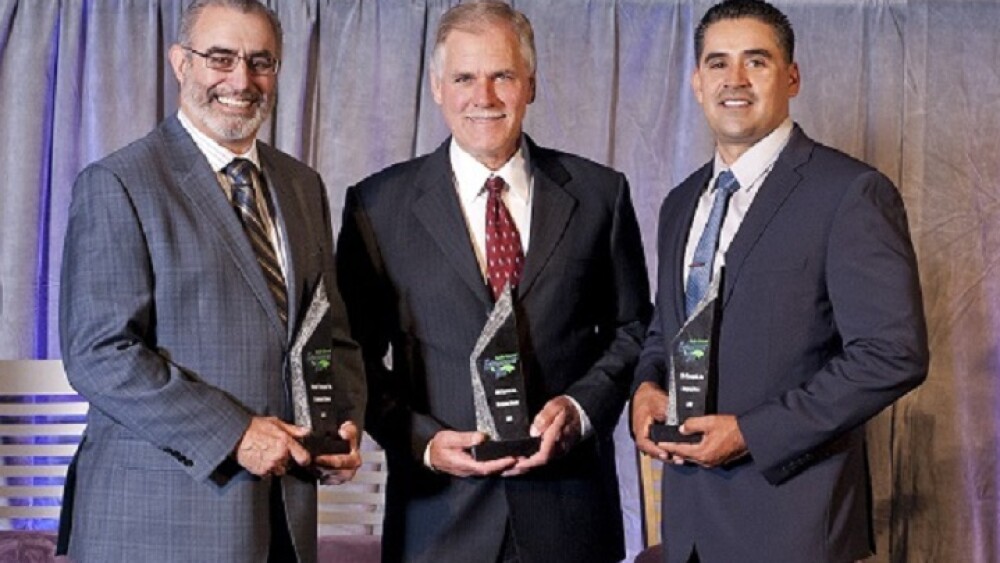 PITTSBURGH, Oct. 23, 2015–FedEx Ground, a leader in cost-effective, small-package ground shipping, has recognized three businesses that provide outstanding transportation services. Elite Transports, Inc., Rialto, Calif. (Owner Manuel Angulo), JSD Express, Inc., Utica, NY (Owner James De Armond), and Pickett Transport, Inc., Cleveland, Ohio (Owner Mark Pickett) were named FedEx Ground Entrepreneurs of the Year.
The distinction recognizes these businesses for their growth and development, customer service, safety record, community involvement, and business ethics. FedEx Ground contracts with more than 7,500 small businesses throughout the United States and Canada, and Elite Transports, JSD Express, and Pickett Transport were selected from the 17 regional winners representing the best of those companies for the period ending May 31, 2015.
"Since 2007, FedEx Ground has recognized as Entrepreneurs of the Year exceptional small businesses contracting with FedEx Ground that deliver reliable, safe, cost-effective, and professional service," said Henry J. Maier, president and CEO of FedEx Ground. "The entrepreneurs who own these companies have built lucrative and thriving businesses alongside FedEx Ground, while also making substantial contributions to their local communities."
The following are brief company profiles of the businesses recognized. For video profiles, visit www.buildagroundbiz.com.
Elite Transports, Inc., Rialto, Calif.–Manuel Angulo, Owner
As the business' name implies, first-rate service and attitude are hallmarks of Elite Transports, Inc. According to Manuel Angulo, "Our objective is to provide peace of mind to customers, so they feel confident their packages will arrive safely, securely and as promised every time."
Elite Transports' seven employees operate seven vehicles and has been providing excellent service for three years. In addition to drivers, the company employs a communications supervisor charged with helping to answer customers' questions, fulfill their requests and resolve issues, as well as maintain and distribute route maps and schedule time off.
The high level of service Elite Transports provides to customers can be attributed to its selective method of hiring, training and retaining personnel, including the development and use of an employee handbook that specifies both the employee and employer's role in achieving a successful business relationship. "We're proud of our employees," says owner Manuel Angulo. "We try to show that pride in the way we speak and interact with each other, including making considerations for illness, vacation time and family emergencies."
Complementing its treatment of employees is Elite Transports' focus on weekly fleet maintenance and attention to safety. One-on-one driver training includes safe-driving strategies, efficient route planning and proper loading and unloading techniques. Angulo is actively committed to safety and holds his own mandatory weekly safety meetings where Elite Transports' drivers are encouraged to brainstorm about how to prevent common types of accidents. "By bringing safety issues to our employees,"
Angulo explains, "We can better educate them about prevention, which will help us achieve zero accidents."
Elite Transports sponsors a local baseball team and is active in the Boy Scouts of America, serving in both volunteer and donor roles. The company also helps to sponsor community activities, including an annual golf tournament and a family fun day benefitting two local schools.
JSD Express, Inc., Utica, NY–James De Armond, President
JSD Express, Inc., has spent the last 25 years building a pristine reputation based on providing safe, outstanding service. The company, led by James De Armond, employs 30 people who operate a fleet of 27 vehicles in Utica and Albany, New York. De Armond's son serves as the company's business contact and full-time maintenance technician. His family also owns other businesses, including a maintenance garage and equestrian farm.
De Armond, who recently added a safety manager to JSD Express's business roster, is in contact with its drivers daily, sends out weekly safety messages and includes safety reminders with each paycheck. Drivers are thoroughly trained to use safe-driving methods and interact with other motorists courteously. Equipment inspections take place each day with a more rigorous appraisal performed on Saturdays. JSD Express deploys on-board cameras in each vehicle to encourage safe speed and operation, and offers a safe-driving bonus to reward drivers for reaching goals. De Armond also actively pursues a safety culture. He notes, "Safety is the number one metric and service is number two. If employees focus on safety first, service follows."
Drivers are trained to adhere to regulatory procedures, operate ethically and conduct themselves professionally at all times, especially during customer interactions.
For their excellence, JSD Express rewards employees with bonuses tied to customer satisfaction. The goal is for every employee to add to JSD Express' excellent reputation.
Recently, JSD Express purchased seven new CARB-compliant tractors to reduce the likelihood of breakdowns. To lessen its impact on the environment, the company uses CPU tracking devices that monitor fuel consumption and idle time.
In the community, JSD Express is involved with a local rescue mission, the Disabled American Veterans and a summer camp for children with special needs.
Pickett Transport, Inc., Cleveland, Ohio –Mark Pickett, President
Pickett Transport, Inc., has been providing the Cleveland, Ohio, region with excellent service for 30 years. The company, which includes 22 employees and a fleet of 22 vehicles, is led by Mark Pickett and its business manager Matt Pickett, whose collective goal is to aim high in safety and customer service.
Recruiting good drivers and training them to operate accident free is just the beginning of Pickett Transport's engaging safety culture, which boasts the safest fleet in Cleveland. Pickett Transport relies on the services and expertise of a vendor who provides safety programs that encourage employees to drive defensively and courteously.
To set high service expectations, Matt Pickett meets drivers at new pickup locations to provide an overview of the pickup and delivery process. Pickett Transport also produces its own customer service handbook, which emphasizes the delivery of a positive experience with every package. Both Mark and Matt Pickett can be found on the docks each workday interacting with their employees and FedEx Ground operations management.
Pickett Transport's reputation for excellence is equal to its reputation for adapting and growing along with FedEx Ground. The company is happy to consult with other service providers in Cleveland, viewing success as a collective process that involves teamwork. Extending their teamwork approach to the community, Pickett Transport most recently donated the use of six of its vehicles to deliver shoe boxes of personal items to people in need.
The company also has taken steps to enhance its cost efficiency and reduce environmental impact by investing in eight vehicles that run on natural gas, with a ninth vehicle on the way. They also assisted a Cleveland-based linehaul service provider that was interested in upgrading to natural gas-powered equipment.