FedEx Helps Deliver Holiday Joy with Mobile Gifting Truck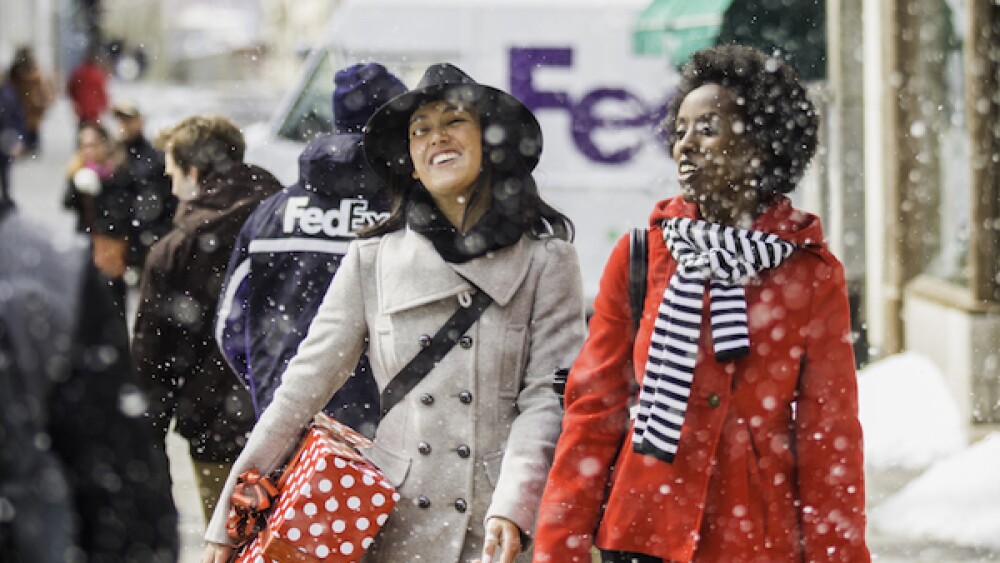 MEMPHIS, Tenn., Dec. 3, 2018— FedEx Corp. (NYSE: FDX) is unveiling a unique way to help customers deliver joy following a recent survey* that uncovered the emotional connection consumers have with both sending and receiving gifts during the holidays. According to research conducted by FedEx, nearly 80 percent of respondents said sending gifts to friends and family brings them joy and makes them feel more connected to loved ones. Shipping gifts gives people who are apart an opportunity to share holiday traditions – even from a distance.
FedEx is bringing this concept to life through its mobile gifting truck experience. This Dec. 5, consumers will have the opportunity to visit the truck on New York's iconic Fifth Ave. and select among four specially-curated gifts across various categories, while supplies last, including a gift option for the traveler, music lover, foodie and home décor aficionado.
TV personality and entrepreneur Catherine Lowe is teaming up with FedEx to help curate the collection of gifts, including selecting one for the home décor aficionado. Her pick, a candle with a soothing scent, will be among the four options to select from at the mobile gifting truck.
"The holiday season is a great reminder to give thanks and recognize those who mean the most to us," Lowe said. "The candle I selected brings me joy and comfort, and I love giving it to loved ones to help deliver those same feelings."
FedEx will ship the selected gift item to a loved one in the continental U.S. (excluding Alaska and Hawaii, while supplies last). Consumers in the New York area can visit the FedEx mobile gifting truck on the corner of Fifth Ave. and E 52nd St. between 10 a.m. and 4 p.m. EST to select a gift and ship the feeling of joy to a loved one.
"At FedEx, our purpose has always been to connect people and possibilities around the world," said Patrick Fitzgerald, senior vice president, Integrated Marketing and Communications, FedEx. "What we deliver goes beyond the physical package, and our involvement affects personal, business, family and community events, by helping build moments and memories for our customers."
FedEx survey findings show people will likely ship an average of five to six packages to loved ones this holiday season. For additional information, helpful FedEx shipping tips and deadlines, visit www.fedex.com/holiday.
*TRUE Global Intelligence™ conducted a 5-minute online survey among a nationally representative sample of 1,000 U.S adults, 18 years of age and older, to uncover consumers' emotional connection to gift giving during the holidays and both sending and receiving gifts. The margin of error is +/- 3 percent at a 95 percent confidence level.