FedEx Freight Technicians Sweep Top Spots at 2014 TMC SuperTech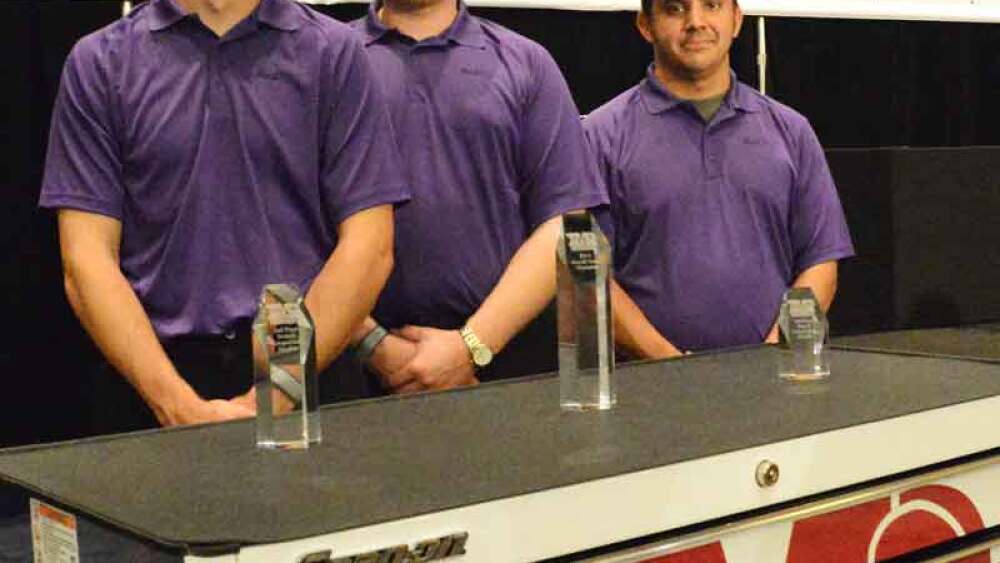 Fleet maintenance technicians from FedEx Freight, a subsidiary of FedEx Corp. (NYSE: FDX), swept the top three spots at the 2014 TMC SuperTech competition held in Orlando, Florida, Sept. 22-24.
Mark McLean Jr., a technician based in Newburgh, N.Y, captured the Grand Champion award. With six years of experience, he also placed at the top of the Service Information, Drivetrain, Fasteners and Wheel End 2 skill stations. McLean also earned the Grand Champion title at the 2013 SuperTech competition.
Eric Vos, a technician with the company for the last 10 years in Boise, Idaho, finished second. He placed first in the Lift Gate, Wheel End and Recommended Practices Manual skill stations.
Third-place went to Chuck Kerr of San Antonio, Texas. Kerr has been with FedEx Freight for 2 years.
Four additional FedEx Freight technicians earned awards at the competition:

Matt Nolan, Hartford, Conn. – fifth place and winner of the CSA station
Andrew Dilmuth, Jacksonville, Fla. –16th place and winner of the Preventative Maintenance Inspection station
Jeff Ostby, Spokane, Wash. – 18th place
Doug Nickles, Rock Island, Ill. – 20th place
FedEx Freight also captured the team trophy, a new award for this year, thanks to the combined scores of McLean and Nolan.
"Winning a second SuperTech title was really important to me," said McLean. "I put a lot of pressure on myself to come back and prove I could win again. The support of my teammates and FedEx made all the difference in making it happen."
SuperTech, hosted by the Technology & Maintenance Council of the American Trucking Associations, is the premier skills competition for professional commercial vehicle technicians.
More than 130 technicians from across the industry faced off in the competition. They were challenged with a combination of 25 written exams and hands-on skill tasks that tested each technician's knowledge of engine electronics, suspensions, brakes, fasteners, natural gas fueling systems and more.
"I'm really proud of our team for stepping up to the challenge this year and coming away with another great performance at SuperTech," said John Smith, vice president of Safety, Fleet Maintenance and Facility Services. "These technicians are dedicated to being the best, and it showed in the competition."