FedEx Express Donates Two Aid Supply Flights to UNICEF in Response to Famine in Somalia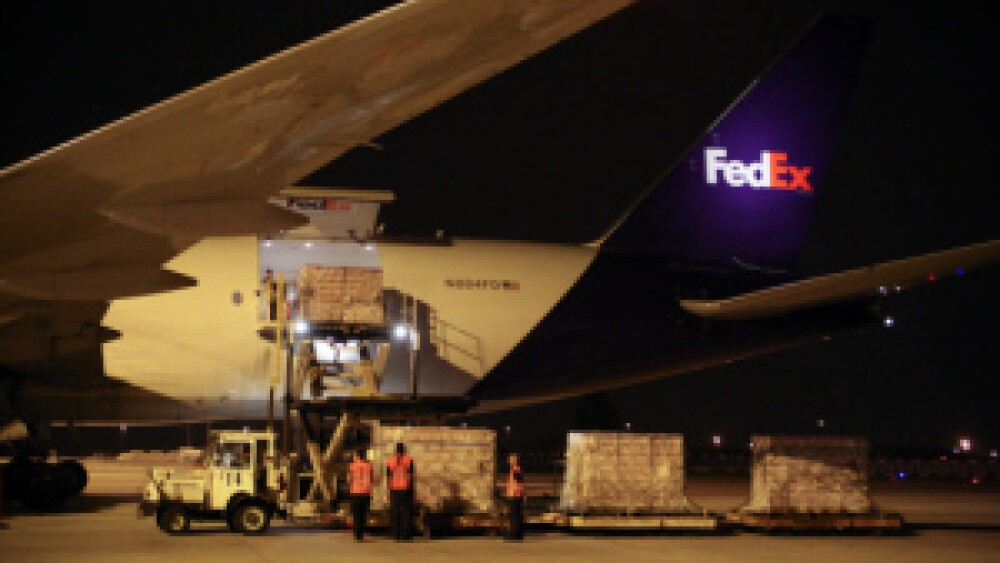 MEMPHIS, Tenn., Aug. 22, 2011—In response to the famine in Somalia, FedEx Express, a subsidiary of FedEx Corp. (NYSE: FDX) and the world's largest express transportation company, delivered yesterday approximately 91 metric tons (200,000 pounds) of high-nutrient food to Nairobi, Kenya. The charitable initiative was organized in collaboration with UNICEF with the aim of offering life-saving assistance to severely malnourished children in south and central Somalia.
To complete the large-scale humanitarian mission, FedEx used a Boeing 777F aircraft. The relief aid shipment coincides with the company's announcement to donate an additional 777F relief flight.
The in-kind donations currently make FedEx the single largest provider of philanthropic air lifts of aid for UNICEF in response to the famine in Somalia. Together the loads will treat over 6,000 severely malnourished children and provide fortified food for 4,000 families for two weeks.
The Boeing 777F aircraft departed Paris Saturday evening and arrived in Nairobi the following morning. Thestate-of-the-art, fuel-efficient aircraftis the world's largest twin-engine cargo aircraft. With a larger payload capacity, the 777F aircraft providesa greater injection of aid in a single trip than many other airplanes. The modern 777F carries 14,000 more pounds of goods and also uses 18% less fuel than the MD-11, making it an efficient way to deliver aid when disaster strikes.
UNICEF is currently transporting the aid into Somalia, ensuring that the relief shipment reaches those children most deeply affected by the crisis.
FedEx Express maintains a longstanding commitment to disaster relief. The company donated more than five million pounds (approximately 2,300 tons) of charitable shipping last year alone.
"The crisis in the Horn of Africa calls for a prompt and unwavering response. I am both humbled and honored that FedEx can lend its robust logistics expertise and global transportation capabilities to help UNICEF to bring much-needed relief to the children of this region." said Gerald P. Leary, president, FedEx Express Europe, Middle East, Indian Subcontinent and Africa.
"An estimated 2.3 million children are suffering from malnutrition in the Horn of Africa," said Tim Hunter, deputy director, fundraising, UNICEF. "We are grateful to FedEx for the company's generosity. The life-saving food supplies will reach some of the most vulnerable children whose lives UNICEF and partners are working hard to save."
The food shortage has been recognized as the most severe humanitarian crisis in the world to date. Famine was declared in parts of south Somalia in July. Since then, more than a thousand Somali children continue to arrive in Ethiopia and Kenya on a daily basis. To learn more about the crisis and how you can help, please visit http://www.unicef.org.