FedEx Express Cessna Aircraft Named in Honor of St. Jude Children's Research Hospital Patient
Plane Dedicated at Purple Eagle Ceremony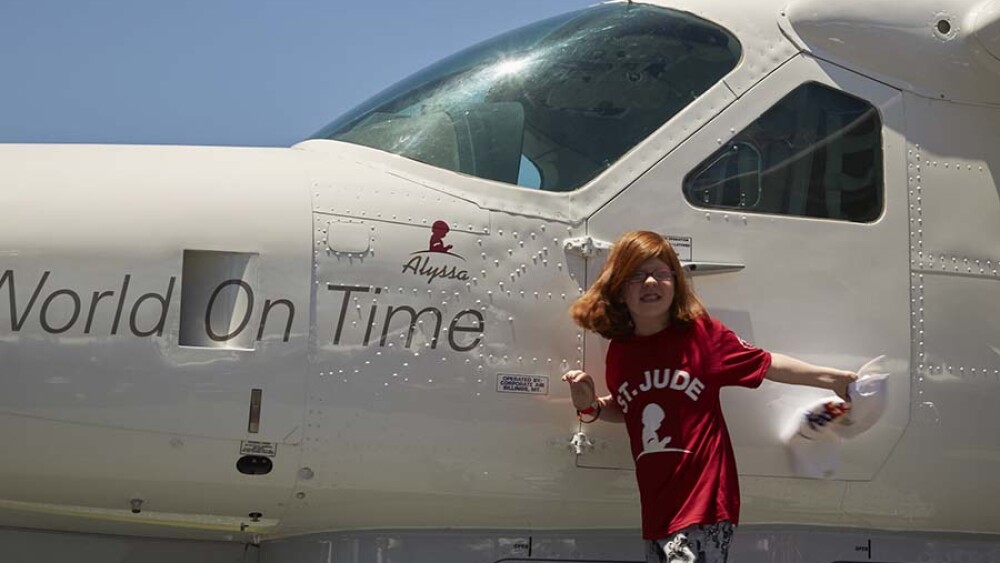 FedEx Express, a subsidiary of FedEx Corp. (NYSE: FDX), and the world's largest express transportation company, joined St. Jude Children's Research Hospital® today in dedicating a FedEx Cessna Caravan airplane in honor of St. Jude patient Alyssa, the daughter of a FedEx team member. For the fifth consecutive year, the Purple Eagle ceremony took place near the driving range at TPC Southwind, home of the 59th Annual FedEx St. Jude Classic.
Alyssa, the daughter of Remco de Jong, a FedEx Security data tech advisor, joined the ceremony to unveil her name on the aircraft. The cargo plane, which also features the iconic St. Jude logo, will be on display throughout the tournament. Alyssa's name will travel throughout the Midwest as a permanent fixture on the FedEx Cessna Caravan at the conclusion of the FedEx St. Jude Classic.
The goal of the Purple Eagle program is to spotlight the important work being done by St. Jude Children's Research Hospital, and in particular, to celebrate a current patient, who happens to be the son or daughter of a FedEx employee.
"The Purple Eagle dedication has become an incredibly heartwarming annual tradition. There's nothing quite like watching a child's face light up with joy as his or her name is unveiled on that plane," said Bill West, Jr., vice president of Supplemental Air Operations for FedEx Express. "Alyssa fought cancer head on. She, like all of the patients at St. Jude, is a true inspiration and FedEx Express is proud to fly the Purple Eagle in her honor."
Alyssa, a spunky 13-year-old whose family says she loves to dance and be silly, was diagnosed with melanoma at the age of six. Her family turned to St. Jude Children's Research Hospital, where treatment included surgeries to remove the cancer, as well as some of her lymph nodes. Alyssa has finished treatment and now visits St. Jude for regular check-ups.
Alyssa is not the only one in her family to see her name emblazoned on a FedEx aircraft. One year ago, her cousin Tyler was center stage at the Purple Eagle dedication. He was diagnosed with acute lymphoblastic leukemia in 2014 and recently finished treatment, also at St. Jude.
After watching Alyssa and Tyler go through treatment, the family was hit hard a third time. Her father, Remco, was diagnosed with throat cancer in February.
"We're so grateful for all the support we've received from our FedEx family during Alyssa's treatment, Tyler's treatment, and now mine. I am proud to work for a company that knows the importance of raising awareness for the groundbreaking research being done at St. Jude Children's Research Hospital," said de Jong. "It's hard to put into words what St. Jude means to our family. Both our daughter and our nephew are healthy today thanks to the lifesaving care from the best medical professionals in the world."
FedEx first became the title sponsor of the FedEx St. Jude Classic in 1986. The tournament has raised more than $33 million for St. Jude since 1970, when the hospital became the sole beneficiary. Because of dedicated supporters like FedEx, families never receive a bill for treatment, travel, housing or food because all of family should worry about is helping their child live.
In 2007, FedEx aligned with the PGA TOUR to introduce the FedExCup, an exciting season-long points competition culminating with the PGA Tour's first-ever playoff system. The FedExCup has been an effective way for FedEx to reach its customers and engage in the community and has allowed the company to support national and local charities, such as St. Jude, in a hands-on manner.
"We are incredibly thankful to our friends at FedEx for providing this unique opportunity to honor Alyssa, who represents all of the patients at St. Jude who are courageously batting cancer and other life-threatening diseases," said Richard Shadyac Jr., president and CEO of ALSAC, the fundraising and awareness organization for St. Jude Children's Research Hospital. "FedEx, its leadership, employees and customers have whole-heartedly embraced the St. Jude mission and are helping us raise the critical funds and awareness to find cures for some of the world's sickest children."
[gallery columns="1" link="file" ids="13669,13665,13673,13671,13666,13667,13670"]