FedEx Express Breaks Ground on New Solar Installation at Newark Hub Facility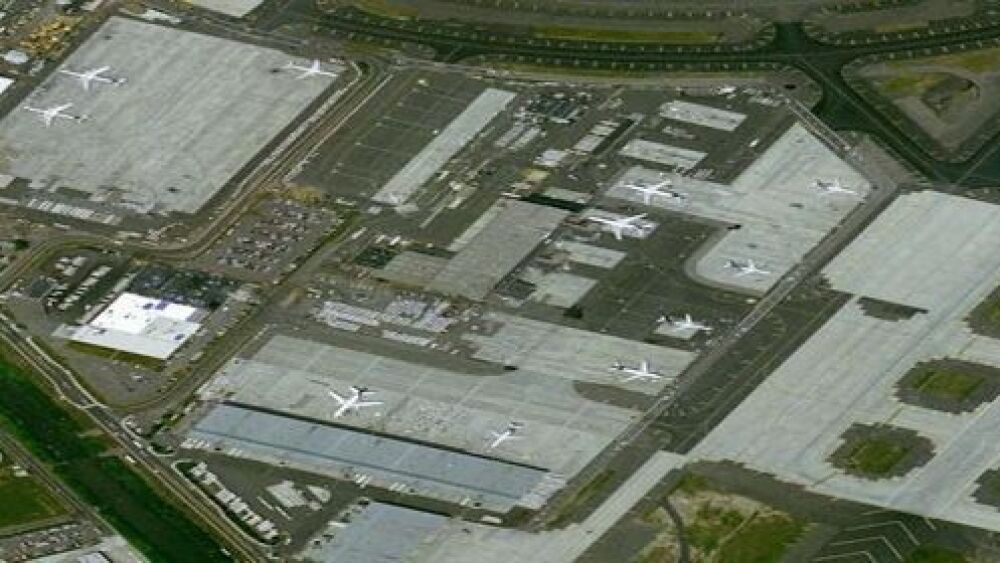 Memphis, TN, October 17, 2012 – FedEx Express, a subsidiary of FedEx Corp. (NYSE: FDX) and the world's largest express transportation company, today announced plans to install its largest rooftop solar-electric system at its distribution hub in Newark, NJ. This announcement came after several years of planning with The Port Authority of NY & NJ, Marina Energy, LLC, Solops, LLC and Ray Angelini, Inc.
FedEx operates eight solar facilities around the world. "This solar installation at our Newark FedEx Express hub advances our commitment to connect the world in responsible and resourceful ways," said Mitch Jackson, vice president Environmental Affairs and Sustainability, FedEx Corp. "Deploying solar technologies such as these at our facilities helps us to reduce greenhouse gas emissions from our operations while providing more sustainable options for our customers."
This project will create work for more than 120 individuals working in more than eight separate industries. Workers will install the 8,684 solar modules that will cover 3.5 acres across three buildings on the roof of the FedEx Express hub at Newark airport. When completed, the system will generate approximately 2.4 million kilowatt hours (kWh) and could provide over 15 percent of the hub's energy needs.
"We applaud FedEx for thinking green and adding to the Port Authority's already-robust sustainability program," said Port Authority Executive Director Pat Foye. "Creating environmentally friendly facilities is of great importance to us and we thank FedEx for helping us raise the bar at Newark Airport."
"The Port Authority is implementing more than 50 environmentally sustainable initiatives at Newark Liberty and appreciates the efforts of tenants like FedEx to help us meet our goals," said Port Authority Deputy Executive Director Bill Baroni. "FedEx will be the first company with solar panels on a building at Newark Liberty, and we look forward to other tenants following their lead."
Other green initiatives begun by the Port Authority at Newark Liberty and its other airports include ground management plans that reduce the amount of pollution caused by unnecessary burning of jet fuel, the purchase of airport vehicles that use hybrid and alternative fuels and various recycling programs to reduce trash levels.
"Solar-power is a cost-effective method to generate sustainable energy and significantly lessens the dependence on the electric grid thus reducing greenhouse gas emissions," said Stephen Poniatowicz, Sr. Vice President, Marina Energy, LLC. This solar project is expected to eliminate the release of more than 1,807 metric tons of CO2 gas.
"This project joins a long list of notable NJ solar projects such as the Liberty Science Center and Johnson & Johnson where we've been the design/build provider, working together with private and public sectors to engineer sustainable energy solutions," said Raymond J. Angelini, President, Ray Angelini, Inc. "Like our other projects, this one will help its owners greatly reduce their impact on the environment while still meeting customer needs." Additionally, renewable energy is an efficient way to control as much as 35% of energy costs or more depending on the project, while benefiting both the environment and a company's bottom line.
"Due to the ever changing landscape of the solar industry, the development of these projects requires a complex finance model and strong commitment by all parties involved, said Matthew Rosenblum, President & CEO of Solops, LLC. "Each of these companies should be commended on their efforts in pioneering sustainable solar energy at Newark Liberty International Airport."
When the system is fully operating, the combined environmental benefits based on a projected annual reduction of approximately 1,807 metric tons of CO2 emissions, are equivalent to one of the following*:
354 passenger cars not driven for one year
202,563 gallons of gasoline not burned
4,202 barrels of oil not consumed
225 households' electricity use for one year
46,330 tree seedlings grown for 10 years
17.9 acres of forest preserved from deforestation
* U.S. Environmental Protection Agency Greenhouse Gas Equivalencies
About FedEx
FedEx Corp. (NYSE: FDX) provides customers and businesses worldwide with a broad portfolio of transportation, e-commerce and business services. With annual revenues of $43 billion, the company offers integrated business applications through operating companies competing collectively and managed collaboratively, under the respected FedEx brand. Consistently ranked among the world's most admired and trusted employers, FedEx inspires its more than 300,000 team members to remain "absolutely, positively" focused on safety, the highest ethical and professional standards and the needs of their customers and communities. For more information, visit news.fedex.com.
About the Port Authority
Founded in 1921, the Port Authority of New York and New Jersey builds, operates, and maintains many of the most important transportation and trade infrastructure assets in the country. The agency's network of aviation, ground, rail, and seaport facilities is among the busiest in the country, supports more than 550,000 regional jobs, and generates more than $23 billion in annual wages and $80 billion in annual economic activity. The Port Authority also owns and manages the 16-acre World Trade Center site, where construction crews are building the iconic One World Trade Center, which is now the tallest skyscraper in New York. The Port Authority receives no tax revenue from either the state of New York or New Jersey or from the City of New York. The agency relies on revenues generated by facility users, tolls, fees and rents as well as loans, bond financing, and federal grants to fund its operations. For more information, please visit http://www.panynj.gov.
About Ray Angelini, Inc.
Ray Angelini, Inc. (RAI®) is a commercial solar design build, solar maintenance, electrical construction, general construction, and power systems testing and commissioning firm. Founded in 1974, by Raymond J. Angelini, as an electrical contracting company, RAI established a solar division in 2004 and has since completed solar projects throughout the region, including Merck, Lincoln Financial Field, Liberty Science Center, and DuPont. RAI is recognized by NJBIZ magazine as the largest solar provider in NJ. RAI is a Butler Builder® construction professional. To learn more about RAI, visit www.raiservices.com or call the Sewell, NJ-based headquarters at 856-228-5566.
About Marina Energy
Marina Energy, a subsidiary of South Jersey Industries (NYSE: SJI), specializes in the design, construction and operation of moderate to large scale energy projects for commercial and industrial markets. Marina's projects include thermal, cogeneration, solar and landfill gas-to-electric facilities. Among Marina's largest projects is the Marina Thermal Plant that serves Borgata Hotel Casino and Spa in Atlantic City, NJ. For more information about SJI and its subsidiaries, visit www.sjindustries.com. Find us on facebook at facebook.com/southjerseyindustries and on twitter @sjindustries.
About Solops
Solops develops and implements complex finance and business structures in order to fund solar installations nationwide. Solops also provides comprehensive portfolio asset management which includes investment strategies for the management of all SRECS and other environmental incentives. Solops works with its' clients and partners to customize and implement a funding strategy to utilize the development of solar installations to enhance the value of a portfolio by improving cash flow, preserving certain internal hurdle rates of return, or adding value to existing static real estate assets. Solops has established relationships and strategic partnerships with industry leading solar integration companies and brokerage houses, private equity funds, hedge funds, large investment banks, and regional lending institutions which collectively enhances Solops' ability to provide flexible creative funding solutions. For more information, visit www.solops.com.