FedEx Donates Shipping Solutions as Journey Begins in Search for Amelia Earhart's Lost Aircraft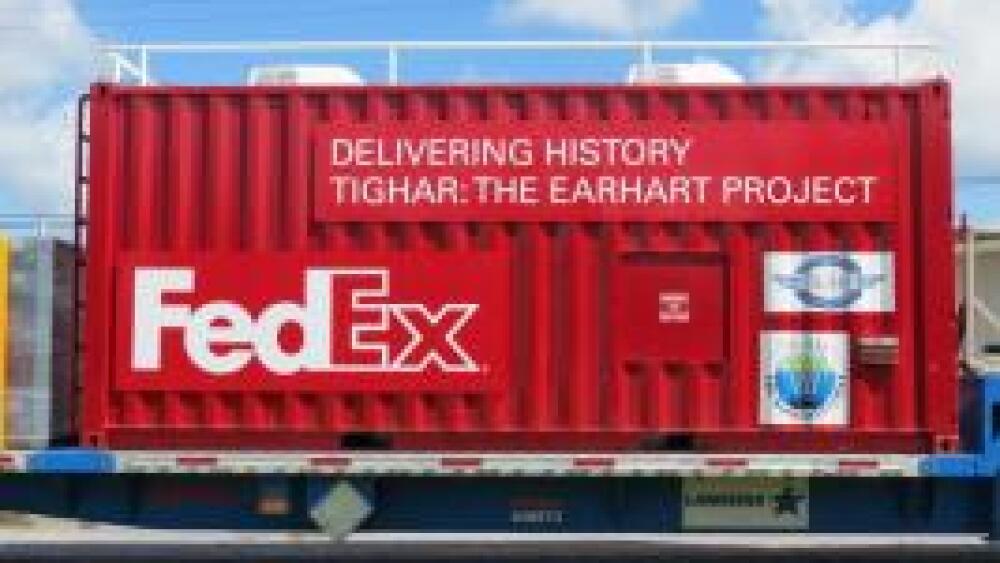 MEMPHIS, Tenn., June 18, 2012 — Seventy five years ago, Amelia Earhart's disappearance became one of the greatest mysteries in aviation history. This summer, FedEx Corp. (NYSE: FDX) is supporting the search for answers with the transportation of underwater investigative equipment set for use by TIGHAR (The International Group for Historic Aircraft Recovery) in its upcoming Earhart Project expedition.

FedEx, itself an aviation history-maker as the pioneer of overnight delivery, is donating in-kind services to support the logistical needs of moving high-tech search equipment from the continental United States to Honolulu, where the Earhart Project will depart on July 2, 2012 – the 75th anniversary of Earhart's disappearance.

FedEx Solutions to Deliver History

With sensitive, high-value equipment of all shapes, sizes and weights moving to Honolulu, a number of FedEx operating companies were called on to create a seamless end-to-end delivery solution for TIGHAR that involves movements by air, ground, and sea.

"FedEx has the network flexibility and experience to create customized solutions for even the most unique shipping challenges, said Rajesh Subramaniam, Senior Vice President, Global Marketing, FedEx Services. "When faced with an 'outside the box' request our individual operating companies work to create a perfectly tailored delivery solution. This approach brings out the best of our logistical expertise and ensures we're providing an ideal solution for the customer."

For TIGHAR, the transportation begins today with FedEx Truckload Brokerage, an offering of FedEx Custom Critical, and the pick-up of three containers weighing 25,890 lbs. consisting of the expedition's underwater Remote Operated Vehicle (ROV), winch and control unit. Departing from Patterson, La., the containers will arrive in Los Angeles, Calif., on June 18. FedEx Custom Critical is a leading North American time-specific critical shipment carrier, providing door-to-door same-day and next-day delivery of urgent freight, valuable items and hazardous goods. Its White Glove Services® division has been a critical piece of many FedEx "special deliveries," including the movement of endangered sea turtle eggs during the Gulf Coast's oil spill crisis in 2010.

With more than 2,200 nautical miles between Los Angeles and Honolulu, Hawaii, FedEx Trade Networks and its ocean freight forwarding expertise was a critical piece of the shipping solution developed for TIGHAR. The three containers will travel by ocean freighter for four days, departing June 20 and arriving on June 24. Upon arrival of the containers in Honolulu, FedEx Trade Networks will again step in, helping to safely transport the containers from the port to a staging location at the University of Hawaii then onto the expedition vessel on June 27.

But more than the ROV is needed to make this search a success. FedEx Express, the world's first express delivery cargo airline, is flying in nearly 2000 lbs. of additional equipment from Massachusetts, including the Autonomous Underwater Vehicle (AUV) that will utilize sonar to continuously search the deep waters for signs of the aircraft.

FedEx Passion for Aviation History

FedEx has been an active supporter of TIGHAR for more than 16 years, a non-profit foundation dedicated to promoting responsible aviation archaeology and historic preservation. The group's continued search for the Earhart wreckage is of particular interest for the significant role she played in breaking down gender barriers in aviation.

"It's thrilling for FedEx to be involved in the search for answers in one of the greatest aviation mysteries of all time," said Paul Cassel, Senior Vice President of Flight Operations at FedEx Express with more than 25 years in the captain's seat. "While millions find the tale of her disappearance fascinating, as an airline we feel a special connection to her story and a gratitude for her contributions to the aviation industry."

For the latest information and multimedia content on The Earhart Project, check out the FedEx Blog at http://blog.fedex.com/EarhartProject.

About FedEx Custom Critical

FedEx Custom Critical provides expedited shipping solutions throughout North America and internationally. Among its divisions are Surface Expedite®, for exclusive-use shipping; Air Expedite®, for an array of premium air solutions to meet customers' critical delivery times; and White Glove Services®, for shipments that require extra care in handling, temperature control or specialized security. The company's subsidiary, FedEx Truckload Brokerage, is also available to meet customers' truckload shipping needs. FedEx Custom Critical is an operating subsidiary of FedEx Corp.

About FedEx Trade Networks

FedEx Trade Networks, and its predecessor companies, have more than 100 years of experience in international trade. The company's advanced technology and network of worldwide locations and alliances enables it to provide comprehensive ocean and air international freight forwarding, customs brokerage, Global Order Logistics, distribution and surface transportation, trade advisory services, and advanced e-commerce and trade facilitation solutions. FedEx Trade Networks has the resources and support to help customers of all sizes navigate the intricacies of shipping goods globally. For more information, visit ftn.fedex.com.

About FedEx Express

FedEx Express is the world's largest express transportation company, providing fast and reliable delivery to every U.S. address and to more than 220 countries and territories. FedEx Express uses a global air-and-ground network to speed delivery of time-sensitive shipments, by a definite time and date with a money-back guarantee.

About FedEx Corp.

FedEx Corp. (NYSE: FDX) provides customers and businesses worldwide with a broad portfolio of transportation, e-commerce and business services. With annual revenues of $42 billion, the company offers integrated business applications through operating companies competing collectively and managed collaboratively, under the respected FedEx brand. Consistently ranked among the world's most admired and trusted employers, FedEx inspires its more than 300,000 team members to remain "absolutely, positively" focused on safety, the highest ethical and professional standards and the needs of their customers and communities. For more information, visit news.fedex.com.