FedEx Delivers Rare T. Rex Skeleton to Smithsonian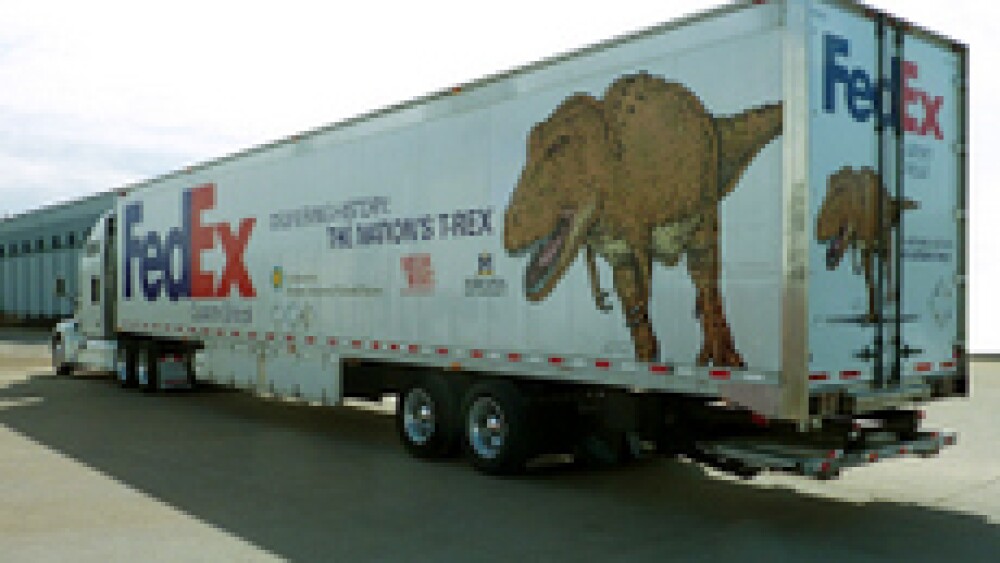 MEMPHIS, Tenn., April 15, 2014—FedEx Custom Critical, a subsidiary of FedEx Corp. (NYSE: FDX), has safely transported a rare Tyrannosaurus Rex skeleton from the Museum of the Rockies in Bozeman, Montana to the Smithsonian National Museum of Natural History in Washington, D.C.
The 65 million-year-old fossil, named The Nation's T-Rex, will be on display at the Smithsonian where it is on loan for 50 years. It is intended to be the centerpiece of the new dinosaur hall at the Museum, which receives more than 7 million visitors annually. FedEx was pleased to provide the transportation to support this key piece of history.
Measuring 38 feet long and weighing seven tons, the T-Rex made the journey from Montana to Washington, D.C., on a specially-branded FedEx Custom Critical truck. The truck, driven by a husband-and-wife team, was equipped with the latest in innovative technology, including a GPS system programmed with the optimal route identified by the FedEx Custom Critical White Glove Services team.
Throughout the four-day journey, proactive monitoring and visibility were provided through ShipmentWatch, a new FedEx Custom Critical Service that utilizes SenseAware® devices to observe the shipment's defined specifications such as temperature, humidity, light exposure and barometric pressure while in transit. This unique offering is what makes FedEx the logistics carrier of choice when it comes to the safe delivery of priceless artifacts such as the T-Rex.
"FedEx Custom Critical has the experience and expertise in delivering some of the world's most precious cargo, and this unique shipment showcases our ability to once again create a perfectly tailored solution for our customer," said Virginia Albanese, president and CEO of FedEx Custom Critical. "We are thrilled to have collaborated with the Smithsonian to deliver such an important piece of history to our nation's capital."
Montana rancher Kathy Wankel first discovered an arm bone of the dinosaur in 1988 in the Fort Peck Reservoir—the first T. Rex arm bone ever found. After bringing the bone to the Museum of the Rockies, a team initiated an intense excavation around the reservoir. The search resulted in the unearthing of 80% of the dinosaur's skeleton. The Nation's T. Rex is now regarded as one of the most complete specimens known to man.
About FedEx Custom Critical
FedEx Custom Critical provides expedited shipping solutions throughout North America and internationally. Among its divisions are Surface Expedite®, for exclusive-use shipping; Air Expedite®, for an array of premium air solutions to meet customers' critical delivery times; and White Glove Services®, for shipments that require extra care in handling, temperature control or specialized security. The company's subsidiary, FedEx Truckload Brokerage, is also available to meet customers' truckload shipping needs. FedEx Custom Critical is an operating subsidiary of FedEx Corp.
About FedEx Corp.
FedEx Corp. (NYSE: FDX) provides customers and businesses worldwide with a broad portfolio of transportation, e-commerce and business services. With annual revenues of $45 billion, the company offers integrated business applications through operating companies competing collectively and managed collaboratively, under the respected FedEx brand. Consistently ranked among the world's most admired and trusted employers, FedEx inspires its more than 300,000 team members to remain "absolutely, positively" focused on safety, the highest ethical and professional standards and the needs of their customers and communities. For more information, visit news.fedex.com.
# # #