FedEx Delivers for FIRST® Robotics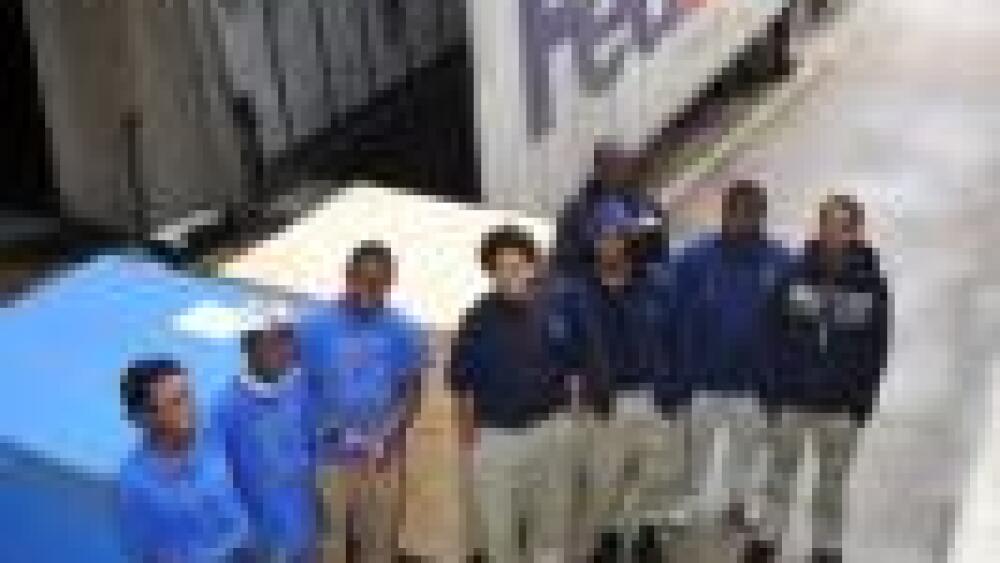 MEMPHIS, Tenn., Feb. 22, 2011—Today, during the annual FIRST® National Robot Ship Day, FedEx Corp. (NYSE: FDX) will provide transportation cost for more than 1,000 robots from student teams around the US who are competing in the 2011 FIRST® Robotics Competition (FRC®) events. Built on innovation, FedEx supports this international competition with a shipment donation, spread over all US teams, in an effort to inspire the next generation's interest and participation in science and technology.
The FIRST Robotics Competition is an annual competition that helps students to discover the excitement of science, technology, engineering and math (STEM) and the rewards a career in STEM can bring. More than 50,000 high-school students from the U.S., Australia, Brazil, Canada, Germany, Israel, Mexico, Turkey, and the U.K. will participate in this year's competition.
In total, FedEx will move 227 tons of US robots and crates, at an average of 400 pounds per team, through its networks. The FIRST team shipments will benefit from a series of FedEx innovation firsts, including: computers in delivery vehicles; tracking capabilities and software; package-status tracking; and use of wireless technology for shipping.
The student teams have only six weeks to build the robot to meet specifications, working under strict guidelines to create their entries for the 20th Season game. FedEx began the six week stretch on January 8, 2011, delivering materials needed for robot design.
Today, on FIRST National Robot Ship Day, all teams must part with their robotic creations via FedEx shipment until the Regional Competitions take place in March and April. This season, a projected 2,075 teams – including 417 rookie teams – will participate in the competition events which include 48 FIRST Regional Competitions in the U.S., Canada, and Israel, plus nine District Competitions and one State Championship in Michigan, leading up to the 2011 FIRST Championship to be held at the Edward Jones Dome in St. Louis, April 27-30.
"Innovation is an integral part of the FedEx culture and business strategy," explained Stephanie Butler, Manager of Corporate Contributions at FedEx. "We are very active with Junior Achievement and Teach for America, as well as FIRST, and firmly believe that to lead in technology, to innovate and produce jobs, we need to support education and foster passion for science and technology. We are proud to help make the FIRST Robotics Competition shipments possible for the seventh year running by donating the cost of transporting thousands of these 400-pound crates around the country."
In the 2011 competition, two alliances of three teams will compete on a 27-by-54-foot field with poles, attempting to earn points by hanging as many triangle, circle and square FIRST logo pieces as possible with their robots. Called "LOGO MOTION™", bonus points will be earned for each robot that can hang and assemble logo pieces to form the FIRST logo. Robots can also deploy Mini-Bots to climb vertical poles for a chance to earn additional points.

"FIRST brings the excitement of a sporting event to science and technology via all of our robotics competitions," said Bill Miller, Director of the FIRST Robotics Competition. "We create the excitement, the challenge and the fun in STEM while recognizing our technology, science, and engineering students as leaders in the making."
More than 50,000 high-school students will compete in the 2011 FIRST Robotics Competition this season.

###
About FedEx Corp.
FedEx Corp. (NYSE: FDX) provides customers and businesses worldwide with a broad portfolio of transportation, e-commerce and business services. With annual revenues of $37 billion, the company offers integrated business applications through operating companies competing collectively and managed collaboratively, under the respected FedEx brand. Consistently ranked among the world's most admired and trusted employers, FedEx inspires its more than 285,000 team members to remain "absolutely, positively" focused on safety, the highest ethical and professional standards and the needs of their customers and communities. For more information, visit news.fedex.com
About FIRST®
Accomplished inventor Dean Kamen founded FIRST® (For Inspiration and Recognition of Science and Technology) in 1989 to inspire an appreciation of science and technology in young people. Based in Manchester, N.H., FIRST designs accessible, innovative programs to build self-confidence, knowledge, and life skills while motivating young people to pursue opportunities in science, technology, and engineering. With support from three out of every five Fortune 500 companies and more than $14 million in college scholarships, the not-for-profit organization hosts the FIRST® Robotics Competition (FRC® ) and FIRST® Tech Challenge (FTC® ) for high-school students, FIRST® LEGO® League (FLL® ) for 9 to 14-year-olds, (9 to 16-year-olds outside the U.S. and Canada) and Junior FIRST® LEGO® League (Jr.FLL™) for 6 to 9-year-olds. Gracious Professionalism™ is a way of doing things that encourages high-quality work, emphasizes the value of others, and respects individuals and the community. The triangle, circle, square logo elements are based on an ancient scientific theory by Archimedes. To learn more about FIRST, go to www.usfirst.org.