FedEx Custom Critical Delivers Cakes to the Food Network South Beach Food & Wine Festival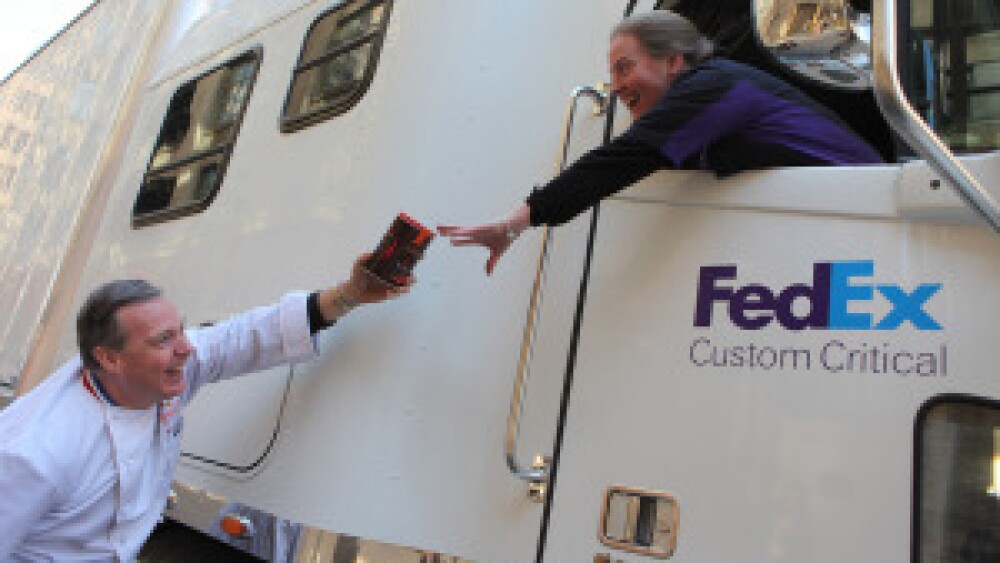 FedEx Custom Critical will make a very special delivery of 60 cakes from some of the country's most famous bakeries to the Food Network South Beach Wine & Food Festival, one of the world's premier food festivals, on Feb. 25.

Beginning today, FedEx will pick up the artistic confections from bakeries in New York City, Baltimore, Washington D.C. and Orlando. The timing of the pickup and delivery is crucial for the cakes which will be featured at the festival's 10th anniversary party on Friday, Feb. 25.

FedEx Custom Critical will take several measures to ensure the cakes arrive in pristine condition. The trailer carrying the sheet cakes will be maintained at an ideal temperature range of 30 – 40 degrees Fahrenheit. The cakes will be boxed or crated for the trip.

At the wheel for the delivery are the husband and wife driving teams of Bob and Ellie Marrs and Tim and Sharon Teed. The driving teams will make each pickup and deliver the cakes to their final destination in Miami after traveling 1,376 miles in just under 37 hours. Bakeries include:
• Jacques Torres Chocolates – New York, NY
• Margaret Braun – New York, NY
• Colette's Cakes – New York, NY
• Ron Ben-Israel Cakes – New York, NY
• Charm City Cakes – Baltimore, MD
• Georgetown Cupcakes – Washington D.C.
• The Dessert Lady – Orlando, FL

The shipments will be handled with White Glove Services, the special-care-in-handling division of FedEx Custom Critical. Vehicles feature pads, straps and power liftgates for safe handling of high-value shipments. White Glove offers a full range of temperature control and secure shipping solutions. White Glove drivers and customer service agents are trained to transport the most sensitive of shipments, from pharmaceuticals and biotech products to artwork and electronics.

The Food Network South Beach Wine & Food Festival presented by Food & Wine is a national, four-day destination event showcasing the talents of the world's most renowned wine and spirits producers, chefs and culinary personalities. In 2010, over 50,000 food and wine lovers attended the event.

The festival benefits Florida International University's (FIU) School of Hospitality and Tourism Management Teaching Restaurant and the Southern Wine & Spirits Beverage Management Center. To date, the Festival has raised more than $12 million for the school.

FedEx Custom Critical provides the fastest, door to door same-day and next-day delivery of urgent freight, valuable items and other goods. FedEx Custom Critical provides 24/7 service, utilizing its surface fleet for ground-expedited service and providing an array of air options.

For more information about the festival, please visit www.sobewineandfoodfest.com. For additional background on FedEx, please visit fedex.com.