FedEx Corp. First Quarter Earnings Surge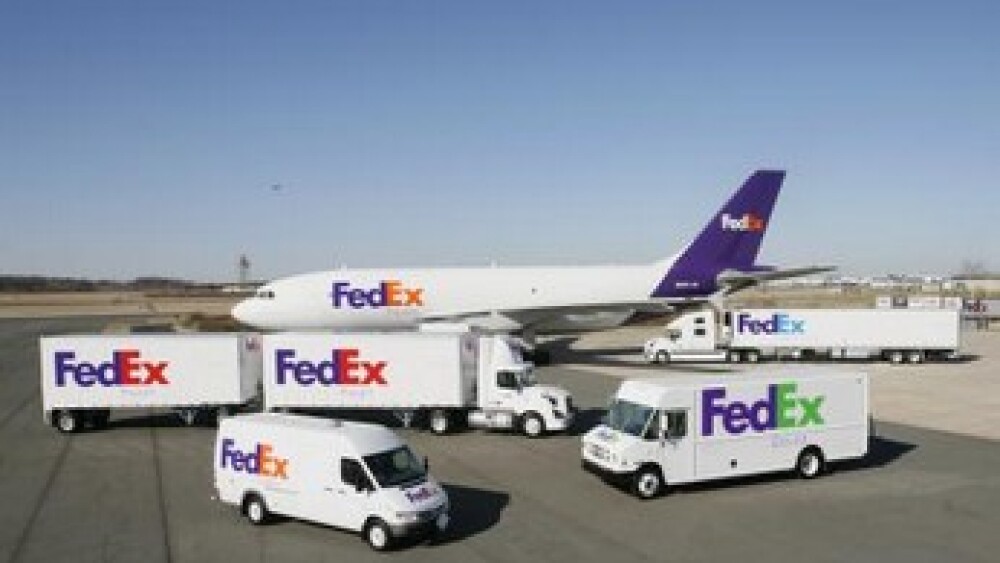 FedEx Corp. (NYSE: FDX) today reported earnings of $1.20 per diluted share for the first quarter ended August 31, up 107% from $0.58 per diluted share a year ago.

"Strong demand for our services resulted in higher volumes and better revenue per shipment at FedEx Express and FedEx Ground," said Frederick W. Smith, FedEx Corp. chairman, president and chief executive officer. "This increased demand comes from improved global economic conditions and the benefit provided by the strength and flexibility of our unparalleled global networks, which we've improved during the downturn to deliver even more reliability and value to our customers."

First Quarter Results

FedEx Corp. reported the following consolidated results for the first quarter:

Revenue of $9.46 billion, up 18% from $8.01 billion the previous year

Operating income of $628 million, up 99% from $315 million last year

Operating margin of 6.6%, up from 3.9% the previous year

Net income of $380 million, up 110% from $181 million a year ago

Earnings increased as a result of strong FedEx International Priority (IP) growth at FedEx Express, continued growth at FedEx Ground and a benefit from the net impact of higher fuel surcharges. The reinstatement of certain employee compensation programs, higher pension, medical and aircraft maintenance expenses, and an operating loss at FedEx Freight dampened the quarter's solid results.

FedEx Freight to Combine Operations

FedEx will combine its FedEx Freight and FedEx National LTL operations effective January 30, 2011. This action will increase efficiencies and reduce operational costs. Additionally, it will provide customers a choice of priority or economy less-than-truckload (LTL) freight services across all lengths of haul from one integrated company. This change, along with the company's ongoing yield management initiatives, is expected to substantially improve the profitability of the FedEx Freight segment in fiscal 2012.

The estimated cost of this program is $150 to $200 million, primarily related to charges that will be recorded in the second and third quarters of fiscal 2011. These charges will include severance costs associated with personnel reductions, lease terminations and certain non-cash charges. The net cash effect from the one-time cost of these actions is expected to be immaterial over time due to anticipated proceeds from asset sales. As a result of this combination, headcount is expected to be reduced by approximately 1,700 full-time employees and approximately 100 facilities will be closed.

Outlook

FedEx projects earnings to be $1.15 to $1.35 per diluted share in the second quarter and $4.80 to $5.25 per diluted share for fiscal 2011, up from the company's previous estimate of $4.60 to $5.20 per diluted share. This guidance excludes any FedEx Freight combination costs, and also assumes the current market outlook for fuel prices and continued moderate growth in the global economy. The company reported earnings of $1.10 per diluted share in last year's second quarter. The capital spending forecast for fiscal 2011 has increased to $3.5 billion, primarily due to anticipated aircraft purchases for continued international growth.

The earnings ranges above exclude the costs from the FedEx Freight combination. Including the expected cost of this program, $0.14 to $0.18 per diluted share for the second quarter and $0.30 to $0.40 per diluted share for fiscal 2011, earnings are expected to be $0.97 to $1.21 per diluted share for the second quarter and $4.40 to $4.95 per diluted share for fiscal 2011. The actual cost will be dependent on the number and timing of employee departures and lease terminations.

"We expect continued strong demand for our package transportation services through at least December," said Alan B. Graf, Jr., FedEx Corp. executive vice president and chief financial officer. "Shippers of high value-added goods, especially in the technology sector, know that we have unmatched air express capacity to deliver quickly and reliably for them, even when demand surges. We expect the yield improvement initiatives we have underway, coupled with the current high utilization of our planes, vehicles and facilities, will drive higher earnings, margins and returns."

FedEx Express Segment

For the first quarter, the FedEx Express segment reported:

Revenue of $5.91 billion, up 20% from last year's $4.92 billion

Operating income of $357 million, up 243% from $104 million a year ago

Operating margin of 6.0%, up from 2.1% the previous year

IP average daily package volume increased 19%, led by exports from Asia. IP revenue per package grew 4% primarily due to higher fuel surcharges and weight per package. IP Freight pounds increased 41%, led by exports from Latin America, Asia and the U.S., with revenue per pound up 10%. U.S. domestic revenue per package grew 7% due to higher fuel surcharges, weight per package and rate per pound, while average daily package volume increased 3%.

Operating profit and margin improvements were driven by volume and yield growth, particularly in higher margin IP package and freight services, along with a benefit from the net impact of higher fuel surcharges. Results also include higher compensation, benefits and aircraft maintenance expenses.

FedEx Express added a tenth daily scheduled transpacific flight in August, and an eleventh such flight earlier this week, providing needed capacity between Asia and the United States. There are currently six Boeing 777Fs operating on strategic, long-range international routes, providing best-in-market cut-off times. Two additional Boeing 777Fs, delivered in August, are scheduled to go into international service in October.

FedEx Ground Segment

For the first quarter, the FedEx Ground segment reported:

Revenue of $1.96 billion, up 13% from last year's $1.73 billion

Operating income of $287 million, up 37% from $209 million a year ago

Operating margin of 14.6%, up from 12.1% the previous year

FedEx Ground average daily package volume grew 7% in the first quarter driven by increases in the business-to-business market and FedEx Home Delivery. Yield increased 5% primarily due to higher fuel surcharges and package weight. FedEx SmartPost average daily volume increased 9%, with net yield increasing 19%. The increase in FedEx SmartPost yield was primarily due to lower postage costs as a result of increased deliveries to U.S. Postal Service final destination facilities and increased fuel surcharges.

Operating income and margin increased due to higher package yield and volume, as well as a benefit from the net impact of higher fuel surcharges and lower self-insurance expenses.

FedEx Freight Segment

For the first quarter, the FedEx Freight segment reported:

Revenue of $1.26 billion, up 28% from last year's $982 million

Operating loss of $16 million, compared with operating income of $2 million a year ago

Operating margin of (1.3%), compared with 0.2% the previous year

LTL average daily shipments increased 29% and yield declined 3% year over year primarily due to the effects of discounted pricing in contracts signed in fiscal 2010. However, yields increased 4% from the fourth quarter as a result of the company's recent yield management initiatives to improve pricing.

Operating losses in the quarter were driven by lower yields and higher volume-related costs, as significantly higher shipment levels required increased purchased transportation and other expenses.

FedEx Services Segment

FedEx Services segment revenue for the first quarter, which included the operations of FedEx Office, was down 8% year over year, due to the September 1, 2009 realignment of FedEx SupplyChain Systems into the FedEx Express segment and declines in copy product revenues.

Corporate Overview

FedEx Corp. (NYSE: FDX) provides customers and businesses worldwide with a broad portfolio of transportation, e-commerce and business services.

With annual revenues of $36 billion, the company offers integrated business applications through operating companies competing collectively and managed collaboratively, under the respected FedEx brand. Consistently ranked among the world's most admired and trusted employers, FedEx inspires its more than 280,000 team members to remain "absolutely, positively" focused on safety, the highest ethical and professional standards and the needs of their customers and communities. For more information, visit news.fedex.com .

Additional information and operating data are contained in the company's annual report, Form 10-K, Form 10-Qs and first quarter fiscal 2011 Statistical Book. These materials, as well as a Webcast of the earnings release conference call to be held at 8:30 a.m. EDT on September 16 are available on the company's Web site at www.fedex.com/us/investorrelations . A replay of the conference call Webcast will be posted on our Web site following the call.

Certain statements in this press release may be considered forward-looking statements, such as statements relating to management's views with respect to future events and financial performance. Such forward-looking statements are subject to risks, uncertainties and other factors which could cause actual results to differ materially from historical experience or from future results expressed or implied by such forward-looking statements. Potential risks and uncertainties include, but are not limited to, economic conditions in the global markets in which we operate, legal challenges or changes related to FedEx Ground's owner-operators, new U.S. domestic or international government regulation, the impact from any terrorist activities or international conflicts, our ability to effectively operate, integrate and leverage acquired businesses, changes in fuel prices and currency exchange rates, our ability to match capacity to shifting volume levels and other factors which can be found in FedEx Corp.'s and its subsidiaries' press releases and filings with the SEC.

RECONCILIATION OF NON-GAAP FINANCIAL MEASURES

TO GAAP FINANCIAL MEASURES

The company believes that meaningful analysis of our financial performance requires an understanding of the factors underlying that performance and our judgments about the likelihood that particular factors will repeat. Excluding the expected costs of the combination of FedEx Freight and FedEx National LTL operations from our earnings guidance will allow more accurate comparisons to prior periods of our expected operating performance in fiscal 2011. As required by SEC rules, the tables below present a reconciliation of our presented non-GAAP measures to the most directly comparable GAAP measures.





























Fiscal 2011 Second Quarter and Full-Year Earnings Guidance
























Q2 Diluted



FY 2011 Diluted









EPS Guidance




EPS Guidance




Non-GAAP Measure






$1.15 to $1.35




$4.80 to $5.25




FedEx Freight Combination Costs






(0.18 to 0.14)




(0.40 to 0.30)




GAAP Measure






$0.97 to $1.21




$4.40 to $4.95


























FEDEX CORP. FINANCIAL HIGHLIGHTS







































First Quarter Fiscal 2011



(In millions, except earnings per share and FTEs)



(Unaudited)



























Three Months Ended









August 31











2010







2009





%



Revenue:

















FedEx Express segment





$

5,912





$

4,924





20

%



FedEx Ground segment







1,961







1,730





13

%



FedEx Freight segment







1,258







982





28

%



FedEx Services segment







415







451





(8

%)



Other & eliminations







(89

)





(78

)



NM





Total Revenue







9,457







8,009





18

%





















Operating Expenses:

















Salaries and employee benefits







3,803







3,377





13

%



Purchased transportation







1,327







1,054





26

%



Rentals and landing fees







601







578





4

%



Depreciation and amortization







479







495





(3

%)



Fuel







887







666





33

%



Maintenance and repairs







517







401





29

%



Other







1,215







1,123





8

%



Total Operating Expenses







8,829







7,694





15

%





















Operating Income (Loss):

















FedEx Express segment







357







104





243

%



FedEx Ground segment







287







209





37

%



FedEx Freight segment







(16

)





2





NM





Total Operating Income







628







315





99

%





















Other Income (Expense):

















Interest, net







(18

)





(18

)



NM





Other, net







(7

)





(3

)



NM





Total Other Income (Expense)







(25

)





(21

)



NM























Income Before Income Taxes







603







294





105

%





















Provision for Income Taxes







223







113





97

%





















Net Income





$

380





$

181





110

%





















Diluted Earnings Per Share





$

1.20





$

0.58





107

%





















Weighted Average Common and Common Equivalent Shares























315







312





1

%





















Capital Expenditures





$

1,012





$

880





15

%





















Average Full-Time Equivalents (in thousands)







252







239





5

%



















































FEDEX CORP. CONDENSED CONSOLIDATED BALANCE SHEETS

























First Quarter Fiscal 2011

(In millions)





























August 31, 2010





ASSETS




(Unaudited)



May 31, 2010















Current Assets











Cash and cash equivalents



$

1,709





$

1,952





Receivables, less allowances





4,135







4,163





Spare parts, supplies and fuel, less allowances





377







389





Deferred income taxes





529







529





Prepaid expenses and other





286







251





Total current assets





7,036







7,284

















Property and Equipment, at Cost





31,773







31,302





Less accumulated depreciation and amortization





17,094







16,917





Net property and equipment





14,679







14,385

















Other Long-Term Assets











Goodwill





2,211







2,200





Other assets





1,286







1,033





Total other long-term assets





3,497







3,233





















$

25,212





$

24,902

















LIABILITIES AND STOCKHOLDERS' INVESTMENT
























Current Liabilities











Current portion of long-term debt



$

251





$

262





Accrued salaries and employee benefits





1,081







1,146





Accounts payable





1,423







1,522





Accrued expenses





1,786







1,715





Total current liabilities





4,541







4,645

















Long-Term Debt, Less Current Portion





1,668







1,668

















Other Long-Term Liabilities











Deferred income taxes





902







891





Pension, postretirement healthcare and other benefit obligations





1,693







1,705





Self-insurance accruals





960







960





Deferred lease obligations





828







804





Deferred gains, principally related to aircraft transactions





263







267





Other liabilities





152







151





Total other long-term liabilities





4,798







4,778

















Commitments and Contingencies























Common Stockholders' Investment











Common stock, $0.10 par value, 800 million shares authorized





31







31





Additional paid-in capital





2,302







2,261





Retained earnings





14,270







13,966





Accumulated other comprehensive loss





(2,386

)





(2,440

)



Treasury stock, at cost





(12

)





(7

)



Total common stockholders' investment





14,205







13,811





















$

25,212





$

24,902

























































FEDEX CORP. CONDENSED CONSOLIDATED

STATEMENTS OF CASH FLOWS





























First Quarter Fiscal 2011

(In millions)

(Unaudited)





















Three Months Ended









August 31











2010







2009



















Operating Activities:













Net income





$

380





$

181





Noncash charges:













Depreciation and amortization







479







495





Other, net







98







122





Changes in operating assets and liabilities, net







(161

)





100



















Net cash provided by operating activities







796







898



















Investing Activities:













Capital expenditures







(1,012

)





(880

)



Proceeds from asset dispositions and other







3







26



















Net cash used in investing activities







(1,009

)





(854

)

















Financing Activities:













Principal payments on debt







(12

)





(508

)



Dividends paid







(38

)





(34

)



Other, net







9







(8

)

















Net cash used in financing activities







(41

)





(550

)

















Effect of exchange rate changes on cash







11







3



















Net decrease in cash and cash equivalents







(243

)





(503

)

















Cash and cash equivalents at beginning of period







1,952







2,292





Cash and cash equivalents at end of period





$

1,709





$

1,789





































FEDEX EXPRESS SEGMENT FINANCIAL AND OPERATING HIGHLIGHTS






















First Quarter Fiscal 2011

(Dollars in millions)

(Unaudited)

































Three Months Ended













August 31



FINANCIAL HIGHLIGHTS










2010







2009





%

























Revenue







$

5,912





$

4,924





20

%

























Operating Expenses:





















Salaries and employee benefits









2,258







2,043





11

%





Purchased transportation









369







255





45

%





Rentals and landing fees









403







385





5

%





Depreciation and amortization









255







252





1

%





Fuel









754







571





32

%





Maintenance and repairs









352







261





35

%





Intercompany charges









513







469





9

%





Other









651







584





11

%





Total Operating Expenses









5,555







4,820





15

%

























Operating Income







$

357





$

104





243

%

























Operating Margin









6.0

%





2.1

%



3.9 pts















































OPERATING STATISTICS










































Operating Weekdays









65







65





"



























AVG DAILY VOLUME / POUNDS




















Average Daily Package Volume (000s):





















U.S. Overnight Box









1,168







1,128





4

%





U.S. Overnight Envelope









624







617





1

%





U.S. Deferred









846







823





3

%





Total U.S. Domestic Package









2,638







2,568





3

%





International Priority









566







475





19

%





International Domestic









323







293





10

%





Total Average Daily Packages









3,527







3,336





6

%

























Average Daily Freight Pounds (000s):





















U.S.









6,908







6,584





5

%





International Priority









3,027







2,142





41

%





International Airfreight









1,240







1,297





(4

%)





Total Avg Daily Freight Pounds









11,175







10,023





11

%

























YIELD




















Revenue Per Package:





















U.S. Overnight Box







$

19.65





$

18.16





8

%





U.S. Overnight Envelope









10.64







10.17





5

%





U.S. Deferred









12.01







11.23





7

%





Total U.S. Domestic Package









15.07







14.02





7

%





International Priority









53.70







51.61





4

%





International Domestic









7.04







7.05





(0

%)





Composite Package Yield







$

20.52





$

18.76





9

%

























Revenue Per Freight Pound:





















U.S.







$

1.16





$

1.05





10

%





International Priority









2.06







1.87





10

%





International Airfreight









0.87







0.72





21

%





Composite Freight Yield







$

1.38





$

1.18





17

%

























Average Full-Time Equivalents (000s)









132







125





6

%























































FEDEX GROUND SEGMENT FINANCIAL AND OPERATING HIGHLIGHTS

































First Quarter Fiscal 2011

(Dollars in millions)

(Unaudited)























Three Months Ended







August 31









2010







2009





%

FINANCIAL HIGHLIGHTS






























Revenue



$

1,961





$

1,730





13

%

















Operating Expenses:















Salaries and employee benefits





307







282





9

%



Purchased transportation





782







693





13

%



Rentals





62







58





7

%



Depreciation and amortization





82







85





(4

%)



Fuel





1







1





"





Maintenance and repairs





44







38





16

%



Intercompany charges





221







184





20

%



Other





175







180





(3

%)



Total Operating Expenses





1,674







1,521





10

%

















Operating Income



$

287





$

209





37

%

















Operating Margin





14.6

%





12.1

%



2.5 pts

































OPERATING STATISTICS






























Operating Weekdays





65







65





"



















Average Daily Package Volume (000s)















FedEx Ground





3,534







3,311





7

%



FedEx SmartPost





1,100







1,009





9

%

















Yield (Revenue Per Package)















FedEx Ground



$

7.99





$

7.60





5

%



FedEx SmartPost



$

1.68





$

1.41





19

%

















































FEDEX FREIGHT SEGMENT FINANCIAL AND OPERATING HIGHLIGHTS















































First Quarter Fiscal 2011



(Dollars in millions)



(Unaudited)



































Three Months Ended













August 31















2010







2009





%



FINANCIAL HIGHLIGHTS










































Revenue







$

1,258





$

982





28

%

























Operating Expenses:





















Salaries and employee benefits









600







507





18

%





Purchased transportation









204







118





73

%





Rentals and landing fees









34







29





17

%





Depreciation and amortization









48







55





(13

%)





Fuel









131







94





39

%





Maintenance and repairs









46







34





35

%





Intercompany charges









109







52





110

%





Other









102







91





12

%





Total Operating Expenses









1,274







980





30

%

























Operating (Loss) Income









($16

)



$

2





NM



























Operating Margin









(1.3

%)





0.2

%



(1.5 pts)















































OPERATING STATISTICS










































LTL Operating Weekdays









65







65





"



























LTL Shipments Per Day (000s)









91.8







71.4





29

%



Weight Per LTL Shipment (lbs)









1,134







1,109





2

%



LTL Revenue/CWT







$

17.32





$

17.87





(3

%)