FedEx Challenges Future Innovators at FIRST® Championship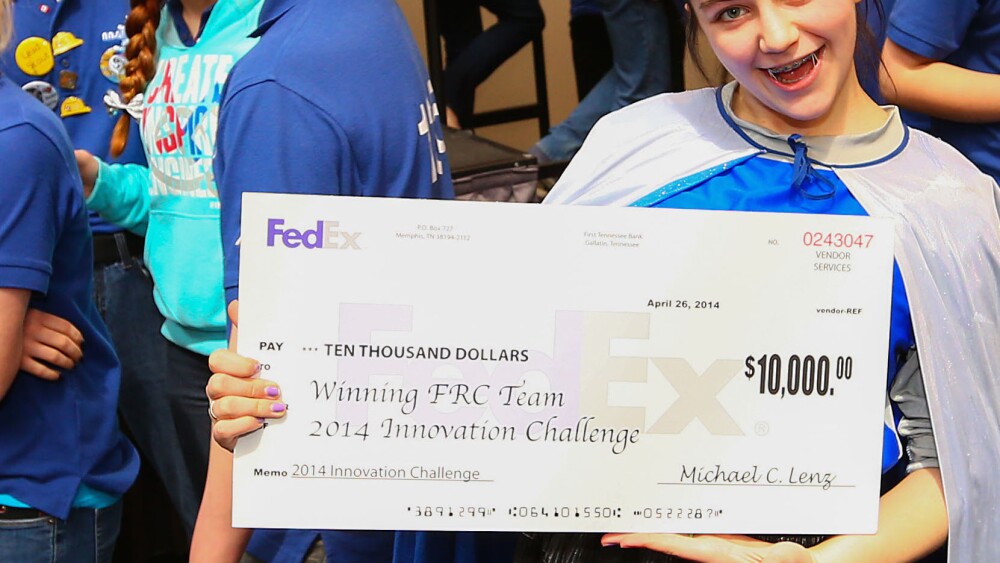 ST. LOUIS, April 24, 2014— FedEx today kicked off its support of the 2014 FIRST Championship in St. Louis with a social media based contest that challenges participating students to solve complex engineering and math problems via Instagram and Twitter.
Among the top prizes in the FedEx Innovation Challenge (http://blog.fedex.com/innovationchallenge) are $10,000 and $5,000 grants to be administered by FIRST and available for use in future FIRST initiatives.
Additional prizes will be awarded daily, including GoPro cameras and iPads.
"FedEx is pleased to support the FIRST Championship, which provides students with exposure to science, technology, engineering and math (STEM)," said Virginia Albanese, president and CEO, FedEx Custom Critical. "This is a chance for young people, who will be innovation leaders in just a few years, to get excited about technology and participate in friendly competition."
In addition to facilitating the Innovation Challenge and providing in-kind shipping, FedEx is supporting the FIRST Robotics Rookie Grant Program. This program will sponsor 187 new teams during a three-year period and track their progress in competition. Personalized sponsorship and mentoring gives participating teams a unique opportunity to learn from professionals already working in their areas of interest.
FedEx began supporting FIRST (For Inspiration and Recognition in Science and Technology) in 2002. Over that time, FedEx has supported FIRST by shipping an estimated 11 million pounds of starter kits and completed robots to and from competitions. Founded 40 years ago, FedEx is a business grounded in innovation and technology and committed to developing the next generation of leaders in science and technology.
About FIRST®
Accomplished inventor Dean Kamen founded FIRST® (For Inspiration and Recognition of Science and Technology) in 1989 to inspire an appreciation of science and technology in young people. Based in Manchester, N.H., FIRST designs accessible, innovative programs to build self-confidence, knowledge, and life skills while motivating young people to pursue opportunities in science, technology, and engineering. With support from over 200 of the Fortune 500 companies and more than $19 million in college scholarships, the not-for-profit organization hosts the FIRST® Robotics Competition (FRC® ) for students in Grades 9-12; FIRST® Tech Challenge (FTC® ) for Grades 7-12; FIRST® LEGO® League (FLL® ) for Grades 4-8; and Junior FIRST® LEGO® League (Jr.FLL®) for Grades K-3. Gracious Professionalism® is a way of doing things that encourages high-quality work, emphasizes the value of others, and respects individuals and the community. To learn more about FIRST, go to www.usfirst.org.
About FedEx Corp.
FedEx Corp. (NYSE: FDX) provides customers and businesses worldwide with a broad portfolio of transportation, e-commerce and business services. With annual revenues of $45 billion, the company offers integrated business applications through operating companies competing collectively and managed collaboratively, under the respected FedEx brand. Consistently ranked among the world's most admired and trusted employers, FedEx inspires its more than 300,000 team members to remain "absolutely, positively" focused on safety, the highest ethical and professional standards and the needs of their customers and communities. For more information, visit news.fedex.com.
# # #