Canadian Teens Win 2009 North American Junior Achievement Student Company of the Year Competition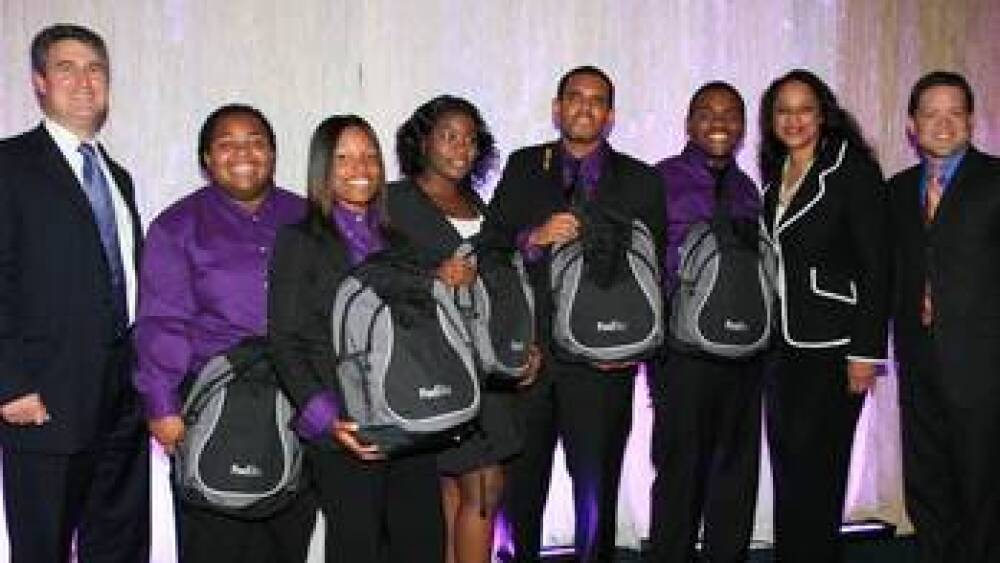 Colorado Springs, Colo. – On Saturday night in Boston, Junior Achievement crowned "Smile"—a team of 16 teen entrepreneurs from Calgary, Alberta, the winners of the 2009 North American JA Company of the Year Competition. Title sponsorship for the event was provided by FedEx, with supporting sponsorships from HP and Northeastern University.

"Smile" was comprised of Junior Achievement students from Western Canada High School and Bishop Carroll High School—and bested 19 other student companies by demonstrating superior performance and innovation. Smile helps children enjoy and understand the importance of good dental hygiene through the creation and distribution of the "Brush Buddies Dental Kit." The kit included a toothbrush, toothbrush holder with sand timer, floss sticks, a marker, a chart, and a storybook written and illustrated by Smile members. Smile was represented at the event by students Salima Hirji, Faiza Harji, Corinna La, Amanda Le, and Jillian Yaworski.

Second place was taken by "Jump for a Cause," an Atlanta-based Junior Achievement student company which produced two-gigabyte USB drives fashioned into a bracelet.

Third place was won by "MagneticKits," also from Atlanta. They made and sold a magnetic, organizational kit including shopping lists, dry-erase markers, a high-quality white board, and a dry-erase daily organizer.

The competition is Junior Achievement's annual celebration of the accomplishments of JA Company Program students ages 15-19 in the United States and Canada. The finalists showcased their enterprise and business acumen before a panel of independent judges who evaluated each company's performance against the competition criteria, which includes their annual report, a four-minute business presentation before an audience, a trade booth display, and a final interview with the judging panel. One of the competition's goals is to measure each team's business achievements with members' individual personal development and knowledge.

Eligibility for the 2009 North American JA Student Company of the Year Competition was limited to qualifying student teams that completed JA Company Program™ during the 2008-2009 academic year. During JA Company Program, students start and run their own businesses with support from a volunteer from their local business communities. Students devise their product, market and produce it while trying to realize a profit for their shareholders. The program currently impacts 322,000 students a year globally.

Other awards presented at the competition included the FedEx Global Access Award, won by "Jump for a Cause" from Junior Achievement of Georgia, selling a 2GB USB Flash Drive Bracelet through a cause-related marketing campaign. Jump for a Cause—as evaluated by a special FedEx jury— presented the best business plan incorporating concepts related to international trade, resource management, environmental sustainability and global market expansion, earning them the first FedEx North American Global Access Award.
The HP Responsible Business Award was also presented at the North American JA Company of the Year Competition, won by "Project My World" representing Junior Achievement of Georgia. They marketed and sold an Eco-Tote—made of 100 percent recycled material—which collapsed into a small zip pouch for easy storage and re-use. Project My World sold 800 Eco-Totes and donated over 20 percent of their profits to charity. A special HP jury evaluated the student companies based on the award criteria of financial performance, social responsibility, environmental excellence and innovation and awarded HP notebook computers to Project My World.
"This competition is an exciting opportunity for Junior Achievement student entrepreneurs to demonstrate the teamwork, leadership and innovative thinking that will help them drive success in the business world," said Sean C. Rush, president and chief executive officer of JA Worldwide. "They also have the opportunity to create connections and share ideas with other JA students, while learning the value of responsibility and the pursuit of excellence as they build business—and personal—success. Our sponsors FedEx and HP are helping to empower students to reach high levels of business excellence—and share these skills with the world."
About JA Worldwide® (Junior Achievement)
Junior Achievement is the world's largest organization dedicated to inspiring and preparing young people to succeed in a global economy. Through a dedicated volunteer network, Junior Achievement provides in-school and after-school programs for students which focus on three key content areas: work readiness, entrepreneurship, and financial literacy. Today, 135 individual area operations reach more than four million students in the United States, with an additional five million students served by operations in 123 other countries worldwide. For more information, visit www.ja.org.

About FedEx Corp.
FedEx Corp. (NYSE: FDX) provides customers and businesses worldwide with a broad portfolio of transportation, e-commerce and business services. With annual revenues of $35 billion, the company offers integrated business applications through operating companies competing collectively and managed collaboratively, under the respected FedEx brand. Consistently ranked among the world's most admired and trusted employers, FedEx inspires its more than 280,000 employees and contractors to remain "absolutely, positively" focused on safety, the highest ethical and professional standards and the needs of their customers and communities. For more information, visit news.fedex.com.

About HP
HP is a technology solutions provider to consumers, businesses and institutions globally. The company's offerings span IT infrastructure, global services, business and home computing, and imaging and printing. Today, Hewlett-Packard (HP) is a leading technology solutions provider to consumers, businesses and institutions globally. With a portfolio that spans printing, personal computing, software, services and IT infrastructure, HP is among the world's largest IT companies, with revenue totaling $100.5 billion for the four fiscal quarters ended July 31, 2007. HP has been operating in the Europe, Middle East and Africa (EMEA) region since 1959 and is the Number One IT company in this region. Currently, HP has 43 subsidiaries and 41,700 employees in EMEA. More information about HP (NYSE, Nasdaq: HPQ) is available at www.hp.com.

About Northeastern
Founded in 1898, Northeastern University is a private research university located in the heart of Boston. Northeastern is a leader in interdisciplinary research, urban engagement, and the integration of classroom learning with real-world experience. The university's distinctive cooperative education program, where students alternate semesters of full-time study with semesters of paid work in fields relevant to their professional interests and major, is one of the largest and most innovative in the world. The University offers a comprehensive range of undergraduate and graduate programs leading to degrees through the doctorate in six undergraduate colleges, eight graduate schools, and two part-time divisions. For more information, please visit www.northeastern.edu.