Arthur W. Page Society Elects New President and Trustees at Annual Conference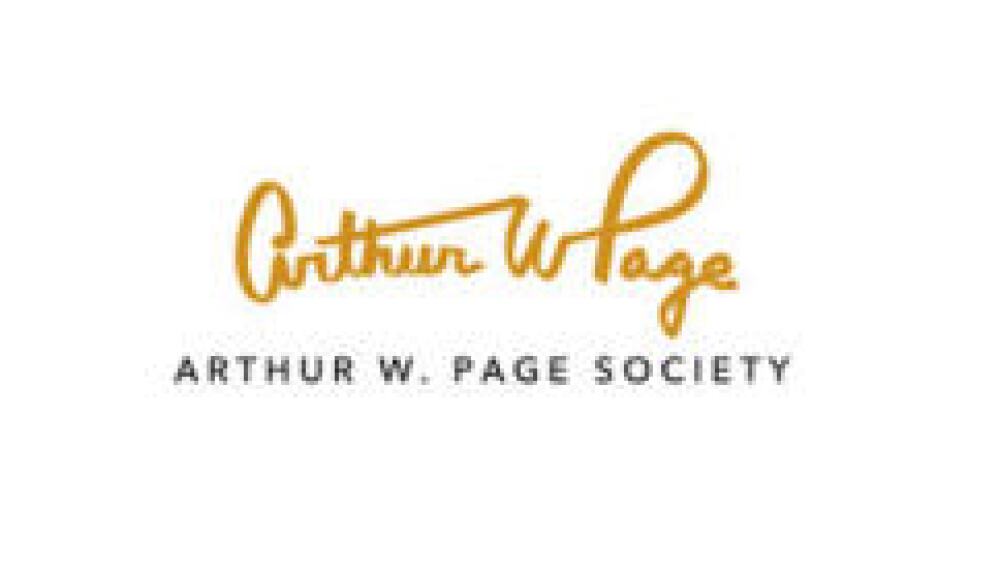 Chicago, IL -- September 15, 2009. William G. (Bill) Margaritis, senior vice president, global communications and investor relations of FedEx Corporation, was named the 13th president of the Arthur W. Page Society at the Page Society's annual business meeting in Chicago this morning. The membership of the 26 year-old Page Society also elected five new trustees to the board of directors and re-elected eight members to the board.
Margaritis oversees global reputation management, investor relations, public relations, employee communications and social responsibility programs for FedEx and its subsidiaries. He has been with FedEx since May 1997. During his tenure FedEx has been consistently ranked as one of the most admired companies in the world and recognized as a "best place to work."
"The principles of the Page Society, which include honesty, customer focus and managing for tomorrow, are increasingly important in this era of instant, but not always accurate, communication," Margaritis said. "Organizations such as the Page Society play a key role in strengthening leadership at the executive level and setting the course for the communications discipline. I am grateful for this opportunity and thank not only the great communicators I've had the pleasure to work with over the years but also the outstanding communications team at FedEx."
Prior to joining FedEx, Margaritis was vice president of Bechtel International, based in London, England, and was responsible for managing public relations and marketing communications for Europe, Middle East, Africa and Southwest Asia. He also worked in Washington, D.C., and Athens, Greece, for separate divisions of the company.
Margaritis begins his term on January 1, 2010 and succeeds Maril MacDonald, CEO of Gagen MacDonald as president of the Society.
The five new trustees are Barry H. Caldwell, senior vice president government affairs and corporate communications, Waste Management, Inc.; Herbert Heitmann, senior vice president global communications at SAP; Sandra Macleod, CEO Echo Research, Ltd.; Sally Benjamin Young, vice president communications, Lundbeck, Inc.; and Kimberley White, vice president corporate communications, Baxter International Inc.
The eight board members who were re-elected to three year terms include Cathy Babington, senior vice president communications at Abbott; Peter Debreceny, consultant at Gagen MacDonald; Jon Iwata, senior vice president marketing and communications, IBM; Margery
Kraus, CEO of APCO Worldwide; Tom Martin, executive-in-residence at the College of Charleston; Bill Nielsen, retired senior vice president, corporate communications at Johnson and Johnson; Helen Ostrowski, retired CEO of Porter Novelli and Donald Wright, professor at Boston University.
Other currently serving trustees of the Page Society include Paul Argenti, Professor of Corporate Communication, Tuck School of Business at Dartmouth; Roger Bolton, Senior Counselor APCO Worldwide; Angela Buonocore, Senior Vice President and Chief Communications Officer, ITT Corporation; Paul Capelli, Vice President - Public Relations, Staples, Inc.; Bob DeFillippo , Chief Communications Officer - Global Communications, Prudential Financial, Inc.; Valerie Di Maria, Director, Client Strategy and Growth, Peppercom; Greg Elliott, Senior Vice President - Human Resources and Administration, Navistar, Inc.; Mike Fernandez, VP - Public Affairs, State Farm Insurance; Matt Gonring , Consultant, Gagen MacDonald; Kimberley Crews Goode, Vice President - Communications & Corporate Affairs, Northwestern Mutual; Harvey Greisman, Senior Vice President and Group Executive, Worldwide Communications, MasterCard Worldwide; Aedhmar Hynes, CEO, Text 100; Rich Jernstedt, Chief Marketing Officer, Executive Vice President and Senior Partner, Fleishman-Hillard; Ray Jordan, Corporate Vice President - Public Affairs and Corporate Communication, Johnson & Johnson; Ray Kotcher, Senior Partner & CEO, Ketchum; Tom Kowaleski, Vice President of Corporate Communications, BMW of North America, LLC; Maril Gagen MacDonald, CEO Gagen MacDonald; Jim Murphy, Chairman and CEO; Murphy & Co.; Jim O'Rourke IV, Professor and Director - The Eugene D. Fanning Center, University of Notre Dame; David Samson, General Manager - Public Affairs, Chevron Corporation; and Gary Sheffer, Executive Director, Corporate Communications and Public Affairs, General Electric Company.
The Annual Conference, which concluded today, had more than 200 people in attendance. With the theme of "Values Under Stress," the conference brought together CEOs, CCOs, journalists and researchers who provided perspectives on overcoming challenges and driving business success while maintaining the values of organizations.
About the Arthur W. Page Society
The Arthur W. Page Society is a professional association composed primarily of the chief communications officers (CCOs) of the world's top multinational corporations, and the CEOs of the world's largest public relations agencies. The organization's members also include academics from the leading business and communications schools. The Society is dedicated to strengthening the management policy role of the chief communications officer.