Alaska to France: Otters Reach Océanopolis, Thanks to FedEx
Océanopolis, the oceans discovery park in Brest, called on FedEx Express, the world's largest express transportation company and a subsidiary of FedEx Corp., to transport male sea otters about one year old from the care unit at the SeaLife Center in Seward, Alaska to Paris. It is one of the few U.S. sites authorized to export this species worldwide, including in the United States.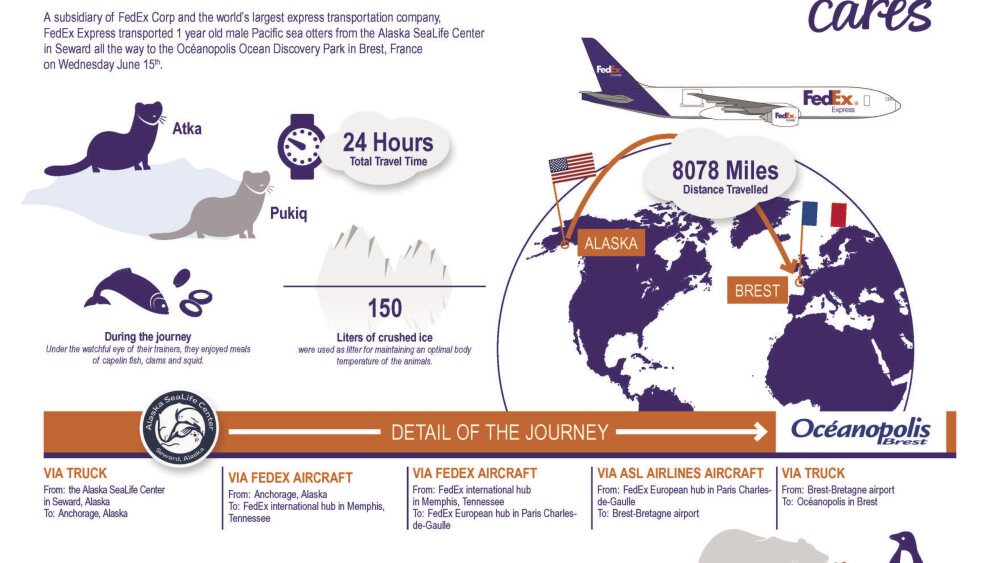 The affected animals are young Pacific sea otters who were injured and orphaned but have recovered. However, they cannot be released into the wild.
In close cooperation with the Alaska care unit teams and those at Océanopolis in Brest, FedEx Express organized the transfer of the otters from Anchorage to Paris free of charge. Transported via McDonnell Douglas MD11 freighters, the animals made a first stop at the FedEx international hub in Memphis, Tennessee, then a second at the hub at Roissy Charles de Gaulle.
These very special passengers finally landed at Brest-Bretagne Airport on 15 June at around 21:30. This last stage of the journey, from Paris to Brest, was provided by Swiss company ASL Switzerland using an ATR-42 airplane. The otters were then driven to Océanopolis in one of the park's trucks, escorted by a FedEx van carrying equipment and accompanying baggage. This transport is part of the 'Delivering for Good' FedEx initiative which allows access to communities around the globe.
The sea otters traveled in specially-designed transport boxes. In between naps, the sea otters were able to snack on capelin, squid and clams. An ice litter placed under the animals allowed them to maintain optimal body temperature throughout the flight.
They were accompanied by Brett Long, Carrie Goertz from the Seward Alaska SeaLife Center and Gina Fisher from the Georgia Aquarium of Atlanta, who ensured their comfort and well-being throughout this journey of almost 13,000 km.
Making the transport time between the Seward care unit and Brest Océanopolis as short as possible was a high priority, with a 24-hour maximum required. Cooperation between the teams involved helped reduce transportation time and administrative obligations and allowed the goal to be met.
The otters are now enjoying their specially-designed 180 m3 pool at Océanopolis and will be available for public view after an acclimatization phase.
The sea otter is an emblematic marine mammal from the coastal areas of the North Pacific. Up until now they could only be viewed by the public in the largest aquariums in Japan and the United States. To date, Océanopolis Brest is the only facility in France to house these species. Among the finest in the world, the Océanopolis otter pools—as well as technical areas—have been designed according to the latest standards in force in the U.S.