Visitors to fedex.com Predict UEFA Europa League Winner
Poll Tips Team from Germany or Spain to Triumph in 2016, But Copetition Remains Wide Open into the Knock-Out Stage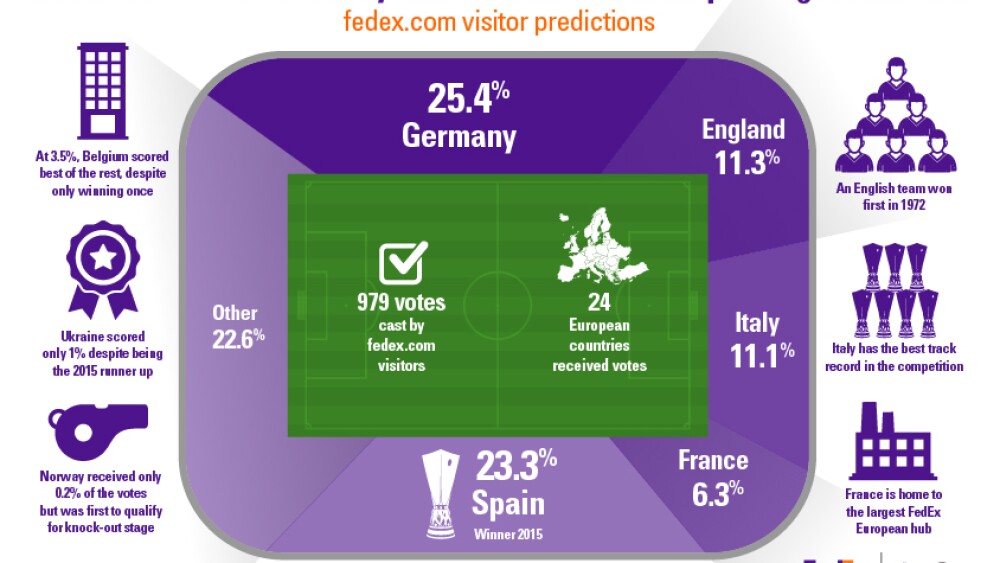 London, United Kingdom, January 20, 2016 — Visitors to the UEFA Europa League web page of main sponsor FedEx have predicted a team from Germany or Spain will triumph in the 2015/16 competition in a recent online poll*. The results are perhaps unsurprising given both countries feature in the leader board for welcoming the UEFA Europa League cup home the most times.
According to the poll results, the countries most likely to produce the winning team this year are Germany (25.4%), Spain (23.3%), England (11.3%), Italy (11.1), and France (6.3%). However, a total of 24 countries received votes in the poll, indicating there is plenty of scope for optimism for fans of clubs with a less established track-record at a European level.
"As main sponsor of the UEFA Europa League, we are keenly anticipating the start of the knock-out stage of the competition," said Brenda McWilliams-Piatek, vice president marketing, FedEx Express Europe, FedEx Express. "The results of our online poll show that there is everything to play for as clubs from across Europe gear up to prove they have what it takes to succeed at European level, and that size puts no limit on ambition."
FedEx has published an infographic illustrating the poll results, which can be downloaded here. The next stage of the competition will begin on February 18.
*A poll was carried out on the fedex.com UEFA Europa League homepage from 17 September to 17 December - 979 votes were cast by visitors to the various language sites.

For more information on FedEx sport sponsorships – please click here

About FedEx Express
FedEx Express is the world's largest express transportation company, providing fast and reliable delivery to more than 220 countries and territories. FedEx Express uses a global air-and-ground network to speed delivery of time-sensitive shipments, by a definite time and date with a money-back guarantee.

About FedEx Corp.
FedEx Corp. (NYSE: FDX) provides customers and businesses worldwide with a broad portfolio of transportation, e-commerce and business services. With annual revenues of $49 billion, the company offers integrated business applications through operating companies competing collectively and managed collaboratively, under the respected FedEx brand. Consistently ranked among the world's most admired and trusted employers, FedEx inspires its more than 340,000 team members to remain "absolutely, positively" focused on safety, the highest ethical and professional standards and the needs of their customers and communities. For more information, visit news.fedex.com.