More Eco-Responsible Cleaning for FedEx Aircraft
New Procedure Implemented at the Roissy-Charles De Gaulle European Hub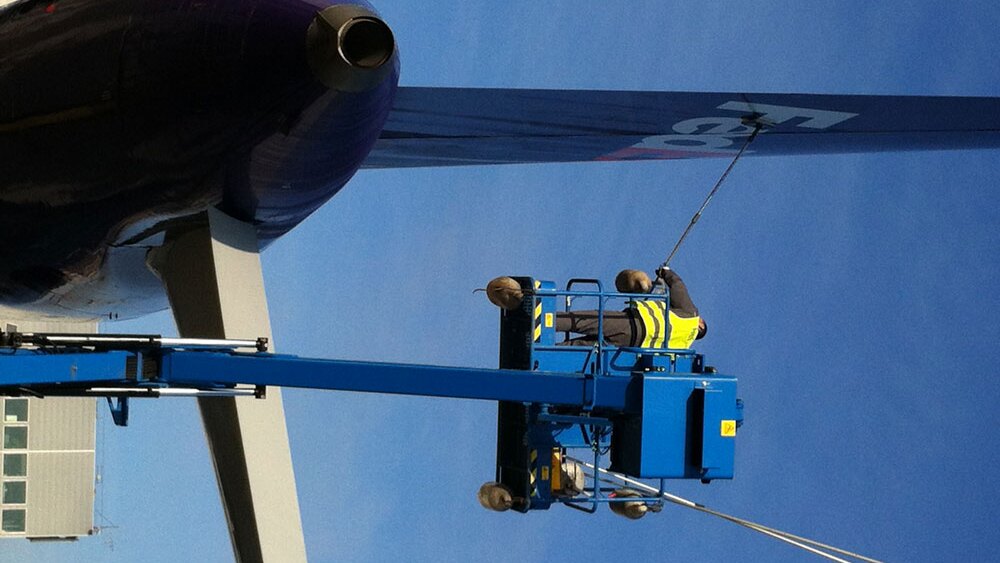 ROISSY,6 October, 2015—FedEx Express, a subsidiary of FedEx Corp (NYSE: FDX) and the world's largest express transportation company, has implemented a new fuselage cleaning procedure for the 13 aircraft serving Europe from its Roissy-Charles De Gaulle hub. In addition to the visual advantage, this new technique is also helping FedEx to be more environmentally conscientious, and will also contribute to creating local jobs and reduce costs.
The Eco-Shine moist cleaning method developed by the UUDS Group based in France is more environmentally friendly than other, more conventional solutions. Cleaning crews use ad hoc brooms equipped with microfiber rags to apply this anti-static biodegradable, non-toxic and non-flammable cleaning product. The same procedure is used to wipe off the cleaning solution, using 100 times less water than with conventional aircraft fuselage cleaning methods.
Because this simple and worldwide-tested cleaning procedure is done by hand it creates more local jobs which are accessible via a training done by UUDS.
This new cleaning procedure presents a number of advantages to FedEx.
"Following the cleaning, the surface of the fuselage is smoother, making the aircraft more aerodynamic, which in turn reduces fuel consumption," said Alain Chaillé, vice president, Operations, Southern Europe for FedEx.
Cleaning is even more crucial during the winter because the glycol used during the de-icing process attracts more dirt to the fuselage.
"Because no water is being sprayed onto the tarmac, crews can clean the planes where they park, which eliminates the need to move them to a separate area and allows us to perform cleaning and maintenance at the same time," Chaillé added.
Consequently, the planes are out of service for a shorter period of time. The cleaning process can be broken down into steps and performed on a continuous basis so that the aircraft stay clean.