FedEx Office Expands Presence in the Middle East with Location in Beirut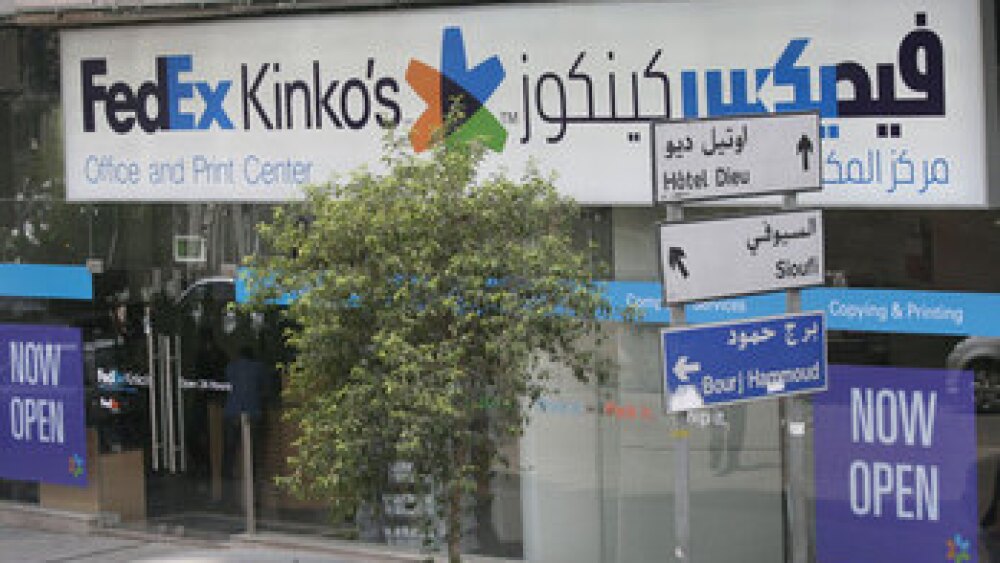 DALLAS and BEIRUT, Lebanon, September 23, 2008—FedEx Office, an operating company of FedEx Corp. (NYSE: FDX), and Al-Kharafi Group today announced the official opening of the first FedEx Kinko's location in Beirut. The new center is located in the Sassine Square-Achrafieh business district and will help meet the growing demands of local small and medium businesses (SMBs) and mobile or traveling professionals.
As the only industry brand that offers 24/7 business solutions, the new FedEx Kinko's location provides a one-stop shop for document solutions and business services, including copying, digital printing, professional finishing, large format printing, signs and graphics creation, Internet access, and computer rentals. In addition, the center offers access to FedEx Express international shipping services and is open 24 hours, seven days a week.
"The growth of small and medium businesses in the Middle East has increased tremendously over the past couple of years, and our local FedEx Kinko's centers aim to serve as a valuable resource for businesses in the region," said Candice Wessinger, Managing Director, International Business Development, FedEx Office. "Our new location in Beirut is a significant part of our overall strategy to provide SMBs and mobile professionals with even greater access to our office and print services, as well as the FedEx transportation network."
The first FedEx Kinko's Middle East location opened in 1998 in Dubai. Earlier this year, FedEx Office and Al-Kharafi Group opened a center in Dubai in January and another in Kuwait City in June. With the addition of the Beirut center, there are now nine FedEx Kinko's locations in the region, including four centers in United Arab Emirates (UAE) and four in Kuwait.
"We look forward to supporting the needs of up-and-coming entrepreneurs for years to come," said Mohamed Moharram, Regional Director, with Al-Kharafi Group.
Following is a full listing of the centers located in the Middle East.
Abu Dhabi UAE Electra
Electra Street
Abu Dhabi
Phone: +971 2.678.2323
Fax: +971 2.679.5282
Dubai UAE Bur Dubai
Khalid Bin Al Waleed Street
Business Center Building
Dubai
Phone: +971 4.397.5335
Fax: +971 4.397.5885
Dubai UAE Internet City
Building 12, Oracle Building
Dubai Internet City
Dubai
Phone: +971 4.390.8714
Fax: +971 4.390.8715
Burj Dubai UAE
Burj Dubai Square
Building 1, Ground Floor
Sheikh Zayed Road
Dubai
Phone: +971 4.425.7848
Fax: +971 4.425.7846
Kuwait City KWT Adiliyah
Adiliyah Cooperative
Public Service Building, Block- 4
Kuwait City
Phone: +965 2571627
Fax: +965 2571619
Kuwait City KWT Fahed Al Salem
Fahed Al Salem
Osama Building
Kuwait City 70653
Phone: +965 800001
Fax: +965 2472411
Kuwait City KWT Salmiya
Salem Al-Mubharak Street, #4/5
Building #3409, Ground Floor
Kuwait City
Phone: +965 5752088
Fax: +965 5757074
Kuwait City KWT
Ahmad Al Ahmad Al-Jaber Street
Al-Awadi Building
Area#8, Sharq
Kuwait City
Phone: +965 2418262
Fax: +965 2418262
Achrafieh, Beirut, Lebanon
Achrafieh, Sassine Square
Lot#3461, sect 4 & 6, Ground Floor
Lebanon, Beirut
Tel: 961 1 202 003,
Fax: 961 1 202 118
About FedEx Office
FedEx Office is the world's leading provider of document solutions and business services. The Dallas-based company has a global network of more than 1,900 digitally-connected locations in 12 countries. FedEx Office offers access to copying and digital printing, professional finishing, document creation, Internet access, computer rentals, videoconferencing, signs and graphics, notary, direct mail, office products, Web-based printing, and the full range of FedEx day-definite ground shipping and time-definite global express shipping services. Products, services and hours vary by location. For more information, please visit www.fedex.com.
About FedEx
FedEx Corp. (NYSE: FDX) provides customers and businesses worldwide with a broad portfolio of transportation, e-commerce and business services. With annual revenues of $39 billion, the company offers integrated business applications through operating companies competing collectively and managed collaboratively, under the respected FedEx brand. Consistently ranked among the world's most admired and trusted employers, FedEx inspires its more than 290,000 employees and contractors to remain "absolutely, positively" focused on safety, the highest ethical and professional standards and the needs of their customers and communities. For more information, visit news.fedex.com.