FedEx Express FR Moves To New Eco-Conscious Facility In Toulouse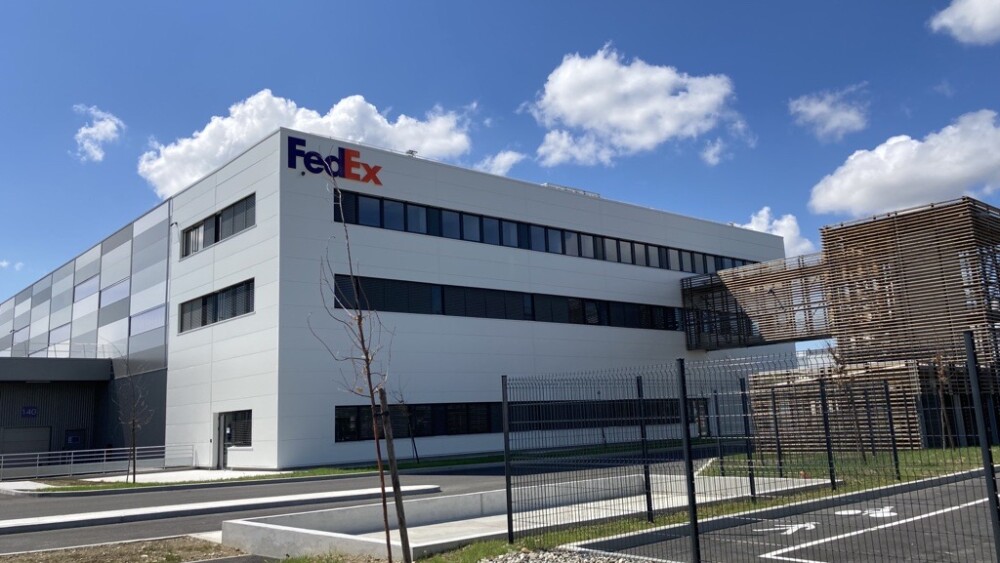 Toulouse, 3 June 2021. – FedEx Express, a subsidiary of FedEx Corp. (NYSE: FDX) and the world's largest express transportation company, today announces it is moving its operations from Toulouse-Blagnac Airport to a new eco-conscious facility in Colomiers, near Toulouse. Located in the heart of Europe's strategic cluster for high-tech industry and biotechnology, the new building consolidates the international and domestic activities of FedEx Express in France – line-haul, sorting, and pick-up and delivery activities – in a new facility that prioritizes sustainability and the local environment.
With a surface area of 10,157 sqm, the building has been certified BREEAM 'Good' (Building Research Establishment Environmental Assessment Method), for its high energy and environmental performance. The new facility features sustainable building materials, strong insulation, intelligent lighting, and measures to limit water consumption. 330 sqm of installed solar panels also generate renewable energy used onsite and help ensure the facility is ready to meet the demands of potential future fleet electrification.
"This new facility reflects the environmentally-conscious approach and consideration for sustainability that we want to have in all we do. Whether utilizing sustainable materials, reducing waste or incorporating the most modern technical equipment, we have strived to minimize the environmental impact of the building and our operations. As we continue on our journey to carbon neutral operations by 2040, this is a great example of how FedEx Express is readying facilities to include green energy production and support the sustainable technologies of the future," said Mathilde Goffard, Vice President of Ground Operations for FedEx Express in France.

In addition to energy performance and waste reduction measures, the facility was designed in close collaboration with an ecologist specializing in land-use planning to preserve the land and the creatures that currently inhabit it by ensuring they can co-exist with adequate access to food and shelter.
Included in the building's construction are three hedgehog shelters, eight beehives for wild or solitary bees, five artificial nesting boxes for birds, the installation of insect hotels that are also used as summer shelters for small reptiles, and five purpose-built bat shelters integrated into the cladding of the building. This is only the second time that such an innovative initiative has been implemented in France in the context of land-use planning for corporate structures.
As well as the reintroduction of local vegetation species, 3,800 sqm of woodland will be preserved, retaining the woodland's natural state on the northern side of the site to maintain the balance of the biodiversity.
The introduction of innovative new technical equipment at the facility will also help ensure that the company can deliver more with less environmental impact. The building houses a new sorting machine, equipped with technology deployed for the first time in a FedEx Express station in France. With an operational sorting capacity of 5,500 packages per hour, this new technical equipment allows FedEx Express to respond to continued increase in local and gateway activity for import and export flows.
As part as its Priority Earth initiative, which includes a global goal to achieve carbon neutral operations by 2040, FedEx will continue its efforts to make its more than 5,000 facilities more sustainable. Furthermore, the company will designate more than $2 billion of initial investment across three key areas including vehicle electrification, renewable energy, and carbon sequestration.