FedEx Express backs Belgian Entrepreneurs Encouraging Corporates to 'Reconnect' with their Consumption
FedEx Express awards student-run company Echooo the FedEx Access Award
at JA Europe Company of the Year Competition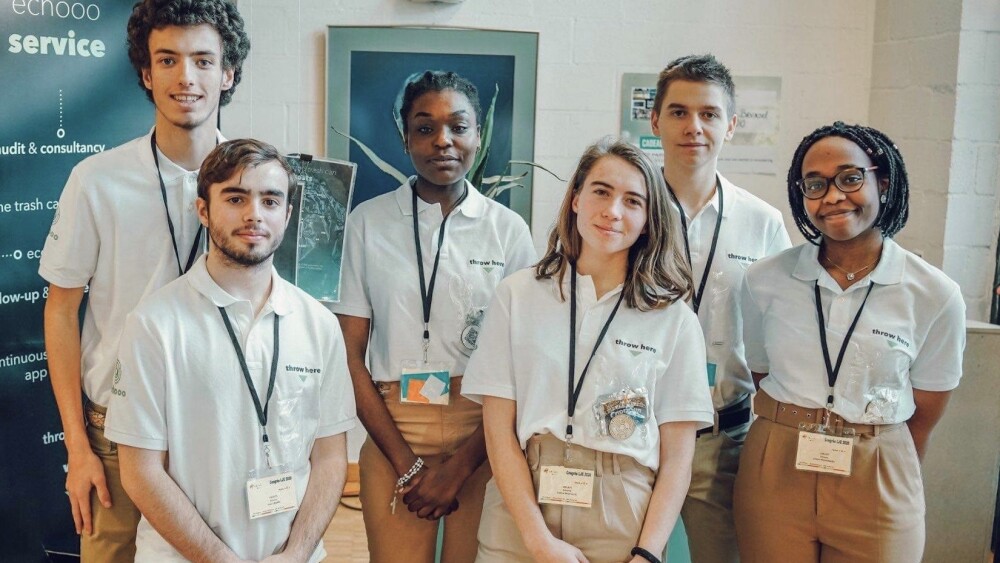 Amsterdam, 28 July 2020 — FedEx Express, a subsidiary of FedEx Corp (NYSE: FDX), awarded its signature FedEx Access Award to student-run company Echooo, from Belgium at the JA Europe Company of the Year Competition, hosted as a virtual event for the first time on 22-24 July 2020.
Echooo, a company established by nine secondary-school students from Belgium, created a data-driven waste management solution aimed at organisations looking to measure and change corporate behaviours.
"What Echooo is introducing to the market struck us as so incredibly timely. The concept, product and services offer an attractive solution to organisations in Europe and beyond. With the United Nations Sustainable Development Goals shining a spotlight on responsible consumption and production, waste management is an area that will become increasingly important for organisations to understand and make positive changes - and fast," said Helena Jansson, senior vice president finance, FedEx Express International.
Echooo offers customers an innovative solution that supports measurement and reporting but also introduces value-add services, such as audits and educational workshops to help shift team member behaviour.
"The integration of sustainable practises in company culture is something we recognise as absolutely key to achieving our collective ambitions in this area. We are excited to support Echooo and explore ways to introduce their solution to our own offices in Belgium," Jansson added.
FedEx Express designed its signature award to bring the notion of "access" into the core thinking of future entrepreneurs. It recognizes the student-run company that best demonstrates innovation, a readiness to access global markets, drive socio-economic growth, and takes a responsible approach to environmental sustainability.
"SMEs are the backbone of the European economy and the freedom and ability for a business to operate across borders is incredibly important in fuelling growth. Through our participation in European Junior Achievement programs, we're able to encourage entrepreneurs to grow their businesses with an understanding of global trade and an ambition to access to new markets," Jansson said.
"FedEx Express has supported Junior Achievement (JA) Europe for 14 years and has built an incredible network of volunteer mentors supporting the Company Program in Europe. Collaboration with FedEx Express not only allows more young people to access entrepreneurial education but also enables entrepreneurs to learn from leaders with expertise on topics like global trade and exporting, which directly impact their own businesses," said Salvatore Nigro, CEO JA Europe.
FedEx Express hosted a live webinar for participating students before last week's European competition on the importance of global access. FedEx Express team members also participate as volunteer mentors to student companies throughout the academic year in Spain, France, Romania and the Netherlands, with a FedEx Access Award also given in Sweden.