FedEx Celebrates Success of Game-Changing Delivery in Spain
FedEx and UEFA Foundation for Children Return to Cañada Real To See First-Hand impact of 'Pitch in a Box' on Local Community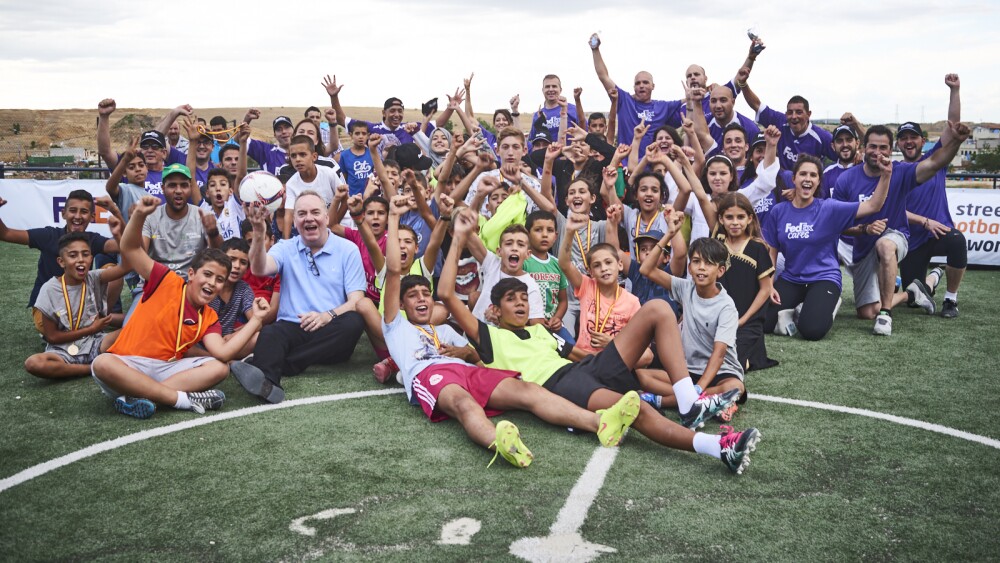 FedEx and the UEFA Foundation for Children worked with global not-for-profit streetfootballworld to identify Cañada Real as an ideal location for the pitch, based on the potential for community impact. FedEx team members returned to the pitch June 27 to watch an anniversary tournament between young local players.
"I'm moved to return to Cañada Real and see for myself the positive impact putting a playing field in this community has had. It's fantastic to talk to the young people using the pitch and know that FedEx involvement in projects like this is making a real difference to the outlook and opportunities of the people who live here," said David Binks, president of FedEx Express in Europe and CEO of TNT.
Through its FedEx Cares platform, FedEx is investing $200 million in more than 200 global communities by 2020 to create opportunities and deliver positive change around the world. To find out more, visit http://fedexcares.com/.
The 'Pitch in a Box', an enclosed, artificial-turf football field protected by metal railings and high-sided goals, was shipped by FedEx Express in two containers and inaugurated in May 2016. It is located in an area of self-constructed housing, home to immigrants from both Morocco and the Roma community.
Local charity Red Deporte y Cooperación maintains the pitch and ensures its sustainable and coordinated use through the employment of a youth coach from the local community.
"The 'Pitch in a Box' is something really extraordinary in the landscape of Cañada Real. The reaction of local children to having access to such a facility has been incredible. The pitch provides a safe place where young people are encouraged to gather, and an important arena in which to develop life skills such as respect, dialogue, and a sense of responsibility," said Carlos de Carcer, founder and CEO, Red Deporte y Cooperación.
As main sponsor of the UEFA Europa League, the work of FedEx with the UEFA Foundation for Children and streetfootballworld reflects its broader social responsibility program, focused on delivering good in communities at a local level.
"Football proves time and time again to be a powerful tool in uniting communities and changing lives. Returning to Cañada Real one year on, we're able to see that organisations like FedEx, who choose to invest in areas where young people need it most, are working to unlock football's potential by providing people with facilities that would otherwise be out of reach." Frauke Horstmann, Corporate Partnerships, streetfootballworld
The Pitch in a Box at Cañada Real is one in a series of social responsibility projects FedEx is undertaking, aiming to use football as a platform for delivering social change.
"The success of the pitch in Cañada Real is an example of the impact football can have on a local community. Together with FedEx we have already begun work on a second pitch to be built in Mragowo – a segregated community in north-east Poland where we really look forward to making a difference this summer." Pascal Torres, General Secretary, UEFA Foundation for Children
The second 'Pitch in a Box' will be built in Mragowo, Poland, and is scheduled for completion in summer 2017.