Young Entrepreneurs From ACE Triumph At FedEx Access Award In Estonia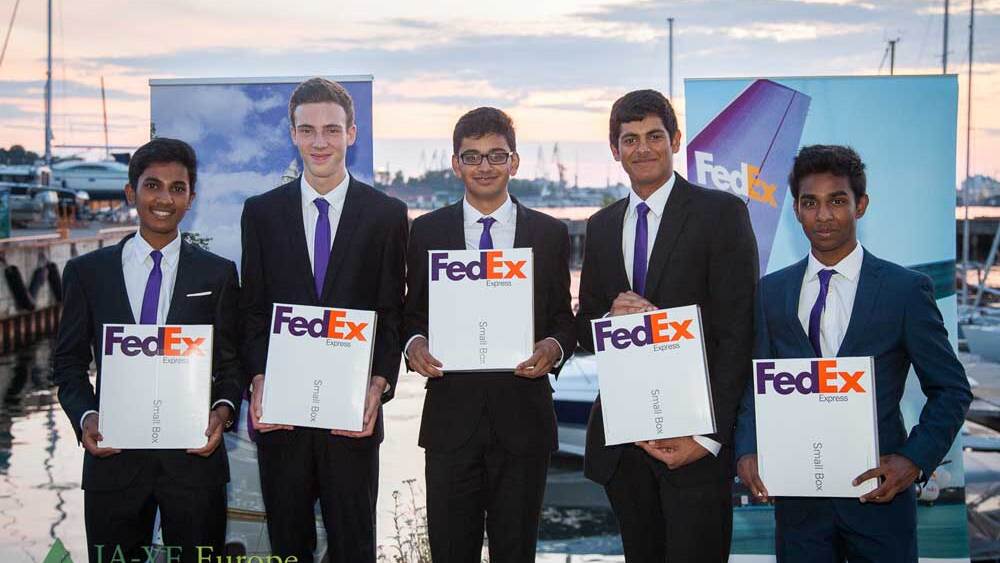 TALLINN, July 25th 2014: FedEx Express and Junior Achievement-Young Enterprise (JA-YE) Europe have named ACE, a student company from Kingston-Upon-Thames in the United Kingdom, as the winner of the prestigious annual FedEx Access Award 2014. ACE offers adhesive gel pads that provide easy storage solutions. The pads stick to any flat surface, are able to hold items weighing up to a kilogram and can be re-used countless times.
The FedEx Access award is granted to the JA-YE Europe student company which best demonstrates a comprehensive understanding of international trade and devises a product or service with the ability to succeed globally. ACE scooped the award for their strong business case, potential to involve small businesses and solutions to overcome international trade barriers. Individual team members were also presented with tablet devices by FedEx to aid them in their future business activities.
"We have made sales to people in countries such as Australia, Malaysia and Dubai, and hope to extend our market further and successfully establish ourselves overseas. This award means the world to us as a Young Enterprise company. We never expected to get this far in the competition and are so proud to be here representing our country, let alone receiving such a prestigious award." Kiran Arokiasamy, Sales Director ACE.
Greg Morsbach, Manager of External Communications EMEA, FedEx Express, added: "We were extremely impressed by the creativity and business know-how exhibited by all of the students involved in the pitching process at the JA-YE Europe Company of the Year Competition in Estonia. To succeed globally, a company needs a product or service with international appeal and ability to trade beyond borders. All the companies were passionate about their ideas, but ACE really stood out as having the right mix of talent and tactics to hit their targets."
The teams were part of JA-YE Europe flagship Company Programme, which sees students set up and run real businesses with the support of business mentors. The Company of the Year Competition is an annual celebration of the achievements of these young entrepreneurs and their mini-companies from across Europe. 250,000 students took part this year in the Company Programme and competed at the national level for the "Best Student Company". Prime Minister of the Republic of Estonia Taavi Roivas who is a JA-YE Europe alumnus opened the 25th Award Ceremony hosted by JA Estonia which gathered together 300 students from 38 countries, teachers, business advisors and partners to celebrate the success of their teams during the three days of competition (23-25th July).
Separately, the FedEx Global Joint-Venture Award 2014 was given earlier in July to One`s Accessories and Bison Land – two student teams from Romania and Germany who formed the joint-venture One's Souvenir of Bison Land. Based online, the site promotes local production of souvenirs from the Neamț County of Romania, while preserving traditional craftsmanship and providing training for local young people with learning challenges. The award is designed to recognise the most innovative, sustainable and profitable joint-venture in the 2013-2014 academic year.
Ţepuc Ana, Student at Colegiul Naţional de Informaticã, Piatra Neamţ said: "Hard work, an entrepreneurial spirit and close collaboration with local businesses were the reasons we succeeded in creating One's Souvenir of Bison Land. It was a unique learning experience and we look forward to expanding the business in the near future."
Caroline Jenner, CEO JA-YE Europe: "Exposing students to an international environment and encouraging them to try themselves with entrepreneurial ventures is another answer for a challenged generation who needs a strong set of soft skills. Both the FedEx JA-YE Europe Award and the Global Joint-Venture Award are examples of how to better prepare the younger generation for the world of work."
According to recent research from McKinsey, 27% of employers report leaving entry-level jobs unfilled because they could not find candidates with the necessary skills. Furthermore, one-third of employers stated that the lack of skills is causing them "major business problems". Against this backdrop, the JA-YE Europe programme helps students from the ages of 15-18 build essential workplace skills which are vital when entering a new position, such as team work, communication, understanding of international context, problem solving and self-management.
#####
Notes to Editors
Link for Criteria and Rules of FedEx Global Joint-Venture Award 2014
Link for latest facts about Junior Achievement
For more information contact:
Elina Konstantinou
Junior Achievement-Young Enterprise Europe
Phone: + 32 2 735 97 20
elina@ja-ye.org
Greg Morsbach
Manager External Communications
FedEx Express Europe, Middle East, Indian Subcontinent & Africa
Mobile :+32 473 787 963
gmorsbach@fedex.com

JA Worldwide (Junior Achievement):
JA Worldwide is one of the largest global NGOs dedicated to addressing fundamental social and economic challenges of young people by educating and empowering them to transform their futures and own their economic success. Through cutting-edge, experiential learning in financial literacy, work readiness and entrepreneurship, JA Worldwide effectively broadens the canvass of possibility for young people and enriches their ability to contribute to the strength of their families, communities, and economies. The 123 country JA Worldwide network is powered by more than 400,000 volunteers and mentors from all sectors of society, reaching over 10 million students around the world. Visit www.jaworldwide.org for more information.
About FedEx Express
FedEx Express is the world's largest express transportation company, providing fast and reliable delivery to more than 220 countries and territories worldwide. FedEx Express uses a global air-and-ground network to speed delivery of time-sensitive shipments, by a definite time and date with a money-back guarantee.
About FedEx Corp.
FedEx Corp. (NYSE: FDX) provides customers and businesses worldwide with a broad portfolio of transportation, e-commerce and business services. With annual revenues of $46 billion, the company offers integrated business applications through operating companies competing collectively and managed collaboratively, under the respected FedEx brand. Consistently ranked among the world's most admired and trusted employers, FedEx inspires its more than 300,000 team members to remain "absolutely, positively" focused on safety, the highest ethical and professional standards and the needs of their customers and communities. For more information, visit news.fedex.com.