Shipping with FedEx Express Envelopes is Now Carbon-Neutral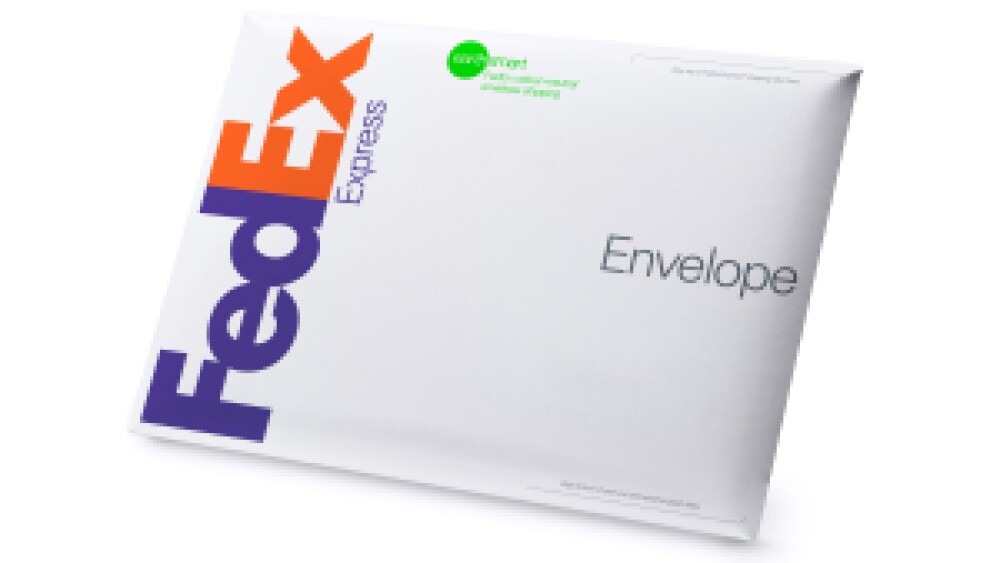 BRUSSELS, April 10, 2012—The iconic FedEx Express envelope, which is already made from 100% recycled content and is 100% recyclable, is getting another environmentally-friendly boost today. FedEx Express, a subsidiary of FedEx Corp. (NYSE: FDX) and the world's largest express transportation company, is launching a carbon-neutral shipping program for its most widely used packaging solution for document shipping, making it the first company in the transportation industry to offer a carbon-neutral shipping option at no extra charge to the customer.

FedEx Express will make an investment in projects around the world that displace or sequester greenhouse gas emissions from the atmosphere, neutralizing the impacts of the carbon emissions emitted during the shipment of all FedEx Express envelopes around the world. The initiative is recognized as part of EarthSmart®, the FedEx sustainability program, offering concrete solutions that benefit the planet and the company's environmental performance.

"Customers around the world value responsible business practices," said Beth Galetti, vice president planning and engineering, FedEx Express Europe, Middle East, Indian Subcontinent and Africa (EMEA). "By making the FedEx Express envelope's shipping carbon-neutral, our customers are provided with an environmentally-sound solution backed by the renowned high-quality service provided by FedEx—a win-win solution the customer can be proud of."

Through the carbon-neutral Fed Ex Envelope shipping program, FedEx will calculate on an annual basis the tons of carbon dioxide released through the shipment of all global FedEx Express envelopes. FedEx Express will purchase the equivalent amount of carbon dioxide offsets from the not-for-profit organization, BP Target Neutral, which will neutralize the equivalent amount of CO2 emissions by investing in alternative energy or conservation projects, including biogas facilities on farms in the Netherlands, a reforestation project in the Tanzanian Southern Highlands that is converting degraded grassland to commercial forest, and a landfill gas collection system at Thailand's first sanitary landfill.

"FedEx has changed behaviors and invested in technologies to directly reduce greenhouse gases from our greatest sources—planes, trucks and facilities—and, as a result, we are well on our way to meeting ambitious emission reduction goals," said Mitch Jackson, staff vice president, Environmental Affairs and Sustainability, FedEx Corp. "The carbon neutral program for the FedEx Express envelope allows us to further contribute to minimizing the effects of greenhouse gas emissions from our operations by providing more sustainable options for our customers."

Since 2008, FedEx has set global targets to reduce CO2 emissions from vehicle and air transport. By the end of FY2011, vehicle fuel efficiencies had improved by more than 16 percent and aircraft carbon dioxide emissions had declined by 13.8 percent compared to 2005 levels.

An impressive investment in solar energy has also complemented the company's environmental efforts. Six FedEx solar installations with a capacity of more than six megawatts of clean, renewable energy each year, and solar panels at the state-of art FedEx Express hub at Cologne alone generate more than 800,000 kWh of energy on an annual basis. Additionally, 51 FedEx facilities in Europe are ISO 14001:2004 certified, including the European hub at Roissy-Charles De Gaulle in Paris, the largest FedEx Express hub outside the United States.
The FedEx Express carbon-neutral program extends to all FedEx Express envelope shipping options. More than 200 million FedEx Express envelopes are shipped around the world every year.