Polish Community Welcomes Game-Changing Delivery from FedEx
FedEx Expands Support of "Football for Good" Movement With Second Community Sports Field in Mrągowo, Poland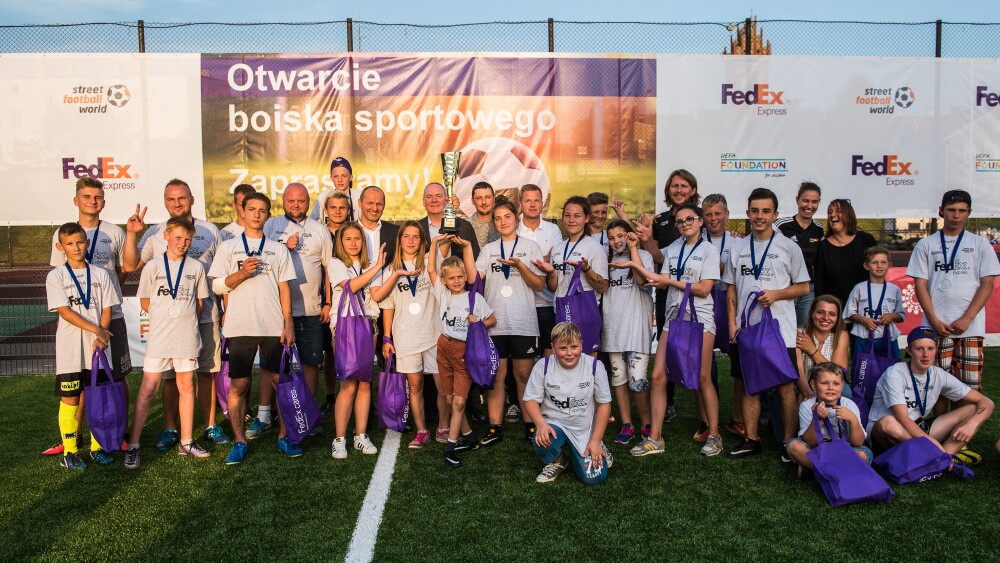 FedEx Express, a subsidiary of FedEx Corp (NYSE: FDX) and the world's largest express transportation company, enters its third season as Main Sponsor of the UEFA Europa League with a second game-changing delivery already under its belt.
Since becoming main sponsor of the competition in 2016, FedEx has collaborated with the UEFA Foundation for Children and global not-for-profit streetfootballworld on a program of community projects using football as a platform for social change.
Following a successful initiative in Madrid, FedEx funded a second "Field in a Box™" – an artificial turf football pitch delivered in two shipping containers to the town of Mrągowo, north-east Poland. The local community took ownership of the pitch at an opening ceremony on 31 August 2017.
"As Main Sponsor of the UEFA Europa League, FedEx aims to use its involvement in professional football to connect with people on a personal level. In Cañada Real, we saw the positive impact putting a playing field in a community can have. It's rewarding for FedEx to open a second pitch here in Mrągowo, and feel the same optimism surrounding a project we know can open up new possibilities for people who live here," said David Binks, president of FedEx Express in Europe and CEO of TNT.
FedEx, the UEFA Foundation for Children and streetfootballworld were joined at the official inauguration of the pitch by the Mayor of Mrągowo, UEFA ambassador and retired Polish goalkeeper Jerzy Dudek, and members of the local community. FedEx team members celebrated the opening of the pitch by participating in a football3 training session and tournament with young local players – a methodology that turns the football field into an important arena in which to develop life skills such as dialogue, respect and team work.
"Football has a proven ability to bring people together and change lives. We're grateful that organisations like FedEx, who are affiliated with football at a professional level, extend their support to the football for good movement and recognise, not just the need, but the potential for projects like 'Field in a Box™' and football3 teaching methodologies to impact young people in communities like Mrągowo," said Dr. Vladimir Borkovic, network director, streetfootballworld.
Local charity Młodzieżowe Stowarzyszenie Inicjatyw Sportowych (MSIS), a streetfootballworld partner in Poland, will maintain the pitch in the community and ensure its sustainable use.
"The decision to build this football field in Mrągowo has already elevated the aspirations of people here. The pitch will be greatly beneficial in terms of community development, helping to integrate the people of Mrągowo with their neighbours and the municipality, and encouraging independence. Our aim for this pitch – to become a football3 training facility—means the pitch will not just benefit young people who use it, but also allow the teaching of football3 to spread beyond Mrągowo and have a broader impact in Poland," said Arkadiusz Kamil Mierkowski, MSIS.
The 'Field in a Box™' program is funded as part of FedEx Cares, a broader pledge to invest $200 million USD in more than 200 communities by the year 2020. Plans to expand the program include additional pitches for communities on three continents—ensuring FedEx will continue to complement its professional football sponsorship with locally beneficial initiatives.
"We are delighted that FedEx approach to social responsibility aligns with the football for good movement. As a global logistics business that is committed to giving back on a local level, FedEx is naturally positioned to expand the 'Field in a Box™' program on to other continents. Together we look forward to improving the lives of young people through football, not just in Europe, but in underserved communities globally," said Pascal Torres, general secretary, UEFA Foundation for Children.
About FedEx Express
FedEx Express is the world's largest express transportation company, providing fast and reliable delivery to more than 220 countries and territories. FedEx Express uses a global air-and-ground network to speed delivery of time-sensitive shipments, by a definite time and date with a money-back guarantee[1].
About FedEx Corp.
FedEx Corp. (NYSE: FDX) provides customers and businesses worldwide with a broad portfolio of transportation, e-commerce and business services. With annual revenues of $60 billion, the company offers integrated business applications through operating companies competing collectively and managed collaboratively, under the respected FedEx brand. Consistently ranked among the world's most admired and trusted employers, FedEx inspires its more than 400,000 team members to remain "absolutely, positively" focused on safety, the highest ethical and professional standards and the needs of their customers and communities. To learn more about how FedEx connects people and possibilities around the world, please visit about.fedex.com.
UEFA Foundation for Children
Established in 2015, the UEFA Foundation for Children is a charitable organisation governed by Swiss law. It defends the rights of underprivileged children by using the power of football to improve their lives and to help them develop their potential and find their place in the community. The foundation currently invests in more than 60 projects in 50 countries worldwide. More than 500,000 children have already benefited from the foundation's work since its creation.
streetfootballworld
streetfootballworld is a leading non-profit in the field of football for good. Football has a unique power to change the world for good. Our goal is to unleash this power. We bridge the gap between community organisations that use football to change lives, with supporters and donors from the world of football, business, politics and philanthropy, who believe in their potential to change the world. Our global network unites 123 community organisations in 79 countries empowering more than 2 million disadvantaged young people every year.
For more information, please contact:
Kate Bowen
Senior Communications Specialist, CSR, FedEx Express Europe
+44 (0) 7967 182 608
[1] Subject to relevant terms and conditions.