Norwegian Team Wins FedEx Global Access Award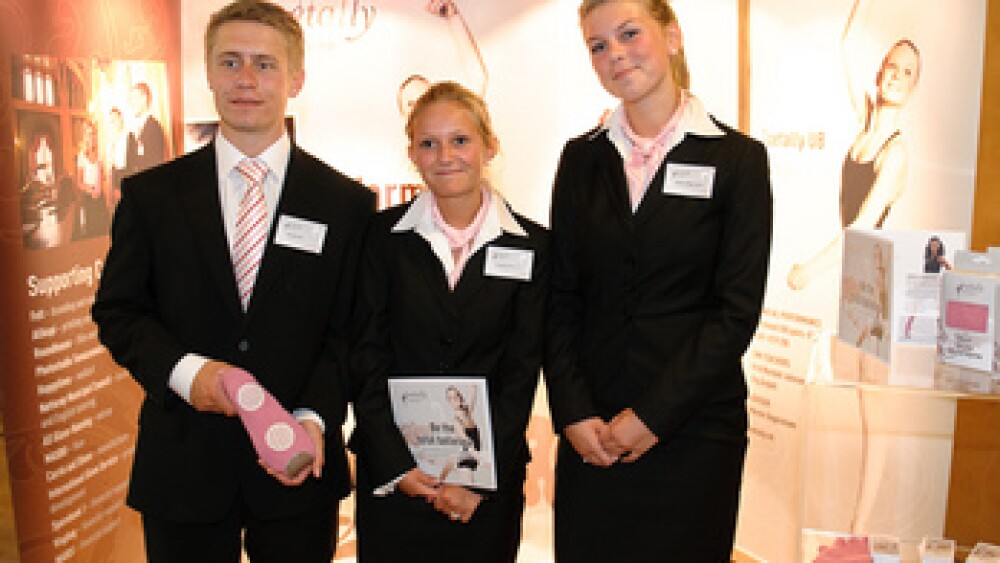 BRUSSELS, 7th July 2009 — FedEx and Junior Achievement-Young Enterprise (JA-YE) Europe have named the Norwegian company 'Toetally UB' as winner of the prestigious FedEx Global Access Award, presented in recognition of teams exhibiting the most comprehensive understanding of global trade. Toetally UB was recognised for its unique conceptualisation around the development and retail of an innovative shoe that is designed to keep ballet dancers feet warm and help prevent injuries.
The winners were announced at a glittering award ceremony that marked the end of the three-day-long JA-YE Europe Company of the Year Competition 2009, hosted by Young Enterprise Netherlands. As this year's winning team, Toetally UB recorded astounding sales levels in Norway and have expressed plans to expand into the UK market over the coming months. The judges were highly impressed by the company's astute business acumen, their international concept, presentation skills and all round professionalism. With a management board averaging the age of 18, Toetally UB surpassed the judge's expectations with an early understanding of the benefits of global trade.
"We originally manufactured the shoe in Norway but soon discovered that relocating production to China would be a more viable option for us," explains Viktoria Magnussen, 18, Production & HR Chief of Toetally. "We've had daily contact with our Chinese producers and have had to learn to communicate effectively to make sure our requirements were met. It's amazing to have won this award – we're delighted!"
"There are clear synergies between FedEx and JA-YE in terms of the shared focus on economic education, entrepreneurism and innovation," said Nathalie Amiel-Ferrault, Managing Director, Communications and Brand, FedEx Express Europe, Middle East, Indian Subcontinent and Africa. "The winning team truly excelled in their business proposition and demonstrated confidence in their ability to strategise, devise a working business model and manage the end-to-end production process," she added.
The JA-YE Company Programme itself provides students aged between 15 and 21 with in-depth experience of hosting a range of entrepreneurial functions from project conceptualisation right through to design and production. Students were also given the opportunity of electing officers, negotiating wholesale and retail prices, calculating break-even points, preparing budgets, paying wages, conducting market research, creating advertising and selling products. At the end of the programme, students liquidated their company, prepared a profit and loss statement and balance sheet and reported on their key learnings to a panel of their shareholders.
The small business sector is a key focus market for FedEx. The business start-up rate in the regular population in Europe is 6%. For former participants in JA-YE student companies the percentage of the population starting their own businesses jumps to 15% between the ages of 20 and 29 and 25% over the age of 29.
"We are extremely proud to have the support of companies like FedEx in helping us identify the business leaders of tomorrow. FedEx is a world leader in global trade and access and by sharing their experience, we are giving students real insight into the realities of global business," said Caroline Jenner, CEO of JA-YE Europe.
Nearly 400 participants took part in the event including, for the first time ever, 23 Junior Achievement "ambassadors" from Asia. In 2011, the first JA Global Student Company of the Year Competition will include Junior Achievement students from around the world. This competition will crown the world's most innovative student company.