Nissan and FedEx Express Join Forces Delivering Funding Support to the British Red Cross in a Zero-Emission Vehicle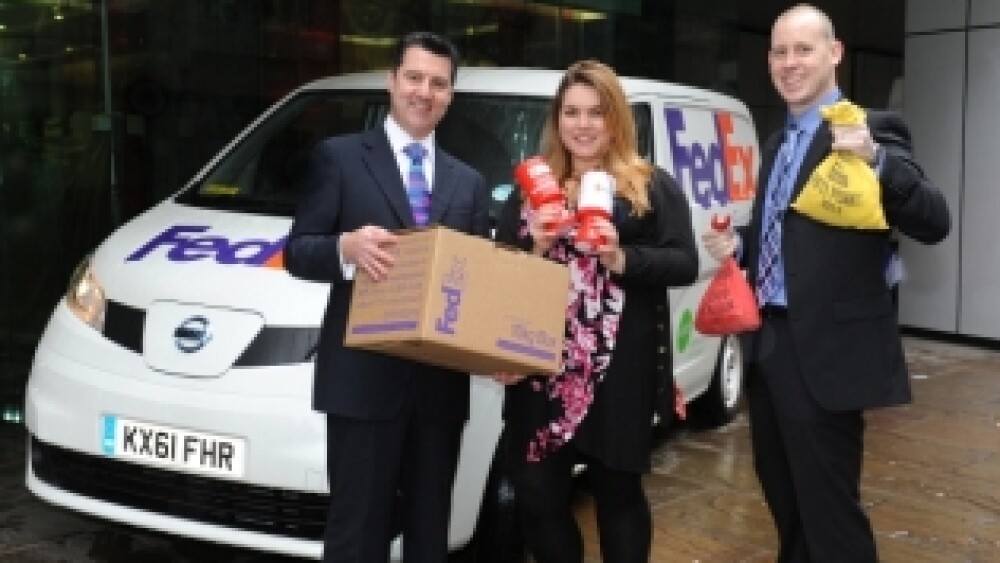 LONDON, Feb 20th 2012— Nissan and FedEx Express are collaborating once again, demonstrating the companies' joint commitment to environmental sustainability and corporate social responsibility. A FedEx Express courier drove a Nissan battery-powered zero emission e-NV200 prototype van to the British Red Cross Headquarters delivering donations from Nissan employees and a corporate philanthropic donation from FedEx Express. This memorable journey marked the end of a successful first UK trial of the all-electric e-NV200 prototype van in the London area.

Many employees from the Cranfield-based Nissan Technical Centre Europe (NTCE) who provided technical support for the e-NV200 prototype trial have participated in an annual fund-raising activity for the British Red Cross Disaster Fund. These Nissan team members requested that the donation be delivered in a unique and memorable manner using the zero-emission vehicle. In a sign of solidarity and responsible corporate citizenship, FedEx Express matched the Nissan employees' donation and delivered both donations to the British Red Cross using the Nissan e-NV200 prototype it had test driven in London.
"Today we are proudly handing over a collection of donations amassed by our employees in support of the British Red Cross. We are delighted our donation has been matched by FedEx Express," said Graeme Burn, senior engineer for NTCE Powertrain Development. "Collaboration with FedEx Express on the environmental sustainability and corporate social responsibility fronts demonstrates the positive impact of cross-sector collaboration. Our work with them on the vehicle trial has been engaging, robust and forward-thinking. I would also like thank our employees for their generosity and continuous support of our company's corporate citizenship values."
"At FedEx Express, we have a longstanding tradition and commitment to disaster relief and environmental sustainability. Around the world, we provide in-kind transportation and philanthropic donations supporting humanitarian efforts to communities that need it most," said William Martin, managing director of Operations UK, FedEx Express EMEA. "We are delighted we could strengthen our collaboration with Nissan through this initiative and co-donate to the deserving and notable Disaster Fund of the British Red Cross."
Kimberley Bannister, corporate partnerships assistant at the British Red Cross, accepted the donations from Burn and Martin and praised the efforts of all involved as she explained where the money was headed. "The joint donations will be allotted to our Disaster Fund supporting emergency responses across the world within hours and we are thankful for the contributions FedEx Express and Nissan have offered us."
To learn more about the Nissan e-NV200, please visit: www.eNV200.com
To find out more about FedEx commitment to corporate responsibility including disaster relief and environmental sustainability, please visit: http://about.fedex.designcdt.com/corporate_responsibility
Nissan in Europe
Nissan has one of the most comprehensive European presences of any overseas manufacturer, employing more than 12,500 staff across locally-based design, research and development, manufacturing, logistics and sales and marketing operations. Last year (2010) Nissan plants in the UK, Spain and Russia produced more than 528,000 vehicles including mini-MPVs, award-winning crossovers, SUVs and commercial vehicles. Nissan now offers 24 diverse and innovative products for sale in Europe today, and is positioned to become the number one Japanese brand in Europe.
About Nissan
Nissan Motor Co., Ltd., Japan's second largest Japanese automotive company by volume, is headquartered in Yokahama, Japan and is an integral pillar of the Renault-Nissan Alliance. Operating with more than 150,000 employees globally, Nissan provided customers with more than 4 million vehicles in 2010. With a strong commitment to developing exciting and innovative products for all, Nissan delivers a comprehensive range of fuel-efficient and low-emission vehicles under the Nissan and Infiniti brands.
About FedEx Sustainability
FedEx is committed to connecting the world responsibly and resourcefully. The Company sets long-term goals to reduce aircraft emissions intensity 20 percent by 2020, increase FedEx Express vehicle efficiency by 20 percent by 2020, and expand on-site renewable energy generation and procurement of renewable energy credits. FedEx works to achieve these ambitious goals through EarthSmart, a FedEx commitment to minimize our impact on the environment. EarthSmart is designed to encourage innovation that makes our business—the way we work and the services we offer—more sustainable, both economically and environmentally. FedEx has been placed in Boston College's Reputation Institute 2011 CSR Index Top 50 Ranking, the fourth consecutive year maintaining this recognition, and holds the U.S. EPA Green Power Partnership Printer's List #2 Ranking.
About FedEx Express
FedEx Express is the world's largest express transportation company, providing fast and reliable delivery to more than 220 countries and territories worldwide. FedEx Express uses a global air-and-ground network to speed delivery of time-sensitive shipments, by a definite time and date with a money-back guarantee
About FedEx
FedEx Corp. (NYSE: FDX) provides customers and businesses worldwide with a broad portfolio of transportation, e-commerce and business services. With annual revenues of $41 billion, the company offers integrated business applications through operating companies competing collectively and managed collaboratively, under the respected FedEx brand. Consistently ranked among the world's most admired and trusted employers, FedEx inspires its more than 290,000 team members to remain "absolutely, positively" focused on safety, the highest ethical and professional standards and the needs of their customers and communities. For more information, visit news.fedex.com.