Media Alert: Donating Old Cell Phones – FedEx Employees Support Nature Preservation Project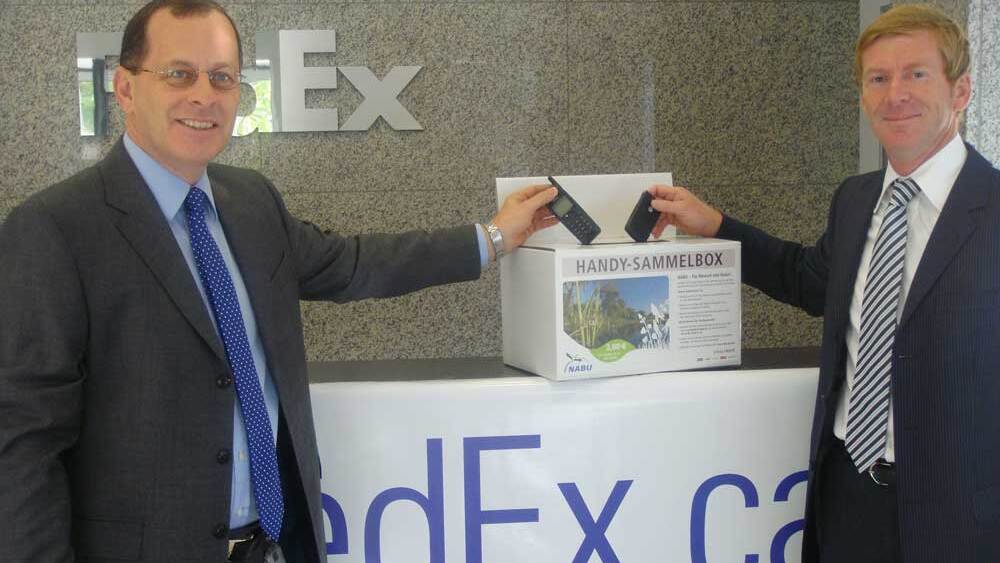 Nation-wide Collection Campaign: With the donation of 111 old cell phones, FedEx Express employees supported a project headed by the Naturschutzbund Deutschland e.V. (NABU). NABU is collecting old cell phones as part of its "Old Cell Phones for the Havel" campaign. The organization hopes to raise awareness for proper cell phone disposal. The phones contain valuable natural resources – and disposing them with household waste burdens the environment with pollutants. NABU will receive up to three euros per cell phone from the E-Plus Group and the money will go towards the ecological restoration of the lower Havel lowlands. The lowlands are located west of Berlin and are one of Central Europe's largest and most important wetland areas.
FedEx employees from across the country participated in the donation campaign, including both Managing Directors Carl Graham (pictured on the left) and Stefan Dries. The campaign was part of the annual FedEx Cares Week, where FedEx employees around the world support charitable programs and projects. Over 4,000 employees from around the globe participated this year. In addition to other projects, they organized blood drives and food donations for the needy while also helping decorate some local children's hospitals.

About FedEx Express
FedEx Express is the world's largest express transportation companies, providing fast and reliable delivery to more than 220 countries and territories. FedEx Express uses a global air and ground network to speed delivery of time-sensitive shipments, by a definite time and date with a money-back guarantee.