Interview with Felix Finkbeiner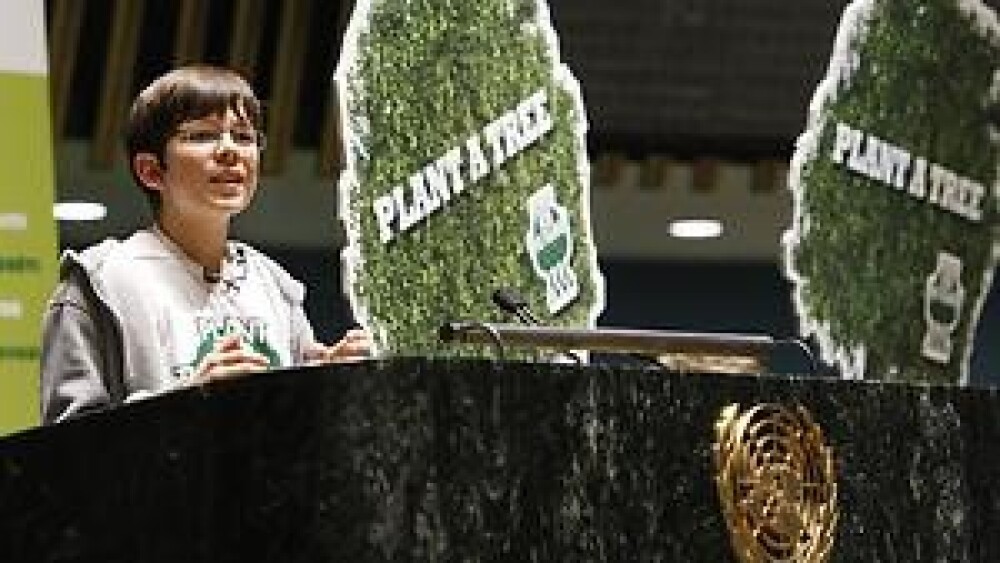 "We children can make a difference"
Felix Finkbeiner, born 1997 in Munich, Germany, ended his school presentation in January 2007 with the words "Let's plant one million trees in each country of the world!" From that moment, the Children Initiative Plant-for-the-Planet was born. Since then, Felix has given hundreds of speeches and presentations, national and international motivating more than 3,000 children in 99 countries to plant trees, think about climate justice issues, and to act responsibly. The goals of the Children Initiative: to plant one million trees in each country of the world and empower one million children to act as Climate Justice Ambassadors until 2020. Invited to speak at the opening ceremony of the International Year of Forests 2011 in New York this February, Felix discussed his passion for the planet, the momentum it has created among youth internationally and his hopes for the future.
How did your organization come about?
Our children Initiative Plant-for-the-Planet started in 2007 when I prepared a school report. I was inspired by Wangari Maathai, who had planted 30 million trees in Africa in 30 years. After delivering my presentation to my class, my teacher sent me to the other classes at our school and then the director suggested I deliver my presentations to other schools. And so began Plant-for-the-Planet with our first tree planted in March 2007. One year later, we held our first press conference which generated 500 media reports. Since then, more than 4 million trees have been planted and we can count over 100,000 children as members with over 3,000 of them serving as Climate Justice Ambassadors around the world.
How did your parents react to your idea? How about your community and friends?
We never thought that Plant-for-the-Planet would become such a huge success. From the beginning, my parents, friends and teachers have supported me and the initiative tremendously. I am very grateful for their help, encouragement and support.
What do you consider the most satisfying part of your work?
The universal reaction among children to support this cause and to get active is very rewarding. More than 100,000 children have joined worldwide with new members joining every day. No matter where I hold a speech—in China, Japan, South Korea, USA, Mexico or Europe – children react the same way: yes, we will join in, yes, we will take our future into our own hands and yes we will plant trees! It is wonderful to see that children who have joined have the confidence to hold speeches on their own and organize planting parties in their local countries.
Where do you feel you have the most impact?
When we children come together, we can really make a difference. One mosquito cannot do anything against a rhinoceros, but a thousand mosquitoes can make a rhinoceros to change its direction. When the kids unite and plant trees all over the world, then we act as global citizens to change the world.
What would be the best piece of environmental advice you could give?
The chief of a native North American tribe once told me that the council of elders will revisit each decision considering whether the seventh generations from now will be benefit from it. This is the question we should ask ourselves on a wide range of issues—energy consumption, the products we are using or how we go on holidays. We should not make decisions that impact future generations without weighing the consequences that it will bear on them.
How would you describe your collaboration with FedEx?
For most adults, the future seems to mean 20, 30 or even 40 years time span ahead. But for children, 2100 still falls in our lifetime and the challenges my generation will face are real.
So now is the time that we all need to work together, to lend our time, energy and commitment to the planet. I am very happy that we have trustworthy partners like FedEx who support us in achieving our goals and allowing us to share our important message with you.
Editorial note: In Germany, FedEx Express supports the Plant-for-the-Planet project "100,000 Trees for Rhein-Sieg District". The goal is to plant 100,000 trees over the next three years while raising environmental awareness among students in the Rhein-Sieg district. FedEx has donated $40,000 to Plant-for-the-Planet and is further supporting the initiative through event planning