German students with global vision for business win 'FedEx Access Award'
JA Europe's 'Company of the Year Competition' brings together over 200 students from 36 European countries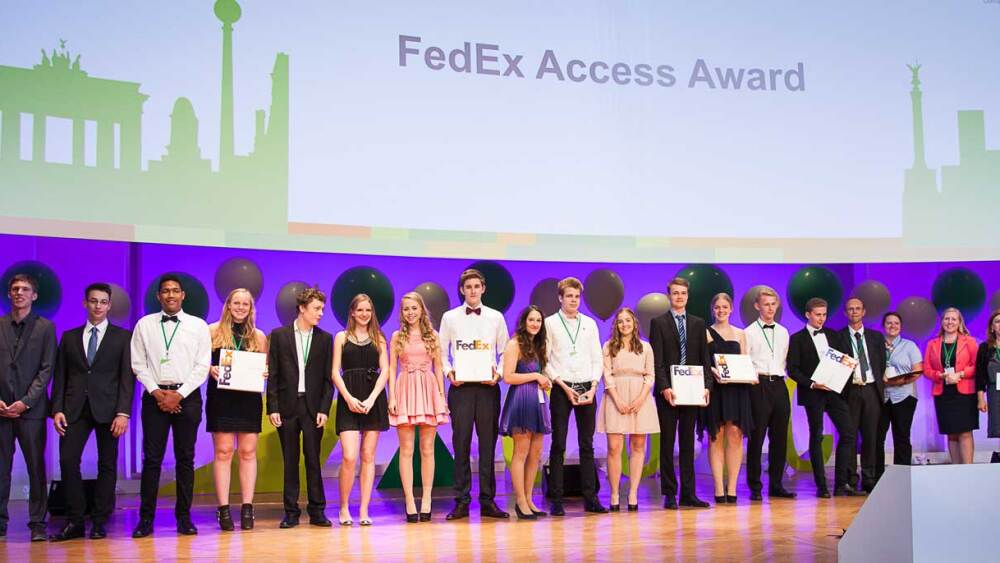 Berlin, Germany, 31 July 2015 – RAUTECK student-company won the 'FedEx Access Award' at the 26th annual Company of the Year Competition (COYC). The students impressed the FedEx Signature Award jury with their strong attention to social impact, financial performance and innovation. Taking sustainability and social commitment into consideration, RAUTECK (Recycled AUToparts ECKernförde) creates new products with recycled automotive parts. They turn buckle tongues into bottle openers (FördeÖffner) and seat belts into fancy bags (FördeTaschen), marketing them as "products of great authenticity".
Over 350 COYC participants gathered in Berlin, Germany between 28-31 July, to celebrate the top mini-companies from across Europe. 37 student-teams from 36 countries competed as part of JA Europe's flagship Company Programme, which gives them an opportunity to set up and run a real business with the support of business mentors.

"Winning the FedEx Access Award is incredible. We are very proud to receive this special recognition of our hard work, and we are of course very happy to be a part of this European event!" – RAUTECK team member, Bendix Sibbel

In the 2014-2015 school year more than 275,000 students participated in the JA Europe Company Programme.

Learning to run a company from top to bottom, these JA Company Programme students created and marketed real products and services. The success of the programme is largely due to the wide support from business volunteers, who act as mentors, offering expert advice to the students. Partnering education and business is essential to closing the gap between classroom theory and real-world business.

FedEx has been a key global sponsor for regional Company of the Year Competitions since 2007. The partnership aims to provide JA Company Programme students with the knowledge, skills and vision necessary to incorporate "access" into their core thinking, whether it be through trade, job creation, global development or environmental management.

The 'FedEx Access Award' recognises the student company that best demonstrates their understanding of global trade and nature of today's business world. To win the award, students will have shown themselves to be driven by innovation, connected to new markets, fueling development, and visible commitment to sustainability and social responsibility.

When handing over the 'FedEx Access Award', Mirjana Kreclovic, Senior Manager Customer Experience at FedEx Express Europe, said: "We are extremely impressed with the high quality of the entries in this competition. We have seen remarkable creativity, innovation and determination. All the students involved in the JA Europe Company of the Year Competition in Berlin are passionate entrepreneurs and we believe they have bright futures ahead of them."

Since its start, the JA Europe Company Programme has worked to equip over 3.5 million students across Europe with the right skills to start up or become gainfully employed. Research has shown that alumni of the Company Programme are more likely to start their own businesses and have a higher average income than their counterparts.

JA Europe and FedEx work to prepare JA Company Programme students for future success by helping them develop essential competences in entrepreneurship. Together, the partnership looks to foster a generation of specially qualified youth – ready for employment or starting a business.

Caroline Jenner, CEO for JA Europe, shared: "Since the beginning of our partnership with FedEx, we have sought to bring entrepreneurship education to students across Europe. Supported by the expertise of business volunteers, our students are able to bring two worlds together: education and business. The mentorship provided by the volunteers offers our students crucial insights into the 'real-world,' preparing them for the future – whether it be by employment or starting their own company."