Garden makeover for Water Lilies Children's Centre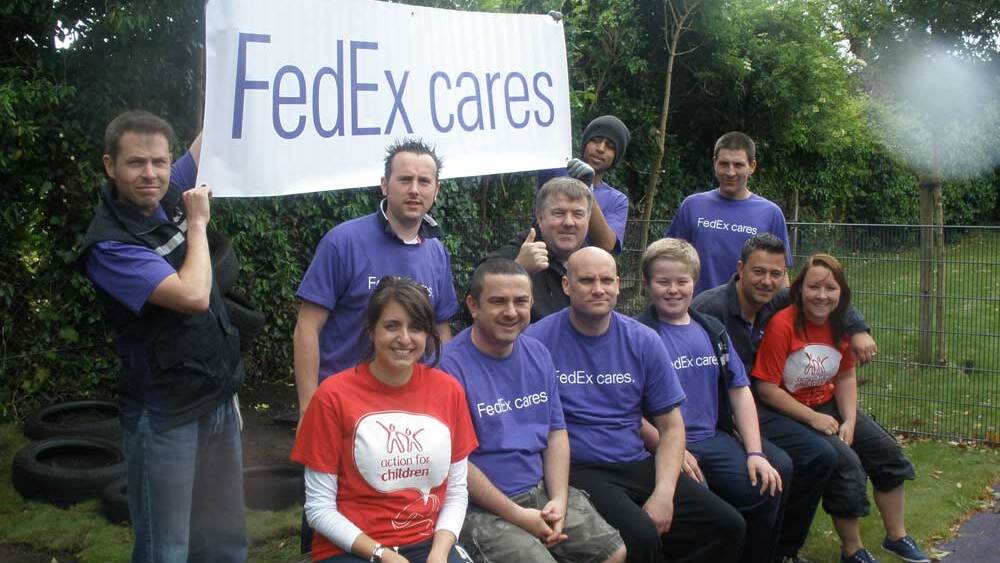 A green-fingered team of eight from FedEx visited the children's centre on Saturday 15 June to revamp the garden – helping to create a safe and exciting outdoor space that will promote a healthy lifestyle and a love of Nature and the outdoors, as well as benefitting the local environment.

The FedEx team created vegetable patches and a small sensory area, began a compost heap and built a sand pit.

"Transforming our garden into a fantastic outdoor area has given the children and families who use the centre a special outdoor space to come together to learn and play. We are hugely grateful to the FedEx team. Encouraging outdoor play and a healthy lifestyle from a very young age is so important, and not all of the children who use our centre have gardens at home," said Emily Cannell, Family Support Outreach Worker at Water Lilies Children's Centre.

"FedEx has supported Action for Children for more than three years with team members across the UK donating their time to various projects. Their involvement in the Water Lilies project really is testament to the generous spirit of our team members and we're extremely proud of our their involvement in this endeavour," says Trevor Hoyle, Managing Director Ground Operations UK & Ireland, FedEx Express & FedEx UK.

Although the children at the centre have used the garden for play, the Water Lilies team have felt that much more could be done with the space. They have been particularly keen to create a vegetable patch to provide healthy own-grown snacks for the children while allowing them to see the growing process first-hand. The children themselves are going to be involved with watering and harvesting the vegetables.

A sensory garden that allows the children to explore using their senses was one of several ideas suggested by parents who were asked what they would like to see in the garden.

-Ends-

Notes to editor
Action for Children is a charity that supports and speaks out for the UK's most vulnerable and neglected children and young people, for as long as it takes to transform their lives. We work directly with more than 250,000 children, young people, parents and carers each year and run more than 650 services across the UK.

Children are at the centre of everything Action for Children does. For more information on our work, please visit www.actionforchildren.org.uk.

About FedEx
FedEx Corp. (NYSE: FDX) provides customers and businesses worldwide with a broad portfolio of transportation, e-commerce and business services. With annual revenues of $44 billion, the company offers integrated business applications through operating companies competing collectively and managed collaboratively, under the respected FedEx brand. Consistently ranked among the world's most admired and trusted employers, FedEx inspires its more than 300,000 team members to remain "absolutely, positively" focused on safety, the highest ethical and professional standards and the needs of their customers and communities. For more information, visit news.fedex.com.