FedEx & UEFA Foundation blow the whistle on new Madrid pitch
Community project launched to deliver football for children of Cañada Real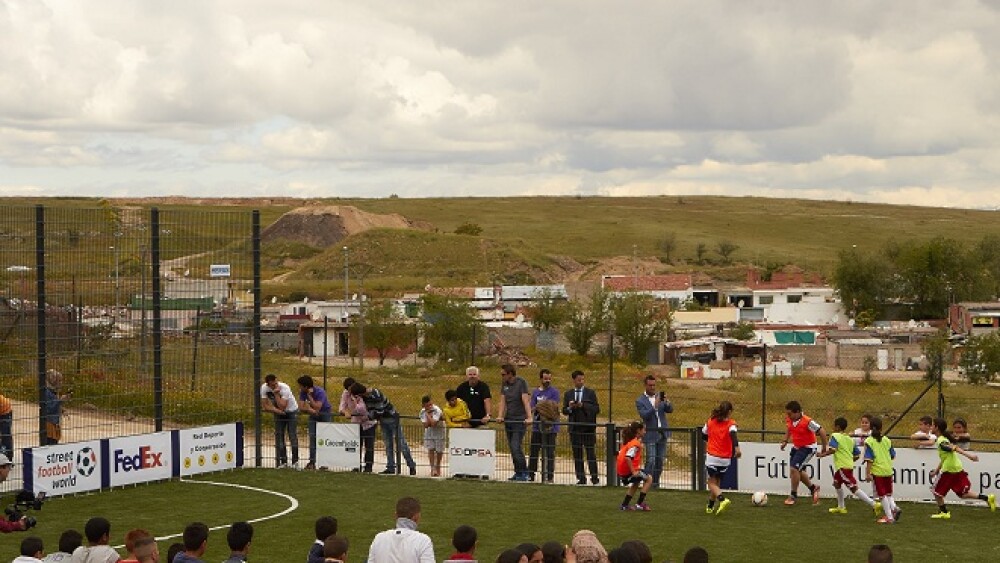 FedEx Express (FedEx) and the UEFA Foundation for Children have today both participated in the opening of a new community football pitch in the Cañada Real district of Madrid, giving local children and young people a safe place to play sport.
The area is one of Spain's most economically disadvantaged and as a result lacks facilities for children and young people. The new pitch will provide a fully functional and environmentally sustainable facility, equipped with floodlighting and changing facilities. The pitch has been donated to Red Deporte y Cooperación, a Madrid-based non-profit that is part of the streetfootballworld network, to run long-term community-based programs.
This initiative is part of a collaboration between FedEx, main sponsor of the UEFA Europa League, and the UEFA Foundation for Children. The organizations are working together with streetfootballworld, the global non-profit network that uses football to drive social change, to identify communities that would benefit most from a dedicated sports field.
Speaking ahead of the launch, Pascal Torres, general secretary of UEFA Foundation for Children said: "It is clear how powerful a tool football can be in uniting communities, and playing football provides an ideal environment for children from different backgrounds to integrate, learn and develop. We are delighted that FedEx shares our vision of extending access to football to all, and that by working together we have enabled thousands of children from this diverse community to play and grow together, safely."
Dr. Vladimir Borkovic, Network Director & COO of streetfootballworld commented:
"This is an incredible initiative that provides a game changing facility for the community, and we are grateful to FedEx for helping to make it a reality. The pitch will provide social, educational and economic benefits to Cañada Real, especially the local children, and will help to strengthen the local community."
Brenda McWilliams-Piatek, VP Marketing for Europe for FedEx added:
"At FedEx, we are absolutely committed to investing socially in the markets where we operate, and this project is an excellent example from our global 'delivering for good' program of how we use our resources and network to connect local communities with access to facilities that would otherwise be out of their reach."
The pitch was constructed from an innovative, modular design that has low running costs and is guaranteed by the manufacturer for eight years. It was constructed in less than a week before being officially handed over by UEFA Foundation and FedEx to the community at a ceremony held today.