FedEx Trade Networks Celebrates First Year of Operations in Turkey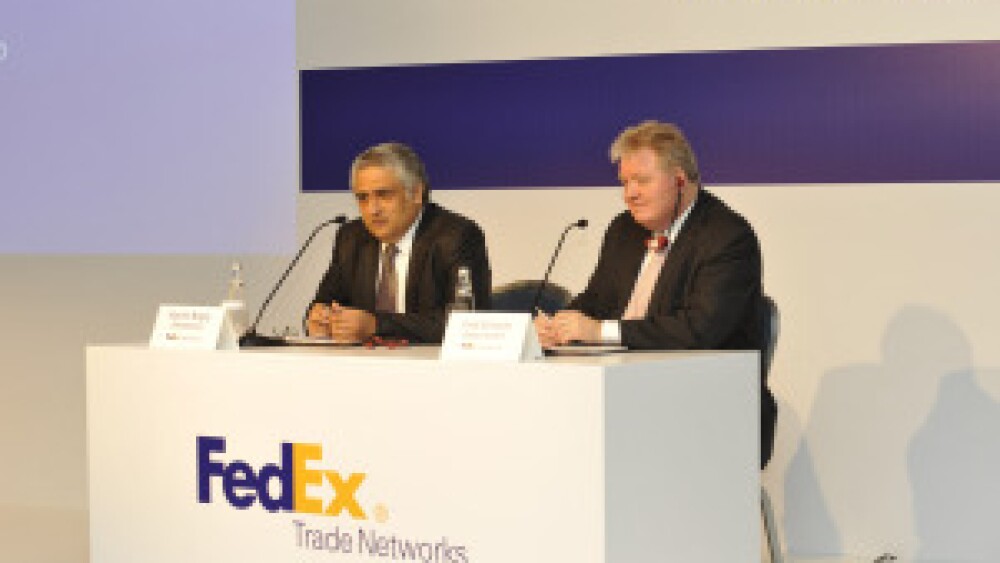 ISTANBUL, April 26, 2012— FedEx Trade Networks, a subsidiary of FedEx Corp. (NYSE: FDX) and growing international ocean and air freight forwarder, today announced that it has completed its first year of operations in Turkey. Since opening its first office in Istanbul in May of 2011, the company has added offices in Ankara and Izmir and is now serving customers across the country. FedEx Trade Networks is now aiming to increase its volumes over the next three years by targeting companies in such sectors as textiles, automotive, technology, construction and defense.

In addition to its more than 120 offices and 4,000 team members worldwide, the new operations in Turkey are part of a growing global network of FedEx Trade Networks offices. Over the last four years, the company has expanded its presence in some of the world's most critical freight forwarding markets.

Turkey has enormous market potential and is therefore a top priority for FedEx Trade Networks. Not only did Turkey's economy expand by 8.5% last year, making it the fastest growing economy in all of Europe, it also boasted a foreign trade volume of $375 billion, 55% of which was transported by sea, 25% by road and 8% by air. That, combined with the fact that it is strategically located at the crossroads of Europe, Asia and the Middle East and offers easy access to 1.5 billion customers throughout those regions, in addition to its own population of 74 million people, makes Turkey an ideal market in which to expand the company's operations.

"Opening of our offices in Istanbul, Ankara and Izmir within six months of each other was a significant move for us and one that shows our commitment to operating in Turkey," said Fred Schardt, president and CEO of FedEx Trade Networks. "Providing our customers with the shipping solutions they need is what is most important to us. They've told us that they need increased access to the market in Turkey and that's why we continue to strengthen our presence in this country."

"We offer our customers in Turkey years of experience in freight forwarding, a unique technology infrastructure and Turkish language support in multiple locations throughout the country," said Kerim Bilgic, FedEx Trade Networks country manager of Turkey. "As part of the FedEx family, we provide timely and cost effective supply chain solutions that meet the specific shipping needs of each of our customers, whether those needs be bulk, parcel or both. Through our new offices, we will continue to meet the needs of our customers in the region, while serving our customers around the globe who have business in Turkey."

In addition to increased access to major global markets, customers also benefit from the company's wide range of ocean shipping services, as well as flexible air freight forwarding solutions that employ a variety of value-added services, including the ability to manage and control their goods in transit from point of origin to final destination. Customs brokerage, purchase order management, surface transportation, warehousing and distribution are other multimodal solutions offered by FedEx Trade Networks.
About FedEx Trade Networks

FedEx Trade Networks, and its predecessor companies, have more than 100 years of experience in international trade. The company's advanced technology and network of worldwide locations and alliances enables it to provide comprehensive ocean and air international freight forwarding, customs brokerage, Global Order Logistics, distribution and surface transportation, trade advisory services, and advanced e-commerce and trade facilitation solutions. FedEx Trade Networks has the resources and support to help customers of all sizes navigate the intricacies of shipping goods globally. For more information, visit ftn.fedex.com.

About FedEx

FedEx Corp. (NYSE: FDX) provides customers and businesses worldwide with a broad portfolio of transportation, e-commerce and business services. With annual revenues of $42 billion, the company offers integrated business applications through operating companies competing collectively and managed collaboratively, under the respected FedEx brand. Consistently ranked among the world's most admired and trusted employers, FedEx inspires its more than 300,000 team members to remain "absolutely, positively" focused on safety, the highest ethical and professional standards and the needs of their customers and communities. For more information, visit news.fedex.com.