FedEx Supports Global Entrepreneurship With FedEx Access Award
FedEx Expands Support of Young Enterprise Company to Give Signature Award at National Competitions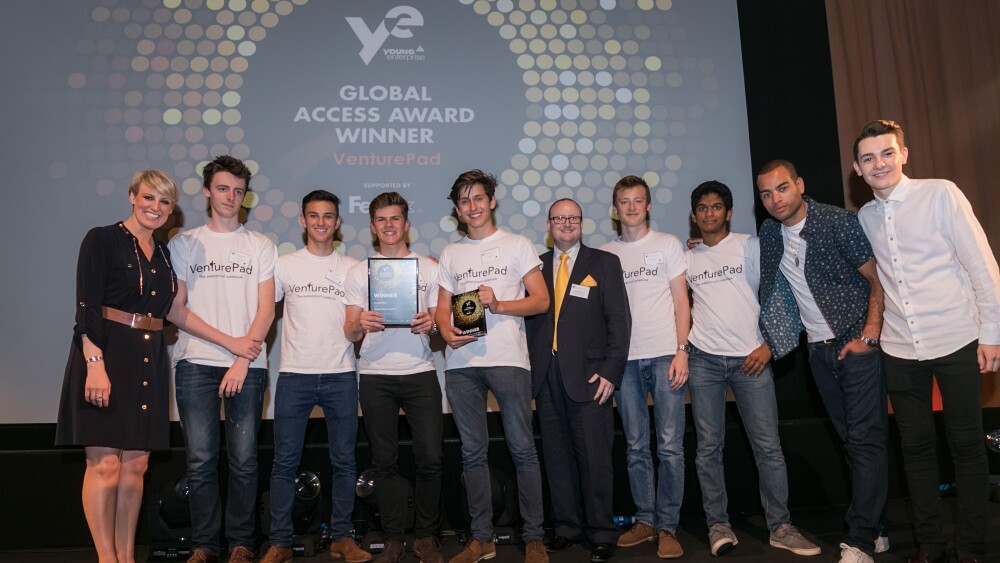 FedEx Express, a subsidiary of FedEx Corp (NYSE: FDX) and the world's largest express transportation company, has expanded its support of the Young Enterprise Company Programme by introducing a FedEx Access Award at national Company of the Year competitions in the United Kingdom, France, and Italy.
Since 2007, FedEx has supported Young Enterprise —a global not-for-profit organisation dedicated to preparing young people to succeed in a global economy. The Company Programme provides an opportunity for young adults aged 15-19 to set up and run a profitable business, supported by teachers and volunteers from local businesses.
FedEx provides support for the growth and expansion of the Company Programme in six regions as part of its commitment to encouraging global entrepreneurship. In addition to regional competitions, the FedEx Access Award will now also be awarded at national competitions in the United Kingdom, France and Italy, recognising the student company that best demonstrates knowledge of innovation, access to global markets, sustainable development and social and environmental responsibility.
"FedEx connects people and opportunities as part of our everyday business. It's through our involvement in global education and entrepreneurship initiatives like the Company Programme that we can share our expertise and promote an understanding of global trade and environmental responsibility," said David Binks, president of FedEx Express in Europe and CEO of TNT.
"As an alumnus of the programme and a board member of JA Europe, I'm pleased to see this programme growing and now engaging over 350,000 students in more than 100 countries worldwide. The creation of the FedEx Access Award, at a regional and now a national level, reflects FedEx desire to empower the next generation of entrepreneurs."
VenturePad impressed the UK FedEx panel of experts, distinguishing themselves from the 14 other participants with a company that created waterproof, tear proof, durable notepads.
"We would like to congratulate VenturePad, the winner of the first edition of the FedEx Access Award in the United Kingdom," said Emma Boya, manager of Corporate Communications, FedEx Express Europe. "The level of competition at these events is very high, and it's encouraging to see so many young people enthusiastic about the benefits global entrepreneurship can offer. It's important that FedEx plays an active role in educational programmes like this, so that the entrepreneurial skills of young people continue to be nurtured and developed."
Ed Astakhov from VenturePad said: "With the level of commitment each member of the team has put into VenturePad, winning the Final quite simply means everything to us."
"I'd like to congratulate the students from St Paul's School for winning The FedEx Global Access Award," said Michael Mercieca, chief executive of Young Enterprise, the leading enterprise and education charity in the UK and member of Junior Achievement Europe. "The award has been generously supported by FedEx who like Young Enterprise firmly believe developing employment skills can have a real impact on young people's futures. The Company national final is the ultimate measure of many months of hard work, representing students' innovation, resilience and business acumen. You don't get this stuff from a textbook, and we are greatly encouraged by our research which shows that 95% of Company alumni go on to higher education, employment or training, 6% higher than the national average of 89%."
Following on from this national success, VenturePad was invited to compete against student companies from 36 countries in the European Company of the Year Championship in Brussels, 11-13 July and was awarded the Pulse Foundation Most Astonishing Idea. Last year's FedEx Access Award winner will join a panel of FedEx judges to decide the winner of the 2017 European award.
About FedEx Corp.
FedEx Corp. (NYSE: FDX) provides customers and businesses worldwide with a broad portfolio of transportation, e-commerce and business services. With annual revenues of $60 billion, the company offers integrated business applications through operating companies competing collectively and managed collaboratively, under the respected FedEx brand. Consistently ranked among the world's most admired and trusted employers, FedEx inspires its more than 400,000 team members to remain "absolutely, positively" focused on safety, the highest ethical and professional standards and the needs of their customers and communities. To learn more about how FedEx connects people and possibilities around the world, please visit about.fedex.com.