FedEx SME Export Report Reveals 79% of Belgian SMEs Generate Revenue via Social Media
52% of Revenues of Belgian SMEs Driven by Exports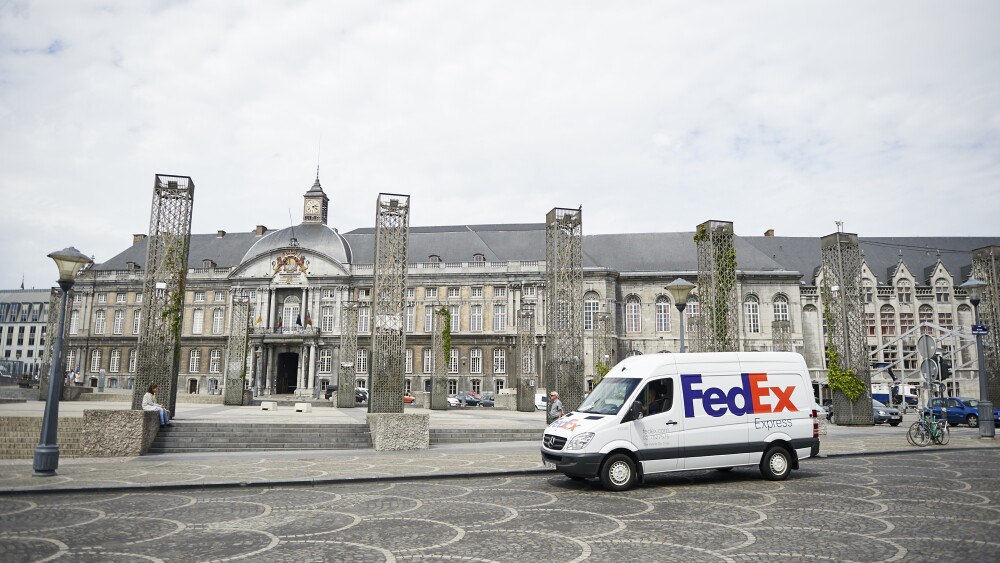 BRUSSELS, 27 April 2017 – FedEx Express, a subsidiary of FedEx Corp. (NYSE: FDX) and the world's largest express transportation company, has announced the results of its second FedEx SME Export Report*. Conducted by Harris Interactive, it surveyed 4,500 European small and medium sized enterprises (SMEs) and included Belgian SMEs for the first time this year. The main findings from this report, focused on SMEs who currently export, show that mobile and social media commerce generate almost as much revenue as traditional e-commerce. Belgium SMEs are the most optimistic among their European counterparts regarding future revenue growth from e-commerce and exports.
Belgium: 3rd most popular export market in Europe
Being at the heart of Europe, with its central location, Belgium has always been an important player in global export activity. According to the report, more than half (52%) of the total revenue of Belgian exporting SMEs is generated from international trade. With 33% of European exporting SMEs trading with Belgium, our country is the 3rd most popular market for intra-European exports, just after Germany and France.
When it comes to transportation, Belgium's well-developed road connections make ground transportation the most popular export channel (89%), followed by train (40%). For Eric Uljee, vice president Ground Operations Benelux, road transportation is key to the Belgian market, making the FedEx acquisition of TNT Express especially relevant for Belgian SMEs: "Last year's acquisition of TNT Express is adding a remarkable European road network to the world class air network FedEx Express already operates in Europe and around the world, creating even more possibilities for Belgian SMEs to export both in Europe and beyond."
For Belgian SMEs, the future of commerce is social
E-commerce has changed how consumers shop, but it also transformed businesses around the world. Belgian SMEs are not an exception to the rule. According to the report, 85% of Belgian exporting SMEs generate revenue from e-commerce via desktop devices, representing 16% of their total revenue. Belgium appeared to have the highest percentage of B2B e-commerce transactions amongst all exporting SMEs from countries surveyed around the world, representing 67% of their revenue (compared to 34% only for the European average).
However, the most surprising finding is that the revenue generated via social media and mobile devices is getting very close to the share of revenue generated by e-commerce (16%), accounting for respectively 13% and 14% of the total revenue of SMEs. In total, 79% of exporting small and medium sized businesses in Belgium (vs. only 65% on average in Europe) are currently selling their products via mobile applications and the same percentage offer customers the option of making purchases via social media platforms.
The Belgian SMEs interviewed are aware of the crucial importance of this shift and of the choice of a reliable and solid logistics provider. According to the report, 55% of Belgian SMEs interviewed who report an increase in e-commerce business require faster delivery services with 39% indicating they are willing to pay a premium for this.
Future growth of exports: Belgian SMEs are the most optimistic
Amongst all countries surveyed, Belgium appeared to be the most optimistic regarding the future of export growth. 53% of exporting Belgian SMEs believe that the export revenue within Europe will increase, compared to only 34% of European SMEs surveyed. Belgian SMEs seem to share the same enthusiasm regarding the growing importance of digitalization.
"It is positive to see the European SME community remains optimistic about their exporting prospects and growth", states David Binks, president, FedEx Europe, and CEO of TNT. "The FedEx SME Export Report has emphasised SMEs recognise the importance of exporting to grow their revenues with e-commerce playing a crucial part of this. The merging of digital networks and physical networks has meant the world has become even more connected presenting more possibilities to export – contributing to SMEs growth, while boosting global competitiveness."
European perception
Across Europe, economic conditions have been unpredictable over the last twelve months. The FedEx SME Export Report has found small and medium sized exporting enterprises (SMEs) across Europe are thriving and continuing to look for opportunities overseas with 53% of them exporting to other continents, compared to 2015 which identified almost a third (29%) of SMEs exported to other regions. In addition, exporting generates 65% of total revenue for these European SMEs, emphasising the importance of exploring international markets to grow and prosper.
About the FedEx SME Export Report
Harris Interactive carried out 9,000 interviews (including 4500 in Europe) with senior executives in SMEs online and by telephone in 17 markets[1] spanning four global regions[2] between August and September 2016. Interviews were split equally by country with a representative mix of company sizes: micro (1-9 full-time employees), small (10-49 full-time employees) and medium (50-249 full-time employees). The sample size was 500 respondents per country, including Belgium, except for the UK which had 1000 respondents.
About FedEx Express
FedEx Express is the world's largest express transportation company, providing fast and reliable delivery to more than 220 countries and territories. FedEx Express uses a global air-and-ground network to speed delivery of time-sensitive shipments, by a definite time and date with a money-back guarantee.
About FedEx Corp.
FedEx Corp. (NYSE: FDX) provides customers and businesses worldwide with a broad portfolio of transportation, e-commerce and business services. With annual revenues of $58 billion, the company offers integrated business applications through operating companies competing collectively and managed collaboratively, under the respected FedEx brand. Consistently ranked among the world's most admired and trusted employers, FedEx inspires its more than 400,000 team members to remain "absolutely, positively" focused on safety, the highest ethical and professional standards and the needs of their customers and communities. To learn more about how FedEx connects people and possibilities around the world, please visit https://newsroom.fedex.com.
Contact:
Eline Dermaut
FedEx Express Benelux
Tel: +32 2 515 89 41
Mob: +32 492 46 96 47
e-mail: eline.dermaut@fedex.com
# # #
[1] Belgium, Brazil, China, Colombia, France, Germany, Hong Kong, India, Italy, Japan, Netherlands, Poland, Singapore, South Korea, Spain, Taiwan and the UK
[2] Asia Pacific; Europe; Latin America & Caribbean; Middle East, India and South Africa