FedEx Reducing Aircraft Emissions and Increasing Vehicle Fuel Efficiency Towards Goals of 20 Percent by 2020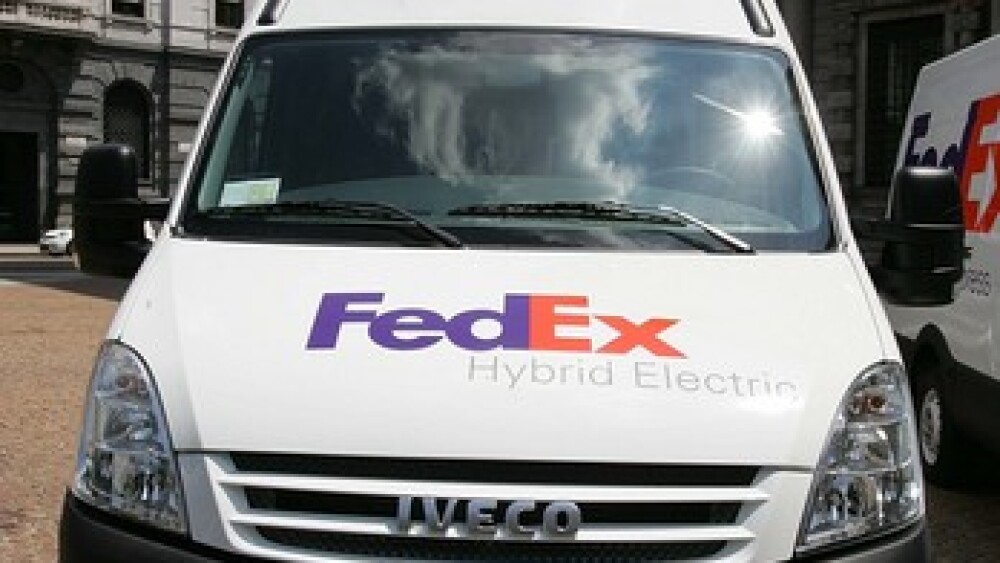 BRUSSELS, Nov. 12, 2008 – FedEx Corp. (NYSE: FDX) announced that by 2020 it plans to reduce carbon dioxide emissions from its FedEx Express aircraft fleet by 20 percent and improve the fuel efficiency of its FedEx Express vehicle fleet by 20 percent. The ambitious goals were outlined in the FedEx 2008 Global Citizenship Report released today. Since 2005, FedEx has reduced aircraft carbon dioxide emissions by 3.7 percent per available ton mile and improved FedEx Express vehicle fuel efficiency by 13.7 percent, reducing vehicle carbon emissions by almost .5 billion kilos.

FedEx recognizes that one of the most responsible steps we and the industrial sector can take for our businesses, society and the environment is to reduce our dependence on fossil fuels," said Frederick W. Smith, FedEx Corp. chairman, president and chief executive officer. "Our role is to connect the world in responsible and resourceful ways. The world faces big challenges, and we believe that collective, sustained efforts can create greater possibilities for people, businesses and nations worldwide."

"We are proud of our record and ongoing commitment in advancing clean technology vehicles and reducing the environmental impact of our aircraft. The smart strategic investments we have made and will continue to make will help drive the commercial development of new technologies for our industry," said Robert W. Elliott, president, Europe, Middle East, the Indian subcontinent and Africa, FedEx Express.

The efficiency and emission reduction goals and results are contained in FedEx first annual Global Citizenship Report, outlining the FedEx commitment to its team members, customers, shareowners and the communities we serve. Highlights from the report include:
Economics & Access
FedEx strives to connect the world in responsible and sustainable ways, helping meet consumer needs and further business opportunities in more than 220 countries and territories. In the Global Citizenship Report, FedEx reiterates its long-term financial performance goals that support the company's core financial strategies.
Environment & Efficiency
FedEx has pioneered innovations that are helping the entire transportation industry reduce its environmental footprint. Working with the U.S. Environmental Defense Fund, FedEx pioneered the development of commercial hybrid electric vehicles for its use, as well as for use by others in the transportation sector. With more than 170 hybrid electric vehicles worldwide, FedEx operates the largest hybrid vehicle fleet in the transportation industry. The fleet recently celebrated a major milestone by having reached two million miles of revenue service.
FedEx has also invested in sustainable facilities. The FedEx solar-powered hub in Oakland, California, was the largest commercial solar-electric rooftop system at the time it was built. Since then, FedEx has installed two more solar-powered facilities in California, with another scheduled to open in Cologne, Germany, in the spring of 2010. The Cologne facility is expected to generate about 1.3 gigawatt hours of electricity per year, equivalent to the annual consumption of 370 households.

The company has also invested in a number of fuel efficiency initiatives, including:


The acquisition of Boeing 777 aircraft to provide greater payload capacity, while using 18 percent less fuel than the MD-11 aircraft currently in operation. These aircraft are expected to significantly reduce carbon emissions.

The replacement of Boeing 727 aircraft currently in our fleet with Boeing 757s. This aircraft replacement program, which began last August, is expected to result in a reduction of more than 350,000 metric tons of CO2 emissions annually.

The Fuel Sense program, which is comprised of more than 30 jet-fuel efficiency initiatives that range from improvements in flight planning to aircraft operation efficiencies.

Replacement of aircraft power with ground power when a plane is at the gate, saving almost 3.8 million liters of fuel per month.
FedEx is committed to the following long-term environmental goals:


Reduce aircraft carbon dioxide emissions 20 percent by 2020 on a pounds-per-available-ton- mile basis. Such emissions have decreased by 3.7 percent in the past 3 years.

Improve FedEx Express vehicle fuel efficiency 20 percent by 2020, thereby reducing CO2 emissions. Such fuel economy has improved by 13.7 percent in the past 3 years.

Expand on-site renewable energy generation and continue our goal of 25,000 megawatt-hours through procurement of renewable energy credits. To date, FedEx has exceeded its goal of 25,000 megawatt-hours of renewable energy credits procured and has generated more than 1,000 megawatt-hours of on-site solar energy.

Community & Disaster Relief
FedEx's ability to respond quickly, efficiently and on a global scale makes disaster relief the cornerstone of its philanthropic efforts. FedEx also extends its resources and networks in the areas of safety, health and education. In fiscal 2008, FedEx cash and in-kind donations totaled more than 1.1% of pretax profits. Community programs that FedEx supports includes BRAKE in the UK, Fondation de France and Papa Charlie in France, SOS Kinderdorf in Germany and CRY (Child Rights and You) and Safe Kids in India.

People & Workplace
FedEx understands that the success of its business depends on the ability of its people to deliver, and we help our people develop their talents so they can succeed. In fiscal 2008, our full-time retention rate was 93.1 percent, women and minorities occupied 38.6 percent of management roles, and employee engagement was 93.4 percent. Currently FedEx holds the distinction of being named by Fortune magazine as a great place to work in more than 22 countries. FedEx was honored by the Great Place To Work Institute Europe as the 25th-Best Employer in Europe and the only company in the industry sector to achieve a place on the list.
Governance
FedEx has a long-standing commitment to the highest standards of corporate governance. FedEx and its independent Board of Directors work to exceed the minimum compliance standards set forth in the Sarbanes-Oxley Act of 2002 and the New York Stock Exchange's corporate governance listing standards.
More information on the FedEx Global Citizenship Report can be accessed online at https://newsroom.fedex.com/blog/

Certain statements in this press release may be considered forward-looking statements, such as statements relating to management's views with respect to future events and financial performance. These statements are subject to risks, uncertainties and other factors that could cause actual results to differ materially from historical experience or from future results expressed or implied by the statements. Potential risks and uncertainties include, but are not limited to, economic conditions in the global markets in which we operate, new U.S. domestic or international government regulation, the impact from any terrorist activities or international conflicts and other factors that can be found in FedEx Corp.'s and its subsidiaries' press releases and filings with the Securities and Exchange Commission.