FedEx Ready to Deliver UEFA EURO 2020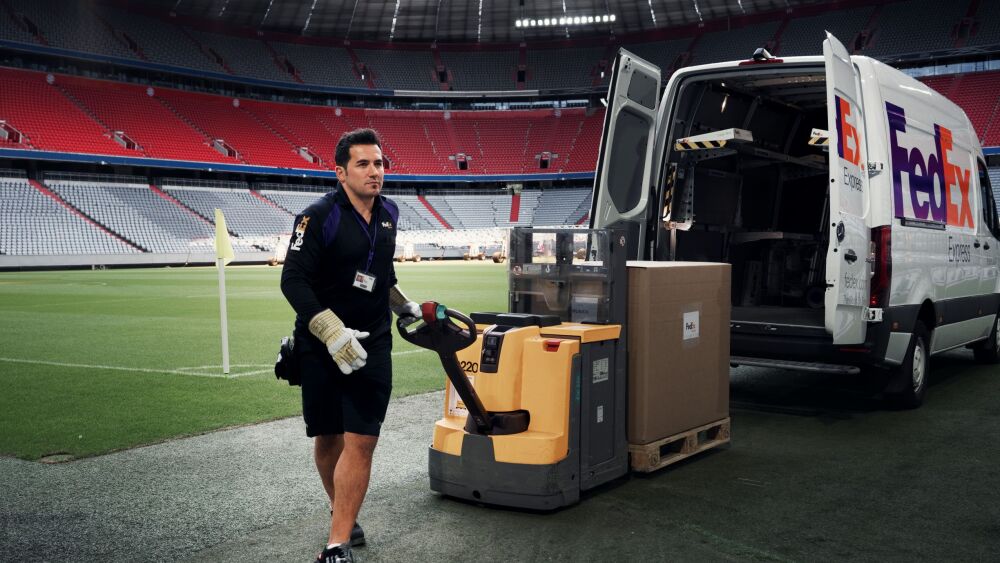 As Official Logistics Partner of the tournament, FedEx provides logistics support to 24 national teams spanning 51 matches across 11 stadiums in Europe.
HOOFDDORP, June 9, 2021 – From kick-off on 11 June at Stadio Olimpico in Rome, Italy, until the final whistle at Wembley Stadium in London, UK, on 11 July 2021, FedEx Express, a subsidiary of FedEx Corp. (NYSE: FDX) and the world's largest express transportation company, will provide specialist logistics services and support for UEFA, the teams, and fans to successfully stage and deliver the 51 UEFA EURO 2020 matches in 11 host cities across Europe.
This UEFA European Championships tournament will be the largest in history in terms of host venues.
"FedEx will provide the speed and accuracy needed for this multi-country tournament set-up and showcase the power of our air and road network," David Canavan, Regional Chief Operating Officer Europe says. "The pandemic may have delayed the competition, but it has increased our enthusiasm and anticipation to connect with fans across the globe. We have been preparing for over a year to celebrate this tournament and we're ready for kick-off."
From transporting national team equipment to dispatching official UEFA materials like match balls, tickets, uniforms, stage material, and other items needed for the tournament, a dedicated team of over 260 skilled logistics personnel is set to demonstrate the company's expertise and deliver over 1,520 tonnes of goods within Europe and beyond.



FedEx Express will leverage its e-commerce capabilities to deliver over 160,000 printed tickets all over the world. These tickets can be select standard tickets, collector's item tickets, or hospitality/VIP tickets.

The FedEx Supply Chain warehouse in Veldhoven, the Netherlands, will handle over 28,000 uniforms for UEFA staff, volunteers, and sponsors. In total, over 256 tonnes of goods will be processed at this location.

Over 4,000 official UEFA EURO 2020 balls are being shipped to stadiums across Europe to be ready for kick-off.

A dedicated service desk at the International Broadcast Center in Amsterdam, the Netherlands, will support all shipping needs for on-site media outlets.

Over 500 Ball Kids across Europe were trained prior to the tournament as part of the FedEx Ball Kids programme, which offers young fans the opportunity to learn and develop new skills while having fun.
To deliver the UEFA EURO 2020 tournament, FedEx will use its FedEx International Priority and FedEx International Economy services, as well as bespoke solutions for pickup and delivery, warehousing, and onsite support staff. As one of the largest clearance broker in the world, FedEx will apply its clearance expertise for worldwide ticket deliveries as needed, as well as for other deliveries to the venues in Azerbaijan, Russia, and the United Kingdom.
Alongside the physical delivery of the tournament, FedEx will continue to fund community programmes. Throughout the sponsorship of the UEFA National Teams and UEFA EURO 2020 tournament, FedEx Express has co-funded a charitable program with the UEFA Foundation for Children. Charitable grants made to four independent NGOs in Romania, Ireland, Hungary, and the U.K. help support the NGOs' work with young adults identified as furthest from the job market. Using football as a tool, these NGOs developed 'football for employability' programs in four cities - combining sport with hands-on support and advice on accessing the job market.
FedEx continues to team up with some of the world's greatest competitions and builds on its extensive history of sports sponsorships around the world. FedEx recently announced its sponsorship of the UEFA Champions League, commencing at the start of the 2021/22 tournament and extending for three editions through 2023/24. This agreement also includes sponsorship rights for the UEFA Super Cup, UEFA Youth League finals, the UEFA Champions League Futsal finals, and UEFA eChampions League.