FedEx Prepares for Company's Busiest Day Globally in its History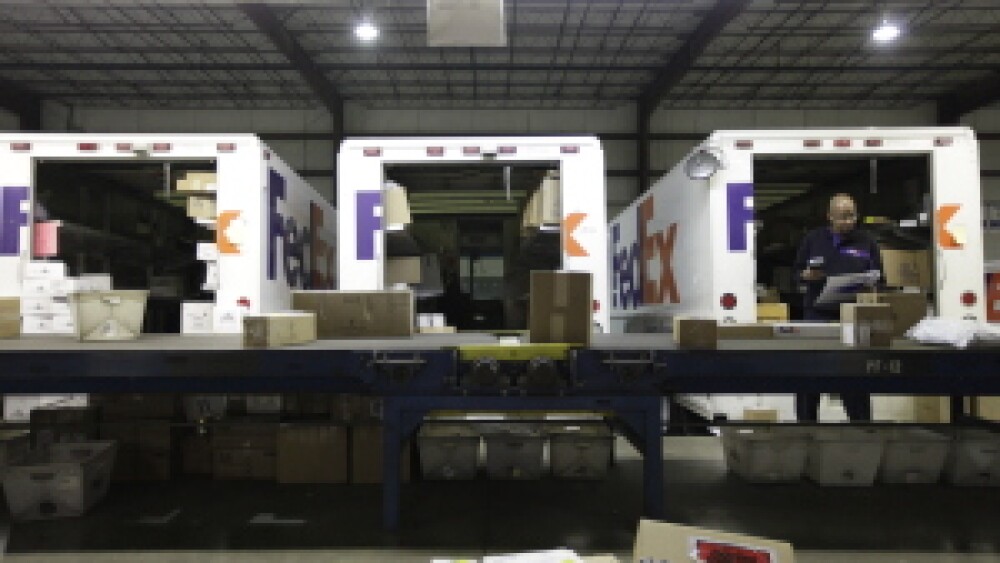 London, UK, December 8, 2011— FedEx Express, the world's largest express transportation company and a subsidiary of FedEx Corp. (NYSE: FDX), is gearing up for the busiest day in the history of the company.
Between the last week of November and Christmas, FedEx forecasts more than 260 million shipments to move through its worldwide shipping networks. This is a 12 percent increase for the holiday season over last year when 232 million shipments were processed. FedEx Corp. will see almost 17 million packages move around the world on December 12.
In Europe, Middle East, Indian Subcontinent and Africa (EMEA), the busiest day for FedEx Express shipments going out from the region is expected on Tuesday, December 20, which represents an increase of 2.3% over last year. Likewise, December 19 will be the peak day for shipments coming into the region, up 3.5% from 2010.
""We feel optimistic about the anticipated increase in holiday volume again this year and we are confident in our global network to support such levels of activity" said Michael Holt, Vice President Northern Europe Operations, FedEx Express. "Every year our team members show their commitment to ensure our customers receive the same, exceptional service for their holiday shipping as they do any other day throughout the year." "

With a full range of express and deferred services, FedEx is strategically positioned to ensure customers have a choice of shipping options during the holiday period.

Shipping Tips

Proper packing, sealing and labeling help ensure that shipments will arrive on time and in good condition. Here are some easy packing and shipping tips from the experts at FedEx:


Choose the right supplies. Use sturdy boxes with flaps intact. For heavier items, use double-wall boxes.

Keep within the weight specifications for your box. Make sure your box is large enough to put adequate padding around contents and use tape designed for packing.

Use smart labeling. Make sure the label is clearly visible and all sender and recipient addresses are complete.

Set up shipments online. Take advantage of our web-based resources for visibility, planning and efficiency for all your season's shipments.

Ship early and avoid the lines. For last-minute customers, the final day to ship with FedEx Express to ensure delivery before Christmas is December 22 for deliveries within Europe, to the U.S. and Asia Pacific. For all other destinations, the latest shipping date is December 21.

Track it. Tracking a package for real-time delivery status and location information is easy and convenient on fedex.com.
Ship it Green with FedEx
FedEx offers the following tips to get your package to its holiday destination while minimizing the environmental impact.


Use the smallest box possible while adequately protecting your item. For fragile presents, double box the gift for more protection while shipping and reuse an older box for the interior box.


Purchase boxes made from recycled materials. FedEx envelopes are made from 100 percent recycled content. FedEx 10 kg and 25 kg boxes contain a minimum of 70 percent recycled content and are recyclable.


If you are reusing a box, make sure it is in good condition with no holes, tears or corner dents. Remove any old labels to avoid confusion.

Look for eco-friendly solutions to cushion your package's contents. FedEx suggests solutions such as shredded paper or biodegradable packing "peanuts."


Make sure you package your product properly with the correct amount of cushioning material and utilize a sturdy corrugated shipping container. Remember that the less your package weighs, the fewer resources it will use.


Ship with a company that has strong environmental priorities. FedEx operates more than 400 hybrid and electric delivery vehicles around the globe and more than 3,300 alternative fuel vehicles. The FedEx hybrid fleet has logged more than ten million miles of revenue service since being introduced in 2004 – the equivalent of over 400 laps around the equator.

FedEx Keeps E-Commerce Moving for the Holidays
Data points to continued growth in e-commerce sales this holiday season. According to the IMRWorld European e-Christmas Sales Forecast, an estimated €52bn will be spent online during the 8 weeks leading up to Christmas. Overall, holiday online shopping is expected to increase by 20 percent this holiday season according to this forecast, with around 240 million online shoppers.

With this anticipated increase in online holiday shopping, the pressure on e-retailers to get gifts out to waiting recipients grows each year. During the busy holiday season and beyond, FedEx solutions make the logistics of running a web-based retail business simpler than "point and click." With a variety of shipping solutions and customized support, FedEx offers online businesses the value, speed, simplicity and reliability they need to compete during the holidays.
FedEx Global Volumes Over the Years
The busiest day of the year at FedEx has continued to grow in volumes over the years. A history of busiest days since 2005 follows:


Dec. 12, 2005 – 9.8 million shipments

Dec. 18, 2006 – 10.6 million shipments

Dec. 17, 2007 – 11.5 million shipments

Dec. 15, 2008 – 12.0 million shipments

Dec. 14, 2009 – 14.2 million shipments

Dec. 13, 2010 – 15.6 million shipments