FedEx Marks 40th Anniversary Globally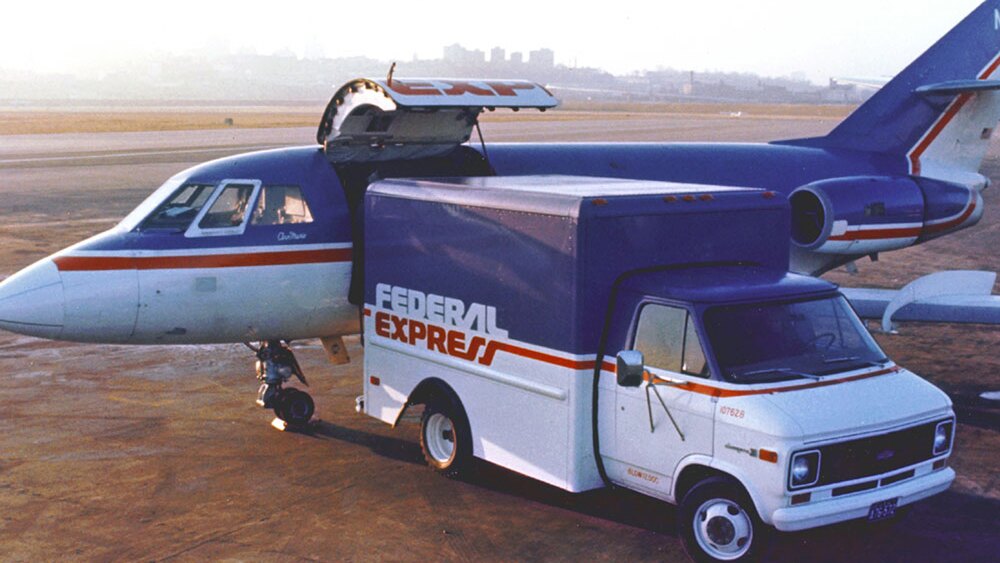 MUMBAI, April 17, 2013 – The company that launched the overnight delivery industry is forty years old.
On April 17, 1973, FedEx Corp. (NYSE: FDX), then known as Federal Express, began operations at the Memphis International Airport with the delivery of 186 packages to 25 U.S. cities. Today, FedEx globallyand its four operating companies handle more than nine million packages each day via a high-tech network designed to connect customers by air, land and sea in more than 220 countries and territories worldwide.
"For 40 years, the men and women of FedEx have dedicated themselves to helping our customers connect to the world," said Frederick W. Smith, chairman, president and chief executive officer, FedEx Corp. "Today, our more than 300,000 team members mark this milestone with a spirit of service and dedication that ensures 40 years is only the beginning."
Gerald P. Leary, president, FedEx Express Europe, Middle East, Indian Subcontinent and Africa (EMEA) who started his career 38 years ago as a courier added: "FedEx has a long and proud history of almost thirty years in Europe. Over the last 18 months we've added more than 70 new stations across Europe, made major investments in India, the Middle East and Africa, and continued to expand our operations and grow our revenue. Here's to another 40 years of success!"
"Our people have been the driving force behind these forty yearsof success. Today we have over 8,000 team members in the Middle East, Indian Subcontinent and Africa (MEIA). To commemorate the 40th anniversary in MEIA, team members will participate in employee engagement and volunteer projects, donating their time and talent to serve local communities," said David J. Ross, senior vice president operations, FedEx Express, Middle East, Indian Subcontinent & Africa.
FedEx: Yesterday and Today
Since launching operations in 1973, FedEx has grown into both a driver and indicator of the global economy, linking 90 percent of the world's GDP. In India, FedEx Express established its direct operations in 1997. Since then, FedEx has made two acquisitions in India, launched direct flightsand domestic express services for the Indian market. Today, FedEx encompasses diverse yet complementary businesses that cover a full range of logistics and business solutions designed for the needs of today's global and local commerce.
The company that made its mark with the overnight delivery has adapted to meet the changing needs of its customers over the past four decades, pioneering advances in the process of moving and tracking goods around the world. Its portfolio now includes a robust variety of shipping options including Ground, Freight and ocean-based services, as well as business solutions designed to meet the needs of customers from start-ups to international corporations.
From the beginning, the company's innovative "hub and spoke" approach to transportation and seamless integration of cutting-edge IT systems set FedEx apart, and laid the groundwork for a sophisticated network capable of moving millions of packages around the world. On its busiest day since launching 40 years ago, December 18, 2012, FedEx processed 19.8 million packages. It is estimated that FedEx has shipped more than 31 billion packages since 1973.
To celebrate 40 years of FedEx history we've compiled some of the most unique and unusual moments in our collective corporate history. We bet you didn't know that…
· FedEx transported 90 tonness of stranded materials for the "Titanic: The Artifact Exhibition," including a 3,000 pound piece of the ship's hull, from Milan, Italy, to Atlanta, Ga., via a FedEx Express MD-11 in 2006.
· FedEx shipped a delectable three-tonne shipment of a chocolate replica of the Notre-Dame Cathedral from the Salon du Chocolat show in Paris to the Chocolate Show Event in New York.
· FedEx transported Russian Empress Catherine the Great's collection of historic artifacts from St. Petersburg to Memphis for a special exhibition.
· There are 365 hybrid-electric vehicles in the FedEx fleet. Since hitting the road in 2004, more than 1.1 million of fuel have been saved.
· FedEx transported the "Phoenix" capsule, a device used to aid in the rescue of 33 miners who were trapped for nearly ten weeks in a Chilean mine. Following the rescue, the capsule toured the globe before returning to Santiago, Chile.
· FedEx transported 127 crates of historic Machu Picchu artifacts from Newark, N.J. to Lima, Peru to be displayed in their new museum home.
· Seventeen classic Ferraris, worth millions of dollars, were shipped via FedEx from Brussels to the U.S. for a car show.
· FedEx helped bring Jaws to life by carrying the star, a nearly four-meter tiger shark from Florida, in a four-and-a-half-meter casket to Martha's Vineyard, Mass., where the film was shot, in 1974.
· FedEx Express transported 630 tons (504,000 bottles of 2004 Beaujolais Nouveau wine from Lyon-Saint-Exupery Airport to Japanese enthusiasts anticipating the annual uncorking on November 18, 2004
For additional FedEx anniversary information, visit:
http://www.wedigitalnews.com/fedex
http://www.fedex.com/in/about/company-info/40th-anniversary.html