FedEx Lands in Northern Ireland To Deliver Imports, Exports and Employment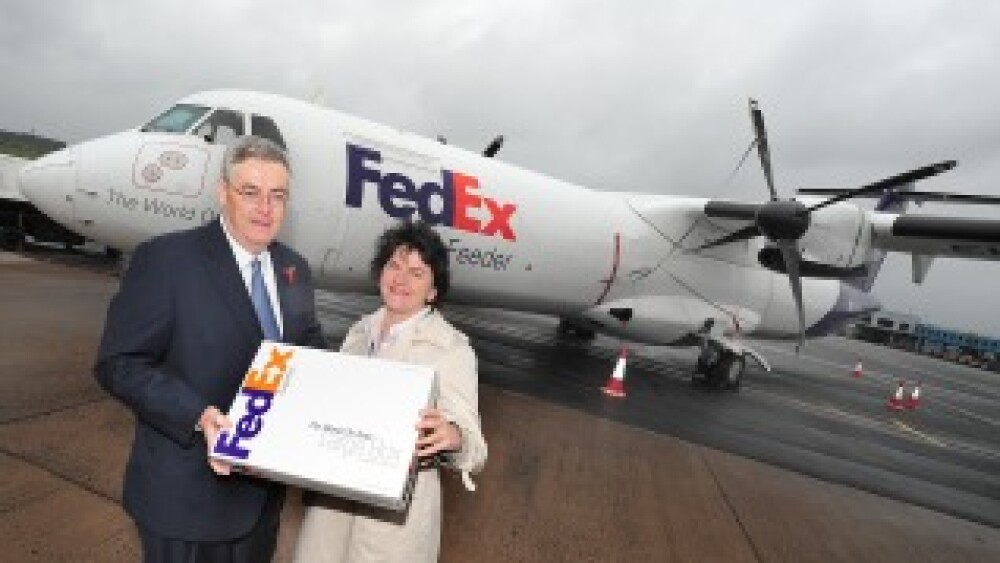 BELFAST, November 8, 2011 — FedEx Express, a subsidiary of FedEx Corp. (NYSE: FDX) and the world's largest express transportation company, will improve connectivity for firms in Northern Ireland doing business with foreign markets and create employment for 52 people with a new facility in Carrickfergus, County Antrim. Arlene Foster, MLA and Minister for Enterprise, Trade and Investment, was at Belfast International today to officially welcome FedEx to Northern Ireland. Speaking at the launch the Enterprise Minister said:

"This investment by FedEx Express, will not only result in new jobs at a purpose-built facility in Carrickfergus, but it will also provide support for existing businesses across Northern Ireland by reducing the delivery time between here and customers overseas. The availability of logistics companies such as FedEx is important for businesses seeking to win and having to service sales outside Northern Ireland. The presence of an internationally renowned company such as FedEx will add to our inward investment proposition and increase Northern Ireland's attractiveness to potential investors."

The FedEx investment here consists of both a domestic ground delivery service within Northern Ireland and a FedEx global service using a daily flight from Belfast International. This will feed into the company's extensive international hubs and accelerate delivery times to many parts of the globe, notably North America and Asia, thereby enhancing the competitiveness of firms doing business with these markets. A next-business-day service will operate to and from Europe and to the U.S. East Coast, with a two-business-day service to Asia and the rest of the U.S.*

"Northern Ireland's future economic prosperity hinges on reaching beyond neighbouring economies, such as the UK and Ireland, towards high-potential emerging and established markets globally," said Gerald P. Leary, President, FedEx Express Europe, Middle East, Indian Subcontinent & Africa. "A prerequisite for this is fast and reliable access to those markets, and this new FedEx operation and flight will make a significant difference to exporting firms in this regard.

"An exporter shipping to the U.S West Coast, or to Asia, for example, will see delivery times cut by a full business day. By the same token, the service also enhances the appeal of Northern Ireland for multi-national Foreign Direct Investment, with many areas benefiting from our commitment to deliver by noon," Leary said.

Both international and domestic deliveries will be served from a 20,000-square-foot FedEx custom facility at Kilroot Business Park in Carrickfergus. A total of 52 job opportunities will stem directly from the investment, with up to three times that figure likely to benefit indirectly in related industries.

* May vary depending on place of collection and delivery. Please call Customer Services on 08456 07 08 09 for more information.