FedEx Introduces Zero-Emission All-Electric Nissan e-NV200 Vehicles in Belgium
Contributing to Company Goal of Improving Delivery Vehicle Fuel Efficiency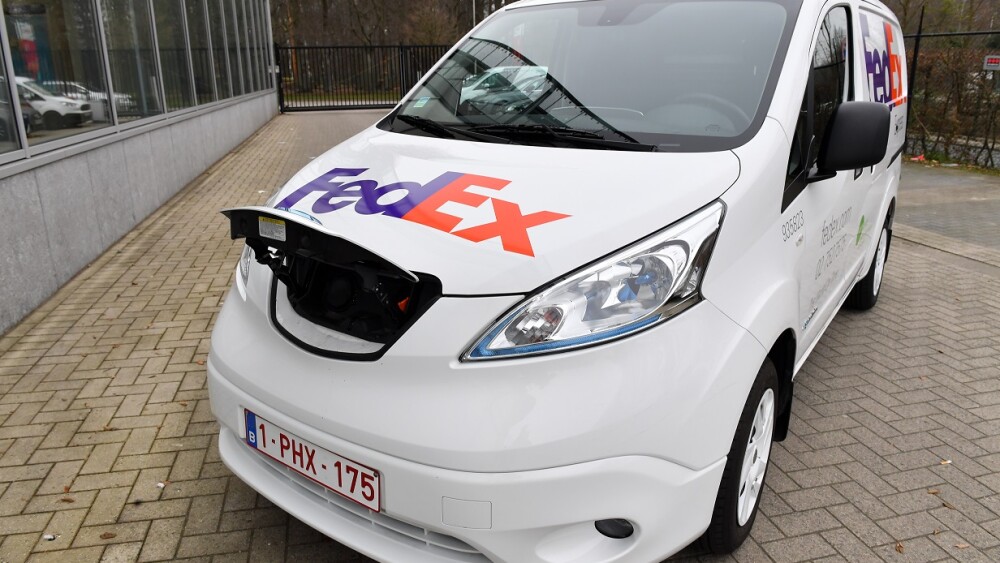 LONDON, April 11, 2017 — Marking the first use of all-electric vehicles in Belgium, FedEx Express (FedEx), a subsidiary of FedEx Corp. and the world's largest express transportation company, has announced the introduction of new zero-emission all-electric Nissan e-NV200 vehicles for pickups and deliveries in the areas of Ghent, Brussels and Antwerp.

For FedEx, reducing the environmental impact of daily carbon dioxide emissions from delivery vehicles is central to the company's commitment to connecting the world in more responsible and resourceful ways.

Five years ahead of target, FedEx met its goal of increasing FedEx Express vehicle fuel efficiency by 30 percent from a 2005 baseline by 2020. The company believes it can achieve significant further savings and is currently working on a new vehicle sustainability goal.
To reach it, FedEx follows these "3R" measures:



REDUCE: Optimize routing and driving habits to reduce mileage and fuel consumption;

REPLACE:Upgrade/replace vehicles to more efficient ones wherever possible;

REVOLUTIONIZE:Identify and invest in future technologies such as alternative fuel, hybrid-electric and electronic vehicles.
The introduction of all-electric vehicles is one measure in the FedEx long-term approach to environmental issues. As of 2015, FedEx has 447 hybrid vehicles; 1,176 electric vehicles and 55 hydrogen-fueled vehicles globally.
In Belgium, FedEx currently has a total of 150 vehicles and as of this month, five zero-emission all-electric Nissan e-NV200 vans.
For Erik Uljee, newly-appointed vice president, Ground Operations Benelux, FedEx Express, the introduction of these all-electric vans in Belgium is one step of a bigger engagement towards reducing its environmental footprint on a local level.
"When it comes to road network and transport, Belgium is a key player," said Uljee. "As the world's largest express distribution company with unmatched infrastructure and latest technology, FedEx aims to make a real difference in shaping the future. Our first priority is to reduce overall mileage by optimizing routes. We match vehicles to journey based on load volume and route length, and plot the shortest routes. We also apply our logistics expertise to reduce empty miles when vans travel with less than optimal loading. As major cities with important last-mile deliveries, Antwerp, Ghent and Brussels offer the perfect opportunity for the Nissan e-NV200 vans."
On top of the environmentally-friendly solution, these Nissan e-NV200 vans offer a new driving experience for the Belgian FedEx couriers.
"The Nissan e-NV200 vans not only help reduce CO2 emissions, they are also quieter, which is generally a big issue in urban areas," said Patrick Roedolf, senior manager, Operations, Clearance & Brokerage Benelux, FedEx Express.
About FedEx Express
FedEx Express is the world's largest express transportation company, providing fast and reliable delivery to more than 220 countries and territories. FedEx Express uses a global air-and-ground network to speed delivery of time-sensitive shipments, by a definite time and date with a money-back guarantee.
About FedEx Corp.
FedEx Corp. (NYSE: FDX) provides customers and businesses worldwide with a broad portfolio of transportation, e-commerce and business services. With annual revenues of $58 billion, the company offers integrated business applications through operating companies competing collectively and managed collaboratively, under the respected FedEx brand. Consistently ranked among the world's most admired and trusted employers, FedEx inspires its more than 400,000 team members to remain "absolutely, positively" focused on safety, the highest ethical and professional standards and the needs of their customers and communities. To learn more about how FedEx connects people and possibilities around the world, please visit https://newsroom.fedex.com.