FedEx Express Study Shows That Pandemic Will Boost E-commerce This Christmas in Poland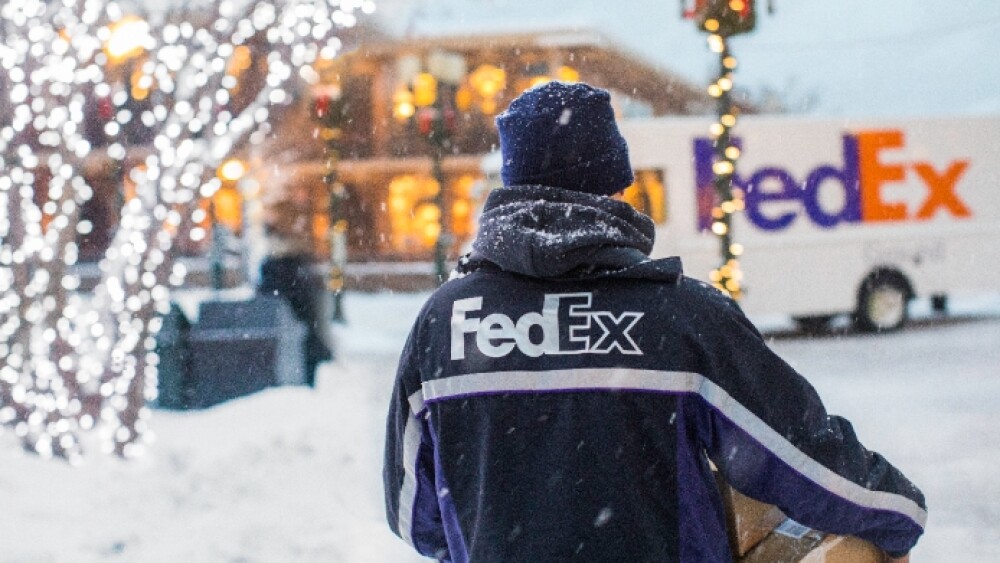 Warsaw, December 16, 2020 – The pandemic has significantly changed consumer shopping habits. According to the "Pandemic Christmas" survey conducted by the research institute Kantar on behalf of FedEx Express, one of the world's largest express transportation companies, almost 40% of Poles have increased their online shopping since the appearance of COVID-19. Sixty-five percent intend to buy Christmas gifts online, while another 20% are considering doing so.
E-commerce business outpaces offline trade
The COVID-19 pandemic has highlighted the advantages of e-commerce over traditional shopping during the Christmas holiday peak. But how big is the impact? At the end of October 2020, approximately eight months into the pandemic, 65% of Poles stated that they plan to buy all their Christmas presents online in survey responses. A closer look at those who are planning to use traditional shopping only or online shopping only shows that just 5% of those surveyed currently consider using traditional shopping only (compared to 16% in 2019), while 28% consider solely using online shopping (11% more than last year). It is clear: this Christmas, e-commerce is leading the way as the choice for consumers.
Speed, convenience and variety drive most Poles to shop online
So why do Poles prefer to buy their gifts online? The answers are diverse:
66% do it to save time
56% like the opportunity to do their shopping outside of normal business hours
54% like the wide selection of products available online
52% prefer home delivery or delivery to other selected locations.
The pandemic and related restrictions as a motivation are indicated by 32% of responders. Overall, 73% of Poles indicate that online shopping is better than traditional shopping, and 84% will continue to shop online once the pandemic is over.
"We are looking closely at the changes in the shopping habits of Poles. We buy more and more online and the pandemic has increased this trend. The e-commerce boom has many aspects, but it is an opportunity for online stores, their customers and for FedEx." – said Mariusz Mik, Vice President Ground Operations, FedEx Express Eastern Europe.
Courier companies get the thumbs up from Poles
Christmas is both an opportunity and a challenge for delivery companies, especially when presents are bought at the last minute. Almost 70% of survey respondents stated that they buy gifts right before Christmas. The work of courier companies is highly appreciated, and the vast majority (80%) of those surveyed believe that those companies can be relied on during the Christmas peak. This opinion is even more widespread among those who have bought last minute presents online (86%). One in five respondents indicated that if restrictions related to the pandemic are still in place and families can't get together, they will rely on courier companies to deliver Christmas.
"In e-commerce, the recipient's experience is so important – if that goes well, our customers grow and prosper. An important part of that is a reliable, efficient service, and adaptation to the recipient's expectations by the courier company. Our research shows that in the online shopping process, courier companies are trusted. This is music to our ears and it only pushes us to work harder for our customers" added Mariusz Mik.
The Kantar survey "Pandemic Christmas" was conducted from 20 to 25 October 2020 using computer-assisted web interviews (CAWI) among a representative sample of 1,000 Poles aged 18-65.
About FedEx Express e-commerce offer
FedEx Express supports the activities of Internet entrepreneurs by offering solutions that support their development. One of them is the FedEx Delivery Manager application, available in 84 countries, including Poland, which allows buyers to change delivery dates and addresses, or to post additional instructions for the courier. On the other hand, the FedEx Direct2Retail service offers the customers of online stores the possibility to direct their parcels to one of over 600 Kolporter pickup points throughout Poland.